Hamptons Happenings
Greetings Hamptons Mouthpiece readers, Where did the summer go? Can you believe Labor Day is here already? So many events are crammed into this weekend for what some believe is the last summer weekend in the Hamptons. Contrary to what some believe the Hamptons does not shut down after Labor Day and hibernate until next year. Many year-round residents look forward to Labor Day, many are moving back into their homes from renting for the summer. The beaches are not as crowded and that is the time that I like to go. Our students in the East End do not return back to school until September 9th and it is a relaxing time for many year-round residents before the hussle of back to school. I absolutely love the Hamptons in the Fall, there are so many wonderful things to do, so when you leave to resume your life after Labor Day, come back  for a long weekend, there are many FUN things to do, like Wine tours in the Northfork, Apple picking, Harbor Festival in Sag Harbor, the Music Festival, SeptemberFest in Southampton, Halloween in the Hamptons, and much much more. The beaches are free to attend and the water is at its best in September. This is also the time that I go out to eat because I think the food and service are just better after a busy summer and I am looking forward to visiting FRESH in Bridgehampton, NY. Listed below are some things to do this weekend and some really big things happening in the Hamptons during the Fall.
Hampton Classic 2013 … August 25 – September 1
WHERE:
  Bridgehampton, NY (off Montauk Highway, Route 27 –

at 240 Snake Hollow Road), 65-acre showgrounds,

located near some of the most beautiful beaches on the East Coast,

amidst the fashionable Hamptons summer scene.

GENERAL ADMISSION:

Daily: $10/person (under 6 free) or $20/carload.

Seniors free: Tuesday – Thursday; Kids free: Saturday
..
The Wing It Project will be happening at the Hampton Classic on Kids Day this Saturday! Proceeds to benefit educating children throughout the world (10×10 – Girl Rising & Half the Sky Foundation & Darfur Dream Team). Come on down and join us to make you very own fabulous wings-to-wear!! A great project for kids of all ages. www.wingitproject.com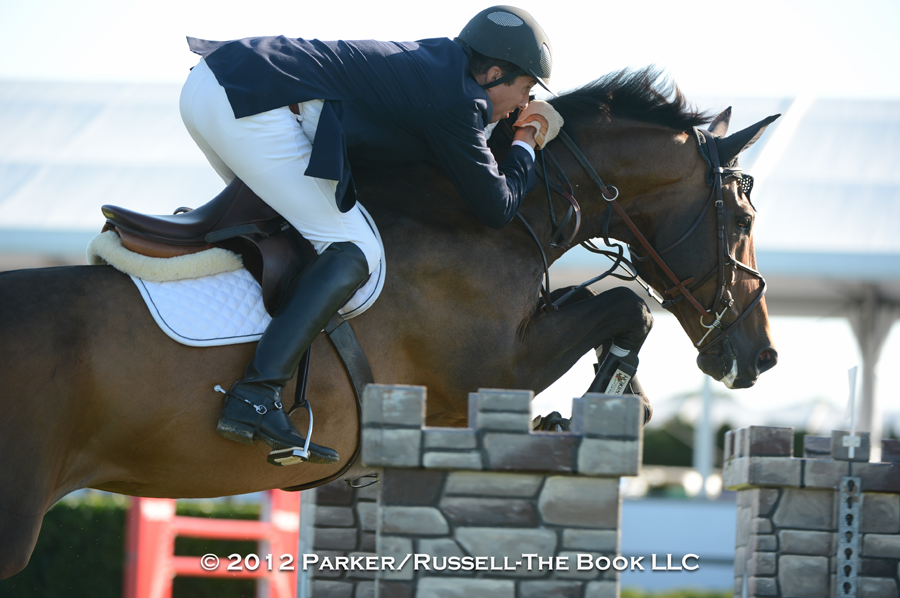 Thursday August 29th 6-8pm @ C. Wonder, Southampton, NY…A summer shopping party to benefit for VH1 Save the Music Foundation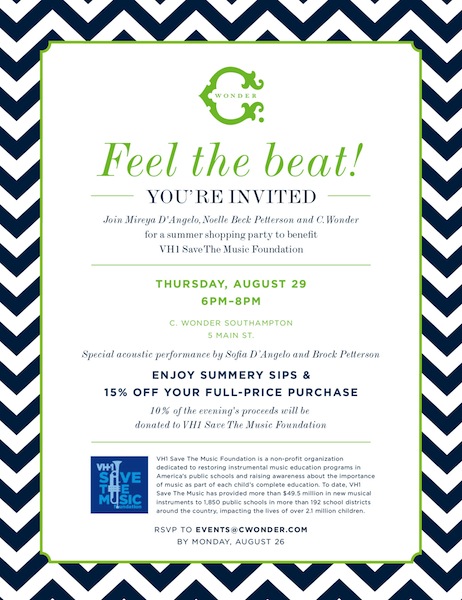 County of Kings, Thursday August 29th. Lemon Andersen, Tony Award-winning Def Poet, will be taking the stage at Guild Hall in East Hampton for a special engagement performance of his acclaimed memoir,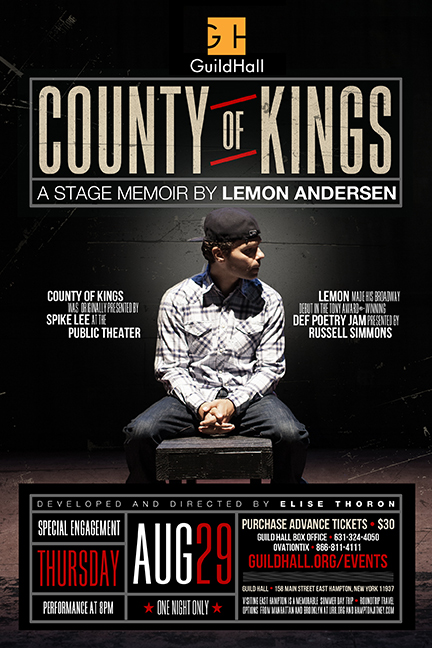 Guild Hall , 158 Main Street ,East Hampton, New York 11937 One Night Only *Thursday August 29th Performance at 8:00pm* Purchase Advance Tickets $30  
631-324-4050
 box office  
THE 2013 ANNUAL SAG HARBOR HILLS LABOR DAY BLOCK PARTY AND KIDS RACES THIS WEEKEND!
SATURDAY, AUGUST 31, 2013
. BLOCK PARTY STARTS @3PM, RACES START PROMPTLY @4PM. FOOD, MUSIC, MEMORIES! FUN FUN FUN!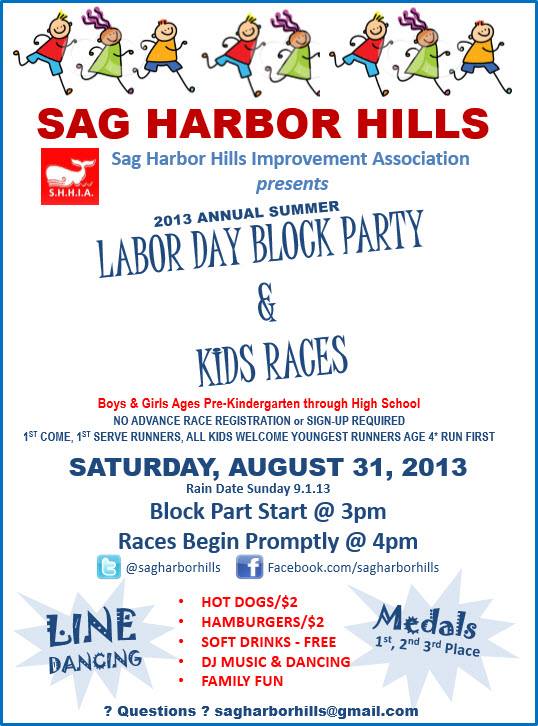 67TH ANNUAL SHINNECOCK INDIAN POWWOW**Friday-Monday August 30th-September 2nd 2013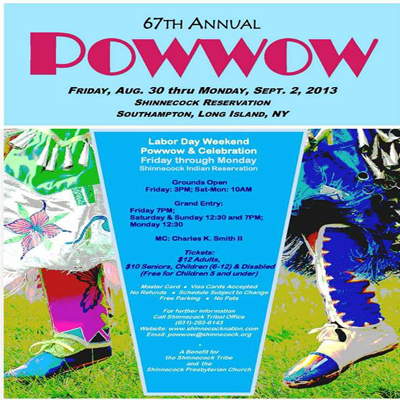 Shinnecock Indian Powwow, Shinnecock Indian Reservation***Southampton, NY
The 67th annual "Shinnecock Indian Powwow" will be held over Labor Day weekend from Friday, August 30, through Monday, September 2. More than 100 tribes represented, music and dance performances, sunset fire lighting, smoke dances, native arts and crafts and native foods vendors will be featured at the weekend-long event. Grounds open Friday at 3 p.m. and Saturday, Sunday and Monday at 10 a.m. Tickets are $15 for adults and $10 for kids, seniors and the handicapped. Kids age 5 and under are admitted free. Free parking. Pets are not allowed.
Kick Your Labor Day Weekend into High Gear...Friday, August 30th Sienna will be the hottest happening in town, as anyone who knows The Box is well aware that it's a blast! The night will feature the most jaw dropping acts (in true Box style)Sienna Restaurant & Ultralounge (www.siennahamptons.com) for the sexiest kickoff to Labor Day weekend.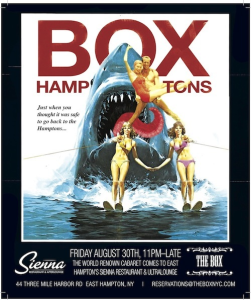 Our Fabulous Variety Show Presents: Burger Theater!
The Raffa Show was a huge success!! Help us keep these super fun nights going and join us this Friday for BRYSON TURNER!
Bryson Turner back by popular demand! Performing at 230 Down, located at 230 Elm Street in Southampton.
Your ticket includes seating for the show as well as a delicious burger dinner by 
Tim Burke
 Productions!
On Friday August 30th we welcome back NYC comedian Bryson Turner and his hysterical friends for an evening of comedy! Seating is limited so buy early! $20 in advance, $25 at the door.
www.ourfabulousvarietyshow.org
The Sag HarborFest to Celebrate 50th Anniversary
With Weekend-Long Festival
Friday, Saturday & Sunday September 6th, 7th and 8th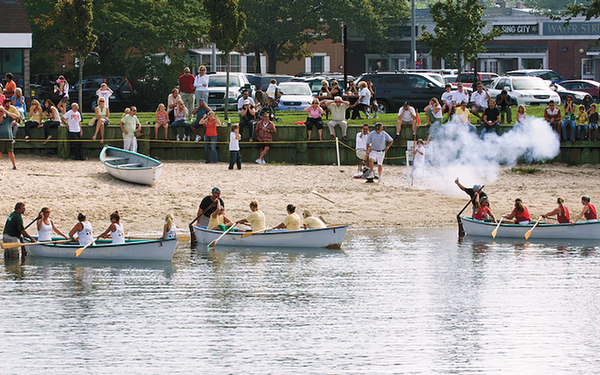 Three-day festival complete with music, food tastings, contests, historic tours and, of course, the famous whaleboat races, which will take place throughout the weekend off Windmill Beach in Sag Harbor.
The Wharf will be filled both Saturday and Sunday with vendors participating in the Taste of Sag Harbor as well as a thrill ride of children's activities. The famous Chowder Contest will take place on Sunday and the 2013 Whaleboat Champion will be crowed after two days of intense races.
Here is the schedule of events for the weekend:
Friday, September 6th: 
HarborFest Fiesta 6:00 PM – 9:00 PM  Sep 06, 2013
(Bring your beach chairs, blankets and dancing shoes for a night of fun for all ages as the Sag Harbor Whaling Museum kicks off the 2013 HarborFest weekend with a Fiesta!  * Montaco Truck Tacos, Chips & Salsa, Guacamole  * Montauk Brewing Company Beer  * Channing Daughters Wine  * Dreamy Ice Cream and Iced Coffee from Sylvester & Co.  * Music by DJ Mister Lama  * Kids Adventure Area All proceeds from the Fiesta go to the Capital Campaign Fund to restore the home of the Museum, the Benjamin Huntting House. Tickets are available online, [
http://harborfestfiesta.splashthat.com
] or call the museum at 
631-725-0770
. Or stop by at 200 Main St, Sag Harbor! Tickets purchased in advance are $50 for adults, $12.50 for children. Location:  Sag Harbor Whaling Museum 
HARBORFEST EVENTS AT BAY STREET THEATRE: AN AMERICAN IN PARIS
8:00 PM – 10:00 PM  Sep 06, 2013 Harborfest events at Bay Street Theatre introduces Gene Kelly weekend in honor of Peconic picture show sponsored by Peconic Landing  AN AMERICAN IN PARIS on Friday, Sept. 6 at 8 pm FOR ME AND MY GAL on Saturday Sept. 7 at 8pm.  Tickets are $7 at the door. For Tickets and Information 
(631) 725 9500
 and online at 
www.baystreet.org
  Location:  Bay Street Theatre, Sag Harbor, NY 
SATURDAY & SUNDAY SEPTEMBER  7TH-8TH
ALL DAY EVENT* 
Music
, 
Food tastings
, 
Contests
, 
Historic tours
 and, of course, the famous 
whaleboat races
, which will take place throughout the weekend off Windmill Beach in Sag Harbor.The 
Wharf
 will be filled both Saturday and Sunday with 
vendors 
participating in the 
Taste of Sag Harbor
 as well as a thrill ride of 
children's activities
. The famous 
Chowder Contest
 will take place on Sunday and the 2013 
Whaleboat Champion
 will be crowed after two days of intense races. The Sag Harbor Chamber of Commerce is
 raffling
 a 14-karat gold 
whale pendant
 made by David Lee on Sunday, September 8, which is the final day of HarborFest. Raffle tickets are $5 each or 6 for $25 and can be purchased at The Windmill on Long Beach, The Wharf Shop, Sag Harbor Liquors and Sag Harbor Variety.  
Live Music @ Madison & Main on Sunday, September 8th with Talented acoustical guitarist and vocalist Telly Karloousis …Happy Hour 4-7pm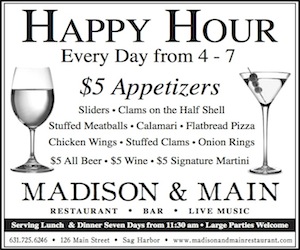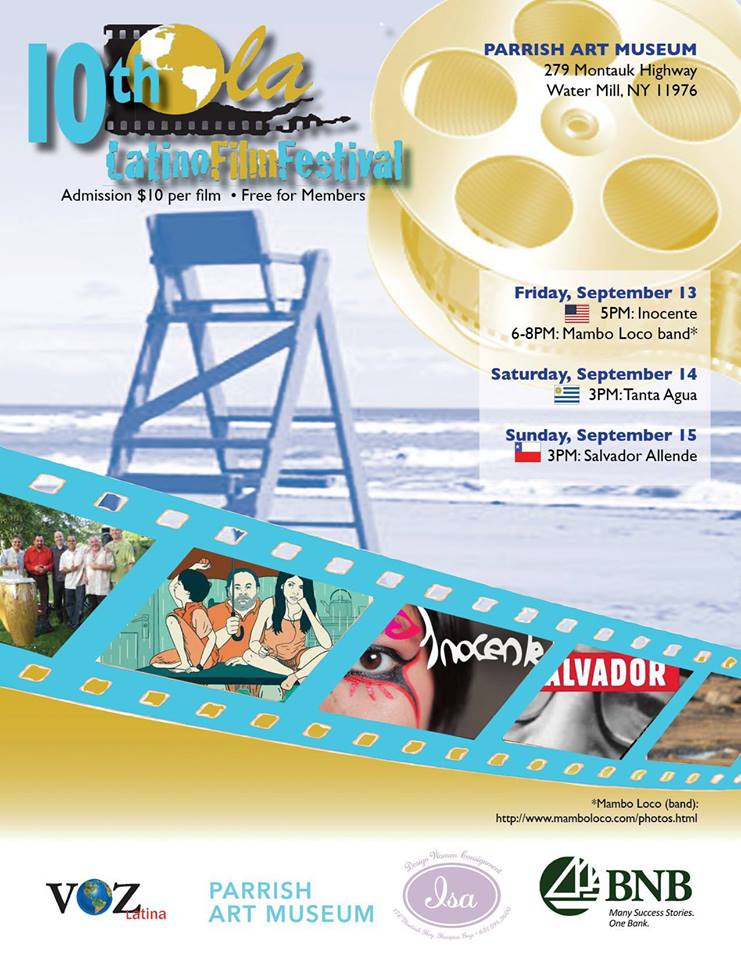 OLA LATINO FILM FESTIVAL 2013 @ Parrish Art Museum September 13th-15th
Sponsor by/Patrocinado por OLA, BNB, VOZ, Isa Consignment, Parrish Art Museum. Admission $10 per film
click here for ticket information
Friday, September 13
Movie at 5PM: Movie
6-8PM: Dance/Baile con Mambo Loco * band
Saturday, September 14
Movie at 3PM:
Sunday, September 15
Movie at 3PM
THIRD ANNUAL SAG HARBOR AMERICAN MUSIC:
SEPTEMBER 27 & 28, 2013
SEPTEMBERFEST September 27th-29th, 2013…Southampton, NY ….On Friday, Saturday and Sunday, September 27/28/29, Southampton Village will celebrate the season with a series of exciting events that embrace art, music, food, entertainment, history and fun… and everyone's invited! CLICK HERE FOR MORE INFO..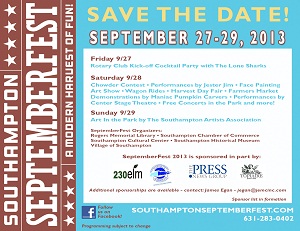 HAMPTONS INTERNATIONAL FILM FESTIVAL: OCTOBER 10-14, 2013…more information to be added at a later date…come back to see the movie line-up here…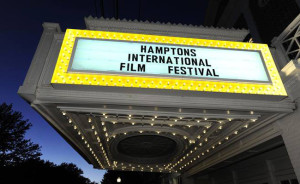 September and October are great months for a bike Tour in the Hamptons…check out Amagansett Beach & Bicycle for Tour information and Bike Rentals.