Sotto Sopra….A Pleasant Dining Experience…..Greeting Hamptons MouthPiece Readers… Hope all of you are doing well…This has been a very relaxing summer Living Life how I want to live it…not by how other people think you should…Live, Laugh and Love are 3 words that I live by.  I have worked for various Media organizations and recently I worked for an online publication that typically did Food Write-ups.. They would write glowing reviews for any restaurant regardless of how the food tasted because of the fear that if you wrote something negative that restaurant would not spend any advertising dollars with you.
I really do not care and I am not in the business of destroying anyone's life dream but I also am not in the business of sugar coating the truth. I have taken the stand that I will only write about restaurants that I really liked. I let others bring the negative as I only will bring the positive. If I don't like it then I won't talk about it, I want you my readers to know that what I write is my absolutely and VERY honest opinion. You can feel confident that I am speaking from the heart, but realize that this is my opinion and you may think differently.
This week I had the pleasure of visiting a new restaurant in Amagansett called
Sotto Sopra
…an Italian Cuisine located on Main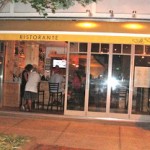 Street that once housed Exile Restaurant. My friend Cindy and I dined there on Tuesday, August 14th for dinner. I liked that parking was accessible and that was a welcome. When you walk in the bar is at the front with the doors open, the tables to dine are further back, I liked that the bar is far enough away from the dining area but still close. I also liked that the place is not to spacious, rather intimate, but don't expect to have a private conversation, tables are a little close to each other. Our hostess greeted us so warm and friendly it immediately made us feel comfortable. We were asked if we would prefer to sit inside of outside, we sat outside because the weather was so pleasant. The lights were slightly dimmed but not to dimmed where you could not see your food and more impressive were the lights on the table for those who really do like a well lit table to see the food.
The outside was like a secret little garden beautifully manicured and so casually fit for a dinner out with the family.  Our waiter was very knowledgeable and quite attentive, but not smothering and that was appreciated. We started with two of the house special appetizers…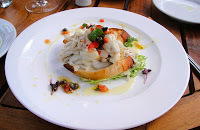 I had the lump crab on Parmesan toast..drizzled with tarragon white wine butter sauce and Cindy had the chilled Melon soup….I loved the Lump Crab…it was so delectable, I can taste it in my mouth as I am writing at this moment. I personally did not care for the Melon soup but that is because I like hot soup and not chilled soup, but Cindy liked it.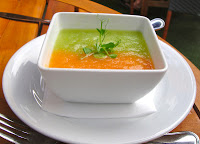 For an entree I had the Swordfish and Cindy had the steak. I liked the swordfish it was pan-fried and flaky and very filling…I however LOVED the steak it was so succulent and juicy and I was so envious that Cindy ordered and I had not. I never order steak when I go out to eat because I rarely eat red meat, but I will definitely be back just to order the steak. The waiter came over to remove our finished dishes I think secretly Cindy wanted to clean her plate…OMG it was just that good. Rose Evangelista the owner stopped by to chat with us and tell us some preliminary plans for the Fall and winter season. She told us that the restaurant will be open year-round for dinner during the week and lunch on the weekends. Rose indicated that the restaurant would be hosting a weekly Mah-Jongg dinner. Apparently Mah-Jongg is a new trend played among women…The game is played with a set of 136 tiles based on Chinese characters and symbols, although some regional variations use a different number of tiles.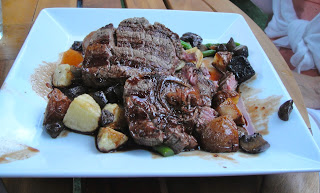 I look forward to seeing what new and exciting things Rose will bring to the restaurant after the summer. I trust that this will be one of the happening spots in the off season because Rose was so exuberant and her passion is so infectious.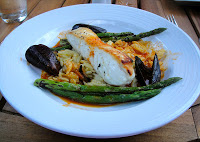 We of course had to end the evening with dessert for the full dining experience. Our waiter memorized the dessert menu and I was completely sold on the 21 layer crepe cake which is an Italian dessert and Cindy had the chocolate ice cream with chucks of chocolate. I was so anxious to taste my dessert I drove in before I could take the picture. It was delicious and highly recommended.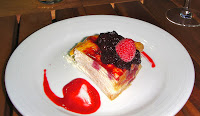 We had a very nice evening, the food was delicious the service was wonderful and the atmosphere was comfortable. The price range is moderately expensive. I look forward to returning in the Fall, maybe on a Mah-jongg night. I have never played the game and I would like to experience this new trend.
As always, Hamptons Mouthpiece keeping you in the know!