Hamptons Eats:Doppio is seeing Double..NYC and Sag Harbor..Greetings Hamptons Mouthpiece readers I visited Doppio Artisan Bistro, in Huntington the Long Island branch of a Greenwich, Connecticut pizzeria-gelateria-trattoria and had a delicious meal which will be opening soon in Sag Harbor… Executive chef Louis Barresi, who co-owns both restaurants with his brother, Joseph, launched the Huntington place with a third partner,Thomas Pescuma. This Bistro is village-cozy, the kind of place that one would see in the West village the food is fresh, tasty, and reasonably price. If you're in Huntington and are undecided give Doppio a try. Good Italian food and all of their pasta are homemade and cooked in traditional Italian style.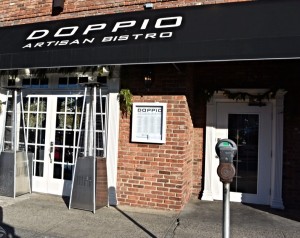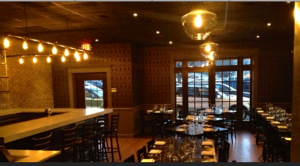 Be sure to make a reservation because the energy is vibrant and a favorite among young families. The place is intimate and I have been told gets very busy on a Friday and Saturday nights. This is the place to go when you've been everywhere and need something new and exciting. The atmosphere is great and the service is unparalleled.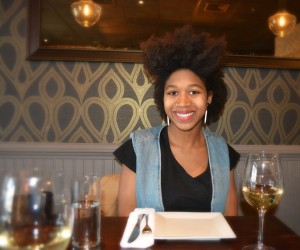 Dani and I shared with the signature Brick Oven pizza "Doppio" Butternut Squash, Fresh Mozzarella & Pancetta. It was light and savory, satisfied every taste bud, and the crust was thin and crisp.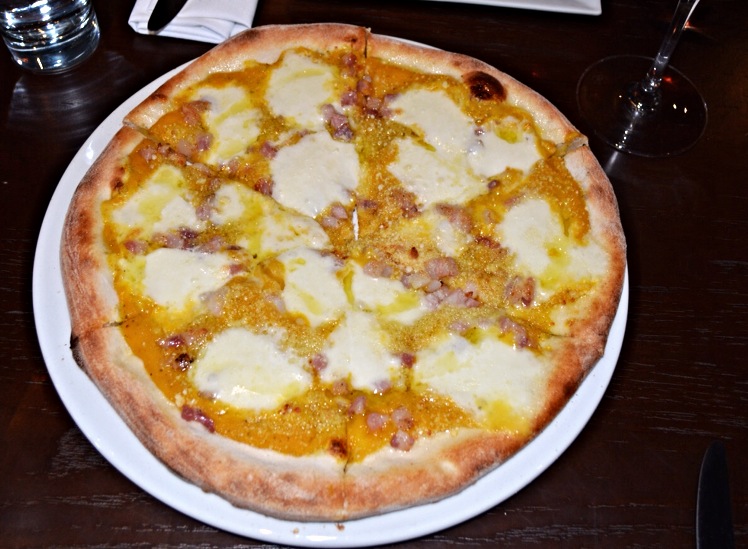 We also shared some Truffle Parmesan Fries…I was so happy to see this on the menu, and although I had already ordered the pizza I had to taste these truffled fries. I was not disappointed they are delicious.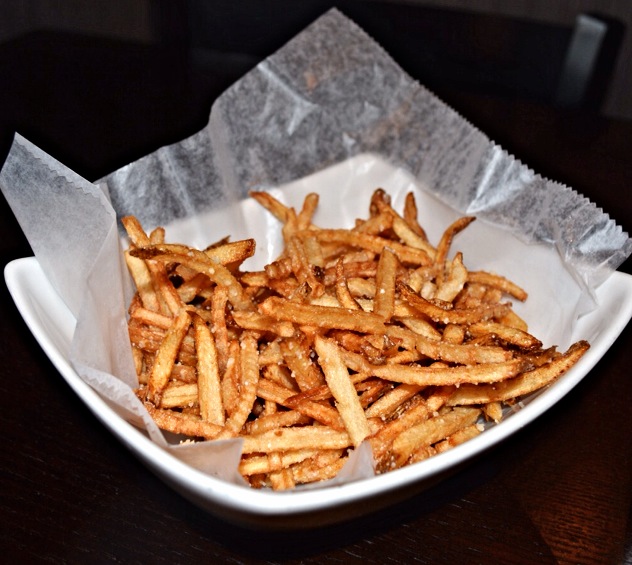 One would think we would be completely full after the fries and the pizza, but we did not feel full and made room for a pasta dish. We decided to share a dish because the portions were fairly large to share, family style. We had the Fusilli Cartoccio (hand rolled pasta,Porcini mushroom, baby heilom tomatoes, truffle oil, mascarpone cheese) Oh my goodness was this amazing. The sauce made me want to lick the plate because it satisfied my palate and left me feeling wonderful and very satisfied. See for yourself how much was on my plate and this was a shared portion.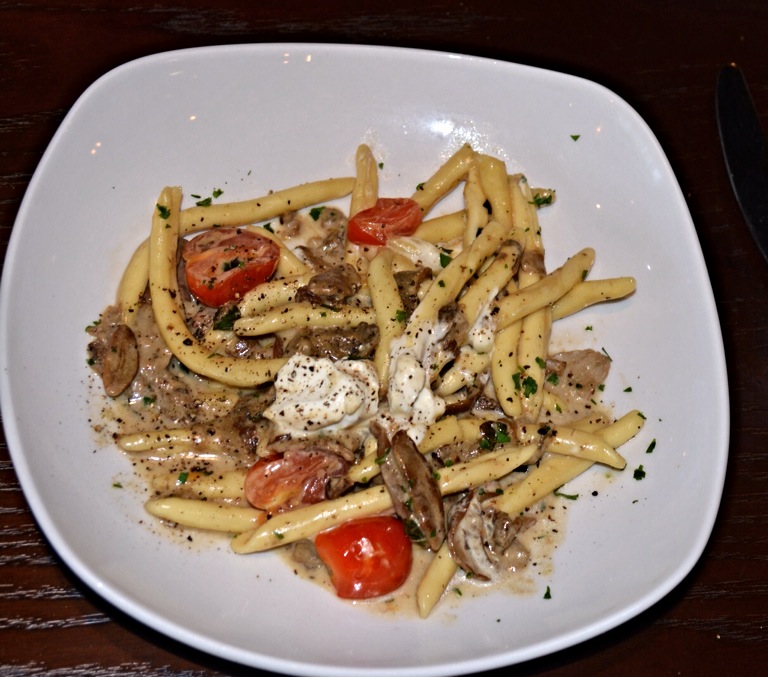 Doppio Artisan Bistro is a fine Italian restaurant specializing in artisinal pizza, authentic cuisine, and handcrafted gelato. The menu includes traditional and contemporary dishes in a warm and welcoming atmosphere. The restaurant has a full bar, and offers brunch specials on Sundays. It offers take out and delivery in addition to dining in. Doppio Artisan Bistro opened in Huntington in 2013.
Doppio Italian Cuisine
is coming to Sag Harbor, NY and opening in March. They bought Madison & Main restaurant that was labelled as one of the Hottest places to be in Sag Harbor last summer 2013. Michael Gluckman & Eric Miller sold the Restaurant to the owners of Doppio, LLC in Early December 2013 after only being open for less than 1 year. I spoke with Frank Bono and Tom Pescuma and asked if they would be making major changes at Doppio in Sag Harbor, I was told they would be making minimum changes, since the restaurant is fairly new. I am happy to announce that they will be keeping the bar where it is at because lets face its that is a draw….They will be adding in a  Brick Oven Pizza Oven. 
DOPPIO will be competing with other Italian Restaurants in Sag Harbor, Concordora, Tutto Il Giorno, Cappelletti Italian Grill and the beloved Il Capuccino Restaurant, Doppio states they will bring a completely different Vibe to Sag Harbor and they are 1 of 4 restaurants that I am aware of in the Hamptons that offer Brick Oven Pizza… the other places to my knowledge are Nick & Toni's(EH), World Pie(Bridgehampton) Pizzetteria Brunetti (West Hampton).

They plan on being part of the community, the Executive chef Louis Barresi trains every chef that works for Doppio and they pride themselves on the fact that the food taste the same at every restaurant. They will be starting their search very soon for staff at the Sag Harbor location. The West Village location will be opening very soon. We wish them tremendous success and I look forward to ordering that butternut squash pizza again and the Nutella Pizza with Bananas & Strawberries for dessert. I asked if there were plans to open additional locations and lips were tight at this time, so for right now..Doppio is seeing Double..NYC and Sag Harbor locations. Doppio Hudson & Doppio Sag Harbor 2014 newest locations.
The Doppio Restaurants are part of the Timeless Hospitality Group founded by Louis Barresi, Tom Pescuma, and Harry Armon.