What is new in Sag Harbor 2013? Greetings Hamptons Mouthpiece readers…wow it is hard to believe that in 24 more days the start of the 2013 summer season will officially begin and the energy will become electrifying here in the Hamptons. Did you know that Sag Harbor village was home to over 20 places to eat? I do believe Sag Harbor has the most restaurants on Main Street than any other town in the Hamptons.
Sag Harbor lost two favorite restaurants at the end of 2012 PHAO and Paradise, but they gained 2 NEW Restaurants this year…Madison & Main and The Cuddy both are located on Main Street.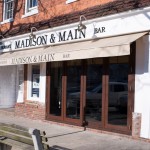 MADISON & MAIN is owned by Chef Eric Miller and Michael Gluckman…Madison and Main Restaurant is located on Sag Harbor's Main St, formerly the Paradise Cafe. Madison and Main's co-owners, Michael Gluckman, notorious Hamptons restauranteur and Eric Miller of Food & Co. are a fantastic dynamic duo for this Hamptons hotspot. Classic American Style Cuisine Restaurant and Bar Service with on and off premise catering.  I love the look and vibe to this restaurant, the doors in the front open up and the bar scene reminds me of the Bobby Vans look in Bridgehampton.
On those warm summer nights, if you get there early you can sit outside and enjoy a cool summer breeze. The signature drink for the summer is the Watermelon Martini and I really loved the crab cakes, so delicious.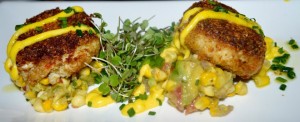 Lunch is served starting at 1130am Monday-Sunday, try the Shrimp BLT, it's delicious. M-F  5-7pm is Happy Hour with $5 beer, wine, Watermelon Martini's and appetizers. I really like the Watermelon Martini's, a perfect choice for a warm summer evening.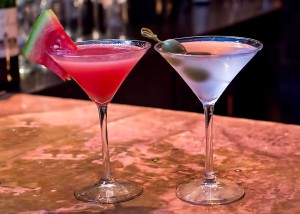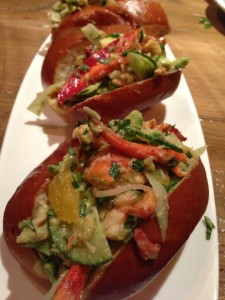 THE CUDDY.…Formally known as PHAO…same executive staff Jeffrey Resnick, Tora & Jesse Matsuoka..I had an opportunity to sit and talk with Jesse the day before they opened in Early April to chat with him about why they decided to close Phao and re-open with an American Cuisine. I asked Jesse what will make Cuddy different than restaurants in Sag Harbor and  he indicated Quality*Value* and Consistency. Many restaurants in the Hamptons focus only on the summer season but Cuddy is interested in focusing on the year-round customer.
The restaurant will be open year-round serving a Rustic American cuisine. Phao was a product that people enjoyed but did not necessarily love it. The Cuddy has a Rustic American theme  which is home-cooked food you would not necessarily cook at home, not because you can't but it might be to timing consuming to prepare.  Gil Chico is the executive Chef who is also the executive chef at Sen and has been with the company for 3 years. The Beverage Director is Derrick Neilsen who has been with the company for  5-6 years. I am excited that Cuddy will be bringing some exciting new food events to Sag Harbor, like wine pairing dinners.
Cuddy has indicated that they are handing over their entertainment hat to others in the area and are looking to only focus on the food, starting with dinner first then gradually introducing Lunch and during the summer season Breakfast. There will be late night Bar Scene…I have not eaten at The Cuddy yet but I am looking forward to having the burger and the Lobster Roll I hear they are amazing. Lets see if they will make my list for best burger and Lobster roll in the Hamptons this year.
These two restaurants have been very busy since they both opened with a full house each night, so make sure you make your reservations early. Madison & Main is bringing the fun back to Sag Harbor with they're Happening Bar scene, so do not be surprised if it is hard to get a seat at the bar.
If you find you cannot get a seat for dinner at these two places, there are so many really good restaurants in town, Page, American Hotel, Muse, LT Burger, Dockside, The Beacon, Sen, The Corner Bar, B' Smith's, Il Capuccino, Tutto Il Giorno
Looking forward to seeing you in the Harbor this summer…There are some new store openings in town, so take a walk down Main Street and check them out. Black Swan Antiques has just opened a new location in Sag Harbor…