Mouthpiece Media, Social Media Management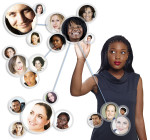 Mouthpiece Media, Social Media Management
Mouthpiece Media, Social Media Management
Specializing in managing your Social Media, online Marketing and placement of online advertising. Our primary function is to build a Social Media Network building upon our extensive pre-existing network community.
We Harness the Full Power of Social Media. If you are new to social media, or your current team isn't delivering the results you need, then you've come to the right place. Vanessa Leggard is a professional social media marketing consultant. I will develop and execute powerful social media campaigns that help you, my client, build loyal social communities to enhance a positive return on your investment.
Our Social Media SolutionsContent & Engagement, Reputation Management, Community Building, Social Identity Design, ConsultingThe first step in creating a powerful social media presence is to engage with members of the various social communities. You cannot be a passive participant. Active participation takes time and effort. We work with you to create strong content and engagement strategies that work. Everyday we produce valuable content that will appeal to your target market. We post, monitor and respond, keeping your Facebook, Twitter and other social media sites engaging, relevant and appropriate for your social media target audience.
Free initial phone consultation to go over packages and prices! We have five convenient packages to choose from and a wide selection of additional services.
Social Media Assessment: Full assessment of all your social sites, blog & website call for rate. Please include your Business name and links to all your pages. You will receive a full assessment of each site and valuable information on growing your fan base and increasing engagement curtailed specifically for you.
Send Message to listing owner
Please
log in
to be able to send messages to the listing owner.