Hamptons SUPER DAD….Last week I had an experience that I have to share with you, when I became Super Dad. I was on a line with 1000 teenagers. Literally. Let me explain how I arrived at that nightmare. On Friday, my youngest daughter, Allura and her two friends, Ana and Gabby were going to a concert in NYC. Something called HYPERGLOW. Say what???? I didn't know what a Hyperglow was but Allura was excited beyond belief. Somehow, she had hoodwinked me into actually buying her ticket sometime ago. My more than frequent senior moment did not allow me to remember when I had actually bought the ticket but I knew I could use this generosity to my advantage sometime in the near future.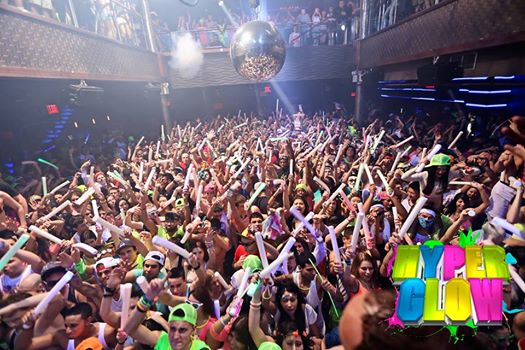 I am usually in the city during the week and Allura knows this. She was getting driven in by  her friend Gabby's mom, Lorraine and somehow she assumed that they were running late. I got a call from Allura around 5pm and in her best TEENAGER FRANTIC 'The World Is Ending' voice pleads with me. "Dad, can you go to the concert and wait on the line for me, we're running late." Say whatttt????
So I replied in my best, 'I'm not going to let her know I am rolling on the floor in laughter and disbelief' voice say…. HECK NO!!!!! I'm not waiting on anybody's line. 'Aw Dad, Come on, PLEASEEEEEES!!!!" I stand my ground to the onslaught of pleads and empty promises. "No, I'm not going to wait on that line.' Now before you cheer or call me a hero or a beast, I have to tell you it was a cold night. And I don't wait on lines for anything anyway. Not Jet, Met or Knick's tickets. I hear you snickering back there. Why would I wait on line for those tickets anyway, right? But I digress.
After the concert Vanessa and I were staying in the city anyway and during the time the girls were going to be occupied, Vanessa, Lorraine and I were going to have dinner and meet up with friends for some drinks. I decided to go to the city early and scout out where the concert was being held. Hyperglow, I found out, was this MAJOR concert that the kids like to attend because it showcases up and coming DJ's. a major party ensues. OK, I have gone to a few of these in my life and I had already given Allura the Dad talk about what not to do and how to look for all the exits in case something happens, to avoid dangers, blah, blah, blah….. What can I say? She's 14 and has to get her experiences in early before all the crap begins. I did my part.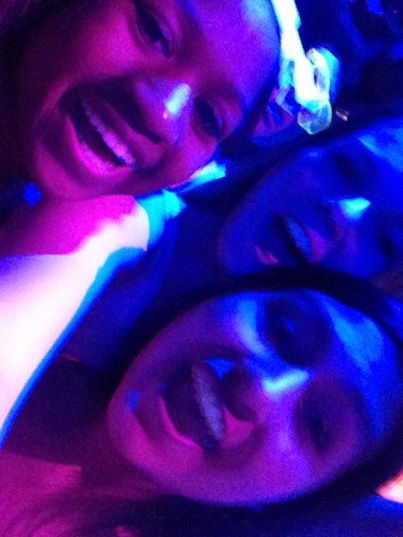 I drove up to 48th St. between 11th and 12th Avenue and saw the beginnings of a major line, snaking from the North-West corner of 48th St. around and up 11th Avenue. Oh, Oh. Allura may have been right that she and her friends were going to be in trouble. The line was forming fast. As I drove down 48th St., Lo and Behold I saw a parking spot. There is NEVER parking spots at this time of night. Now let me tell you; it was about 6:15 and parking begins at 7 but I kind of knew I was safe to park there without too much fear of a ticket or tow. Now if there was no parking, I could have gotten away scott free…..but nooooooo. There it was, ample room to park. As I got out of the car I glanced up to the sky and asked God…REALLY??????? This spot just had to be there, right? I knew the dye was cast. I was going to do it. I was going to be a KING SIZED SUCKER. I was going to try to wait on line.
I went up to one of the bouncers who really didn't want to talk to me and asked him if I could wait on the line. Almost dismissively he looked at me giving me an 'are you CRAZY' look and said. The line isn't here, as I looked at more than 100 insanely dressed and overly loud teenagers. 'The OVERFLOW line is down the block.' Oh, Oh. Did he say OVERFLOW?????? What the heck does that mean? Then I found out. Up 48th St., past the UPS entrance, there was some barricades set up and there were about a 100 more kids waiting on-line. Oh GREAT! As I made my way back to that line, I saw that it wasn't that bad. It was close to the entrance to the concert and if I got on line, Allura and her friends would get in fairly quickly.
I asked another bouncer/security if I could hold a place in line, half of me hoping that he would say no. He said I could, so I took my place in line. There was a lot of security, all big men and no-nonsense. Some of the biggest humans I have ever seen. That made me happy. Security was pretty well-organized and well prepared for crowd control. It was 6:30 now.
The kids in front of me turned to look at me with that, ' are you kidding me look.' I quickly told them 'I'm not going in there, I'm holding a place for my daughter.' I somehow felt the need to justify my being there to a teenage boy, who was taller than me, with acne on his face! I know I could take him in a tussle, if it lasted less than a minute, I knew I could. I don't know why that thought crossed my mind but I felt defensive. My daughter was going to be around guys like this ALL NIGHT. I felt protective. The kid laughed and was really good-natured and said 'ok, dude.' DUDE! He went back to talking to his friends. The line started to form very quickly behind me. I had not called Allura to tell her I was on-line, just in case I wanted to bail out. Better to keep her in the dark. It was getting colder and I was not a happy camper. 6:45. Why am I on line with a bunch of POPULAR girls next to me. Every kid that walks by they know and it is an immediate eruption…"DUDE, you're here, what's up??? yadda, yadda, yadda." Oh Boy!!! I called Allura to let her know I was on line for her and she screamed! 'You're the best, Dad' was the nature of her  immediate response and I knew it to be true. As I basked in the glow of her love, the wind whipped up and I started to feel like I had made a bad decision.
The smartest thing I did was bring my Playstation Vita with me. I was able to play tennis and baseball to help me keep my sanity and my mind off the cold, cold wind. The girls next to me were talkative (well duh!) and I saw them past a inquisitive glance my way as if to ask, 'what the heck are you doing here?' I kept on playing. The funniest thing I overheard (and I heard some very funny things) was how teenagers use curse words. I started thinking… that curse has never been used in the form of a verb before but after considering it, I could see the usage. Teenagers curse every chance they get. It must be a status symbol or something, maybe a contest, who can curse the best, the most and without taking a breath! Too funny. I saw hook ups, cuddling but mostly I saw kids having fun. I didn't see anyone drinking or smoking weed but I know it was abundant. I overheard the deals being made for distribution and how to get home safely. I heard girls critiquing what other girls were wearing or not wearing as they had on the skimpiest shorts I have ever seen in my life. And it was COLD!!!!! Ah, youth, you got to love them.
Finally, the girls that were right behind me couldn't bear not to ask me why I was there. When they asked if I was holding the place for someone and I said my daughter….. DA, DA, DA DAHHH! I became an INSTANT celebrity. I transformed from grumpy, sketchy questionable grandpa to SUPER DAD!
"REALLY, you're here in line for your daughter??? You are the SH-T!!!!", I was told. I didn't even mind that I was being referred to as a curse because it was a term of endearment. "My Dad would never do this" (maybe because he is sane). "Your daughter is the luckiest girl in the world" (I think I'm liking this now). "I want you to be my Dad" (don't push your luck and be careful what you ask for, just ask Allura). The kids were really animated now and asked me where I was from. When I told them Sag Harbor, they really got excited because they were from Hampton Bays. We were neighbors and now they knew the depth of my 'SACRIFICE.' When I told them I work in the city and my sacrifice wasn't so great, they looked at me like I was crazy for going to the city almost every day. Never-the-less, I was a full blown hero now. When I called Allura at 7pm for an update where she was at, she let me know that they were out of the Midtown Tunnel and coming up 12th Avenue and about 40th St. I knew my ordeal was about to come to an end but then the Hampton Bays girls asked whether Allura played any sports and when I told them she ran track and played field hockey, the girls screamed. These girls were on the field hockey team and maybe knew Allura. I asked them to talk to Allura on the phone and they commenced to tell her what a cool Dad I was. Street Cred! Laughing, they handed me back the phone and I could hear my daughter laughing hysterically. A miserable night had suddenly become a classic.
I saw my chance. I became Super Dad and I started talking to the girls and guys about the Do's and Don'ts of hanging out at a concert (full parent mode but without the lecture overtone). They appeared to listen as I told them how to do things in moderation and safely. One girl said her father told her to never take anything synthetic. I told her that was a good start! They were all good sports to listen but I knew my presence had almost reached it's expiration date. Quickly, I did what any self respecting Super Hero would do before he changed back into his secret identity, I took a selfie with the kids.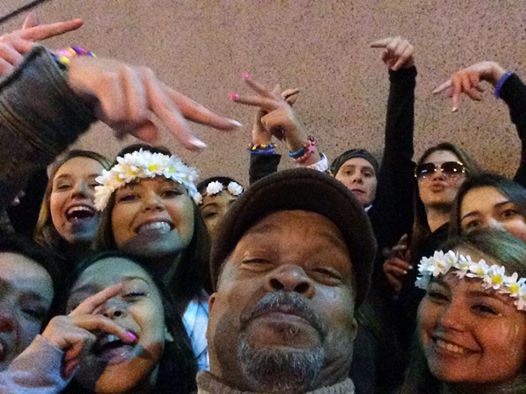 Allura really had a great time at Hyperglow and came back to us safely. I hope all the kids got home safely too. Especially the Hampton Bays girls. They were really great and fun to be around. It made me remember what I sometimes forget. This is the time of our kid's lives and they must do the things they do. Fun is a key element to their growth and development, so is excess. In order for us to see the fun they should have it is important to step outside of what we normally would do and walk in their shoes. Maybe even, stand in line.