August 12, 2013, (Sag Harbor, NY) Hamptons Happenings
Greetings Hamptons Mouthpiece Readers…This past Saturday I went to see the new musical at the Bay Street Theatre in Sag Harbor  " A Funny Thing Happened On The Way To The Forum". Saturday night was opening night and it was a sold out performance. This was the Final production of the 2013 Mainstage Season and it was Funny and enjoyable. This musical is inspired by the farces of the ancient Roman playwright Plautus (251-183 BC) specifically Pseudolus, Miles Gloriosus and Mosterllaria. The Musical tells the bawdy story of a slave named Pseudolus (played by Peter Scolari) and his attempts to win his freedom by helping his young master. The original was perfomed in 1962 on Broadway and won several tony awards, including Best Musisal and Best Book. Forum has been revived several times on Broadway and was made into a successful film in 1966 starring the original lead of the musical, Zero Mostel.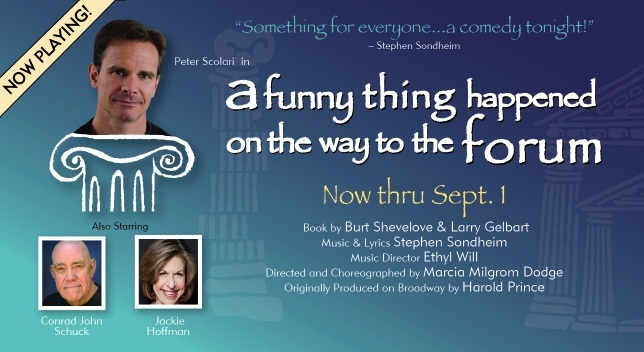 A Funny Thing Happened on the Way to the Forum runs through September 1st 2013 and stars Peter Scolari, Conrad John Schuck and Jackie Hoffman.  The book is by Burt Shevelove and Lary Gelabart with lyrics and music by Stephen Soundheim, music direction by Ethyl Will and directed and choreographed by Marcia Milgrom Dodge. Tickets to this hilarious production are $67.50, $77.50 and $79.50. For more information call the Box Office at 631-725-9500 or purchase online at www.baystreet.org.