(Sagaponack,NY) Twilight Thursday at Wolffer Estate with Alex …..Be Part of the Experience
…
Twilight Thursdays at Wolffer Estate Vineyard
(139 Sagg Road in Sagaponack, NY) is a Hamptons Tradition at the Winery on Sagg Road a musical afternoon not to be missed!
Every Thursday from 5PM to 8PM. Thursday, June 6, 2013
come out and hear Alex, sip some delicious wine and enjoy the breath-taking sunset with some friends. Alex is
Lori Stokes
of ABC News, oldest daughter.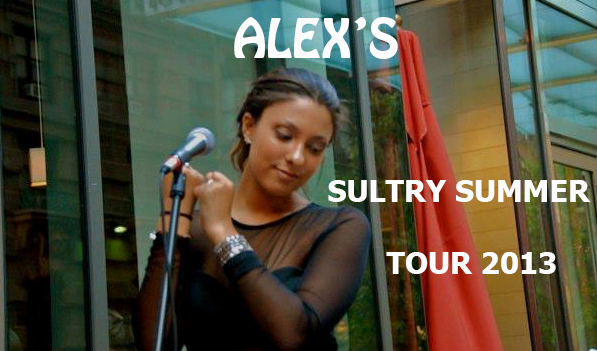 Talented with a smoky voice – ALEX will be unforgettable! There is a reason ALEX has developed a following.. With her Smokey , Smooth, and Silky style she has mesmerized audiences at a very tender age, far beyond her generation's expectations.  From her  sultry ability to captivate singing Adele's "Set Fire to the Rain" to Sting's introspective "Fragile" she  reveals a range and scope that echoes the before and after in the annals of great music  literature.  Versatile in selections in French, Greek, and Spanish she has enjoyed rave reviews for her international flare.. the famed "Quien sera" is always a big crowd pleaser.    In order to reach for the stars, she has now joined  forces with the juggernaut Vocal/Artistic  director which Oprah Winfrey has dubbed "The Vocal Coach to the Stars", Kenn Hicks. Even though Kenn's client list is quite extensive from JLO, Sting, to Mary J. Blige he has taken an interest in ALEX as a true upcoming artist to watch.  According to Hicks… "ALEX possesses a wealth of zeal, passion, and compassion when she sings which are vital elements of distinction as an artist carves out their own niche in the world of music."
Hope to see many of you on J
une 6th  5-8pm at Wolfer.
..I had the pleasure to see Alex perform last year at Wolffer and I am looking forward to hearing her again this year…..Check out other Wolffer events this summer…
c
lick here..
.
Additional Performance Dates this summer…unfortunately not in the Hamptons
Sunday, June 9th  @
11:30 AM to 2:30 PM Join ALEX for Sunday brunch at this wonderful venue located at 23 East Palisades Avenue in Englewood, NJ. 
Monday, June 10th @
6:30 PM Located at 11 West 31st Street in New York, AYZA Midtown offers  elegant wine and gourmet chocolate. Add the sultry sounds of Alex and you've got a a formula for fun and maybe a little romance. 
Monday, June 17th and July 8th @ 
8:00 PM Located at 36 N. Van Brunt Street in Englewood, NJ, this Northern New Jersey hotspot boasts fine food and wines and  it's a great place to hear wonderful music too. 
Thursday, July 11th  @
7:00 PM Located in the center of the quaint town of Westwood, New Jersey at 284 Center Avenue,  Bibi'z serves up exciting dishes and unique ambiance. Add the incredible sounds of ALEX and you've got an ideal evening!