Wainscott, NY..Hamptons Party scene 2013 gets an Early start..Greetings Hamptons Mouthpiece readers, are you ready for what I think is going to be an exciting and electrifying summer in the Hamptons?  I am so excited about the planned events for the summer and I am very happy to be working with my friend Sean Burns for is what is rumored to be some of the hottest events Happening in the Hamptons this summer.
To get things started Georgica will be hosting it's  5th Season opening party on Saturday, May 15th starting @ 630pm.
Complimentary Champagne, Wine, or a MDW Cocktail and passed hors D'Oeuvres
$30 Three course Prix Fix available 630pm-12m
*Dinner Reservations are suggested. If you are not dining then stay and enjoy the night and all the great music.
Estee Maria Band is performing 630-11pm…Love this Band, so make sure you bring those dancing shoes because this band is amazing.. 
Followed by Late Night Dancing and Drinks with DJ CRED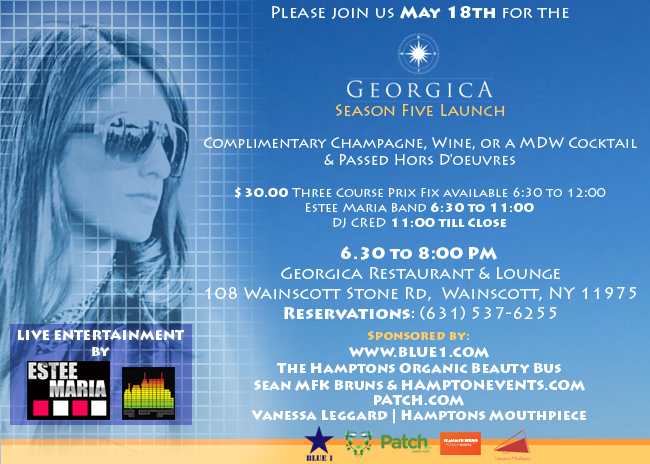 Stay tuned for Friday nights at Georgica this summer, This will be a happening spot in the Hamptons this summer.