Hamptons Happenings March 2013 …Greetings Hamptons MouthPiece Readers…It is hard to believe that March is here already, it is just fascinating how quick the months come and go. There is much to do in the Hamptons for the month of March, a great time to visit for the weekend and for you locals a great time to stop hibernating in your homes. The Annual St. Patrick's day Parade in Montauk celebrating its 51st year  will now kick off at 11:30am on Sunday March 17th 2013 "Rain or Shine starting at Edgemere Road at 11:30 a.m. in Montauk, NY. The parade will continue up Edgemere Road and then turns on to Main Street past the reviewing stand on the Green. It then concludes at the end of Main Street by the IGA. This is New York's second largest St. Patrick's Day Parade and it is always a fun event  many local restaurants that have been closed will be reopening for the season. Starting at 10 a.m. on the Green, the Montauk Chamber of Commerce will be serving hot clam chowder in your very own St. Patrick's Day Parade souvenir mug. Montauk's finest clam chowder is made and donated by local restaurants.
March 2013 Hamptons Happenings
March 1st: Multicultural Festival Presented by the Sag Harbor PTA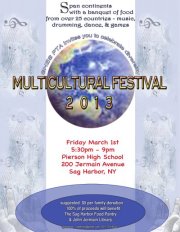 Come enjoy and celebrate the festival of diversity here in beautiful Sag Harbor…I attend every year and I just love the various types of food displayed. I have to say I am biased, I love the Caribbean table:
When: Friday, March 1st
Time: 530-930pm
Place: Pierson High School, 200 Jermain Avenue, Sag Harbor, NY
suggested $5 per family donation…100% of proceeds will benefit the Sag Harbor Food Pantry & the John Jermain Library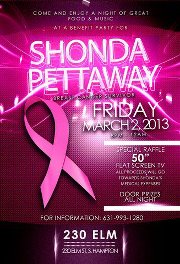 Friday, March 22nd 2013**A BENEFIT FUNDRAISER FOR SHONDA PETTAWAY
Benefit fund-raiser for Shonda Pettaway:
Battling Breast Cancer..Proceeds will help to cover medical expenses.
Tickets are $15.00 in advanced & $20.00 at the door.
Date: Friday March 22nd 8pm
Place: 230 Elm St Southampton

230 Elm St, Southampton, New York 11968
THE PHOTO CLICK TO BENEFIT EAST END HOSPICE
Saturday March 2nd**Photography Show at Martha Clara Vineyard
6 – 8 pm is "Jazz on the Vine"
*Please note attendance at 6:00 pm will require admission ticket for Jazz on the Vine**Martha Clara Vineyards**6025 Sound Avenue, Riverhead
A portion of proceeds from the sale of artwork benefit East End Hospice
For more information on this benefit please call 631-288-7080 or events@eeh.org

Am O'Gansett Parade
Saturday, March 9th 12noon**Crossroads Music**160 Main Street, Amagansett, New York 11930
The 5th Annual Am O'Gansett Parade will take place on Saturday, March 9th at noon o clock. The parade will start at Mary's Marvelous and go all the way down to the Computer Store, then spin around and come back for a double dose of healthy fun, maniacal laughter and all sorts of shenanigans.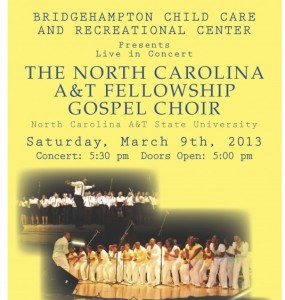 Saturday March 9th @ 5pm**Live in Concert! North Carolina A&T Fellowship Gospel Choir visits the Hamptons**
Community Baptist Church* 16 Plant St, Southampton, New York
The Center presents Live in Concert! North Carolina A&T Fellowship Choir, Greensboro, NC. This is an event you do not want to miss. North Carolina A&T Fellowship Gospel Choir is an awesome choir.
Ticket price is $20 in advance and $30 at the door.  For more information and to purchase an advanced ticket contact Bonnie Cannon (631)537-0616 ext. 16. All proceeds will benefit The Center. Please come out and support a worthy cause.
Saturday, March 12, 12013 **Oceans of Hope Gala & Fundraiser to Benefit the Riverhead Foundation
Time 7-11pm
Place: Long Island Aquarium and Exhibition Center
467 E. Main St., Riverhead NY 11901, Riverhead,
tickets: $150
contact: 631-369-9840 Joanne
The Riverhead Foundation's 13th annual Oceans of Hope Gala & Fundraiser on March 16th, 2013! Join us for an evening of dinner, dancing to the music of The Hackensack Men, a silent auction & casino fun to benefit the Riverhead Foundation for Marine Research and Preservation! Tickets are $150 dollars, call 631-369-9840 or email Joanne at JBiegert@riverheadfoundation.org for information, purchases, or for sponsorship and advertising opportunities. Sat, March 16th, 2013 7-11pm. Semi-formal attire.
Club Underground: Gay Men's Party
Saturday, March 16, 2013 @ 8pm
Arthur Murray Dance Center
425 County Rd 39a, Lower Level Suite 1, Southampton,
tickets: $5 at the door
contact Info: James R West**631-283-1488 or amdshamptons@gmail.com
SEAL HIKE IN MONTAUK
WHEN:
Sat, Mar 09, 2013 11:00 AM
Sun, Mar 10, 2013 1:00 PM
Montauk Point State Park
2000 Montauk Highway
Hikers will meet at the Montauk Light House Concession building. Please dress appropriately for cold weather and wear comfortable shoes. You will be outdoors approximately 2-3 hours. Due to the popularity of this hike, there is limited space. Please call 631-668-5000 to reserve your spot. RESERVATIONS ARE REQUIRED. Special accommodations can be made for groups larger than 15 wishing to go on the hike. Fees are $5/adults $3/children age 7 to 18 and Free/children age 6 and under.
CONTACT INFORMATION: Latisha Coy
631 668-5000
Saturday, March 16, 2013@ 8:00 pm….Erin Go Mardi Gras Party!
Dance and party at Bay Street Theatre at the ST. PATRICK'S DAY PARTY with a Mardi Gras theme on Saturday, March 16 at 8 pm.  Dance to the music of Joe Lauro's HOODOO LOUNGERSand GENE CASEY & THE LONE SHARKS! Tickets are $15 in advance and can be purchased at the box office or online CLICK HERE or $25 at the door. Beads and masks will be available for this special night of fun.
Bay Street Theatre
Corner of Bay and Main Streets,
Sag Harbor, NY, 11963
EQ CHAMBER OF COMMERCE ANNUAL EASTER EGG HUNT
East Quogue Elementary School
Central Avenue, East Quogue
East Quogue Chamber of Commerce Annual Easter Egg Hunt – Prizes and fun for all children! Bring your baskets!
CONTACT INFORMATION: Donna Lanzetta 
There are many more events for the month of March to be added, make sure you check the calendar and this article throughout the month for updates….Hamptons Happenings March 2013…you can also check Southampton and Easthampton Patch and Dans for events in the Hamptons.