Hamptons Happenings…The Hamptons Events List 2014 ...Greetings Hamptons Mouthpiece Readers...Are you planning on spending your summer in the Hamptons this year? Are you planning your summer calendar as we speak? Which Hamptons Happening events you are interested in attending? I am looking forward to attending Super Saturday, Chef's & Champagne and of course one of my favorite events Art For Life. I am anxious to see who's coming and performing this year. I have a hunch who might be performing based on an episode of Hollywood Husbands I saw.
Looking forward to seeing all of you Out & About this summer…Just look for my Hamptons Mouthpiece logo…
Hamptons Happenings 2014 Events List
MAY 2014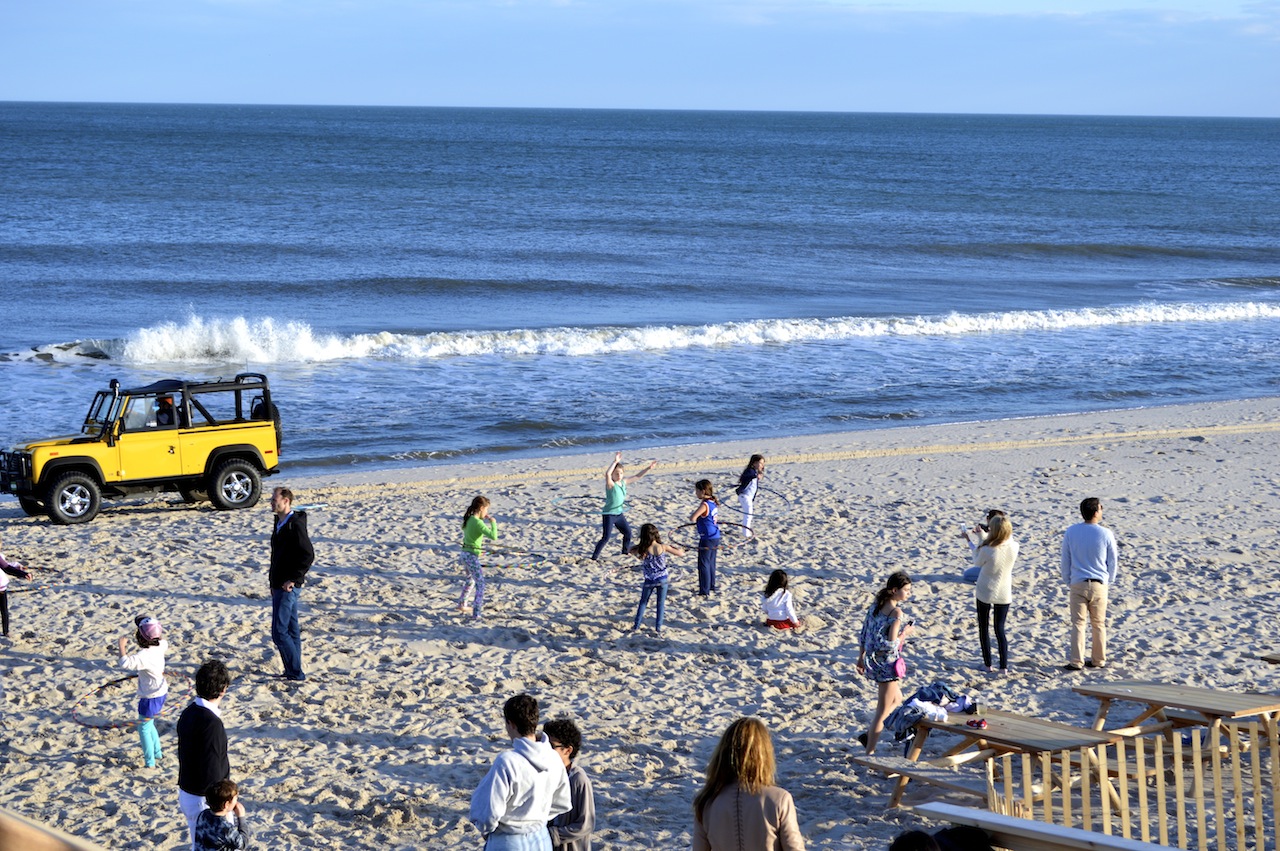 5/15/2014 **5th annual Montauk Music Festival Montauk, 7-11pm
http://www.themontaukmusicfestival.com/
?
Contact Name:
Ken Guistino?
Contact Email:
ken@montauksun.com
EVERY WEDNESDAY IN MAY 2014
Eileen Fisher Wellness
Wednesday ?Eileen Fisher is Partnering with Yoga Instructor Petia Cummings of the Body Shop to offer two free yoga classes @ 10:00 & 12:00 on Wednesday mornings starting May 7th. There will be a light breakfast served after class. Call 631-324-4111 for more information. Eileen Fisher 26 Newtown Lane, East Hampton
5/14/2014 35th Annual IGHL Spring Gala
Developmentally disabled people are faced with difficult challenges on a daily basis. ??IGHL is dedicated to helping the families we serve with programs and services designed to help.
Friday, March 14 from 4 to 8 p.m
For more information call 631-878-8900 or visit ighl.org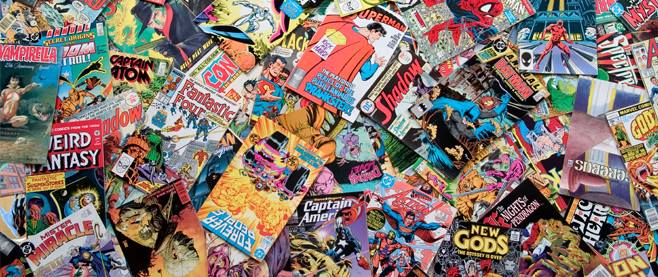 5/17/2014 Hamptons Comic Book show
5/17/ 2014 10am-4pm
230 Elm Street, Southampton, NY
Comic Books – Art – Cartoons – Costumes – Toys & Games Enjoy day with comic books & related fun at 230 Elm. Both discount items and collectibles. Check website for details:
http://www.hamptonscomicbookshow.com/
5/17/2014 6th Annual American Heart Ride
Friday 6pm – Saturday 5pm 5/18/13 Rotations Bicycle Center
32 Windmill Lane*Southampton, New York, 11968 email: eartride2014.kintera.org
5/19/2014 Ann Liguori Foundation Charity Golf Classic
Bridge Friar's Head in Baiting Hollow, NY www.annliguori.com
5/24/2014 Miracle House summer kick off gala Cocktails by the Bay…
Bridgehampton Tennis & Surf Club, Bridgehampton, NU click for more info www.miraclehouse.org
5/24/2014 8th Annual Kites for a Cure
Uniting Against Lung Cancer will kick off the summer this Memorial Day weekend with their annual Kites for a Cure event. Rain or shine, this event will attract over 1,000 kite flyers and benefit lung cancer research and awareness. All proceeds from the day will go towards Uniting Against Lung Cancer's national lung cancer research program.
Coopers Beach, 268 Meadow Ln., Southampton;unitingagainstlungcancer.org

5/24/2014 ARF Designer Showhouse and Sale
This incredible designer showcase will feature rooms styled by some of New York's most illustrious interior decorators. All proceeds from the event will benefit ARF's mission to find loving homes for animals in need.
ARF Thrift and Treasure Shop, 17 Montauk Hwy, Water Mill;arfhamptons.org
5/25/2014 PPHP's 26th Annual East End Benefit
Planned Parenthood Hudson Peconic
5-7 pm? Hosts: Michael halsband, Rima Marrdoyan, Ann Pogue-Campbell… Watermill, NY
http://www.plannedparenthood.org/hudsonpeconic/events-15454.htm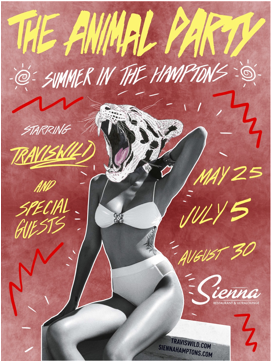 Sunday, May 25th,
The Animal Party
is back for a second season at the hottest Hamptons destination,
Sienna
. The legendary
TRAVISWILD
(
www.traviswild.com
), who has shared the stage with revered performers including
The Chainsmokers, Ferry Corsten, Mord Fustang
, and many others will be spinning with special guest
SBND
(
www.wearesbnd.com
) throughout the night from
11pm – 4am
…..Sienna is located at 44 Three Mile Harbor Road in East Hampton. For nightlife reservations please call
(631) 604-6062
or visit
www.siennahamptons.com
.
JUNE 2014
6/1/2014 Our fabulous Variety Presents..Raffa Show
Sunday June 1st @ 6pm
230 Elm street, Southampton, NY
June 7th East End Hospice East End 2014
Tickets are $20 in advance, $25 at the door. They can be purchased online by visiting
http://www.brownpapertickets.com/event/677901
6/7/2014 11th Annual Starlight Ball
Saturday, June 7 @ 6pm-11pm
Ross School, 18 Goodfriend Drive, East Hampton, NY
Performance by KC and the Sunshine Band Cocktail Reception, Silent & Live Auction, Dinner, Dancing & Entertainment Benefiting the Steven J. Ross Scholarship Fund For more information, please email
starlight@ross.org
or call 631-907-5214.
6/7/2014 Southampton Fresh Air Home **5-830pm
21st Annual Decorators – Designers – Dealers
Sale and Auction Benefit Gala
631-283-5847, ext. 101.
6/7/2014 Montauk Summer Weekend
American Littoral Society
Friday, June 6, 2014 at 2:00 PM – Sunday, June 8, 2014 at 5:00 PM Montauk, NY [button color="yellow" link="http://www.eventbrite.com/e/montauk-summer-weekend-tickets-9302079771?aff=es2&rank=2&sid=eb1c7c94d5ef11e3a56b1231390f9522″ font="tahoma" align="right"]Click here for more info.[/button]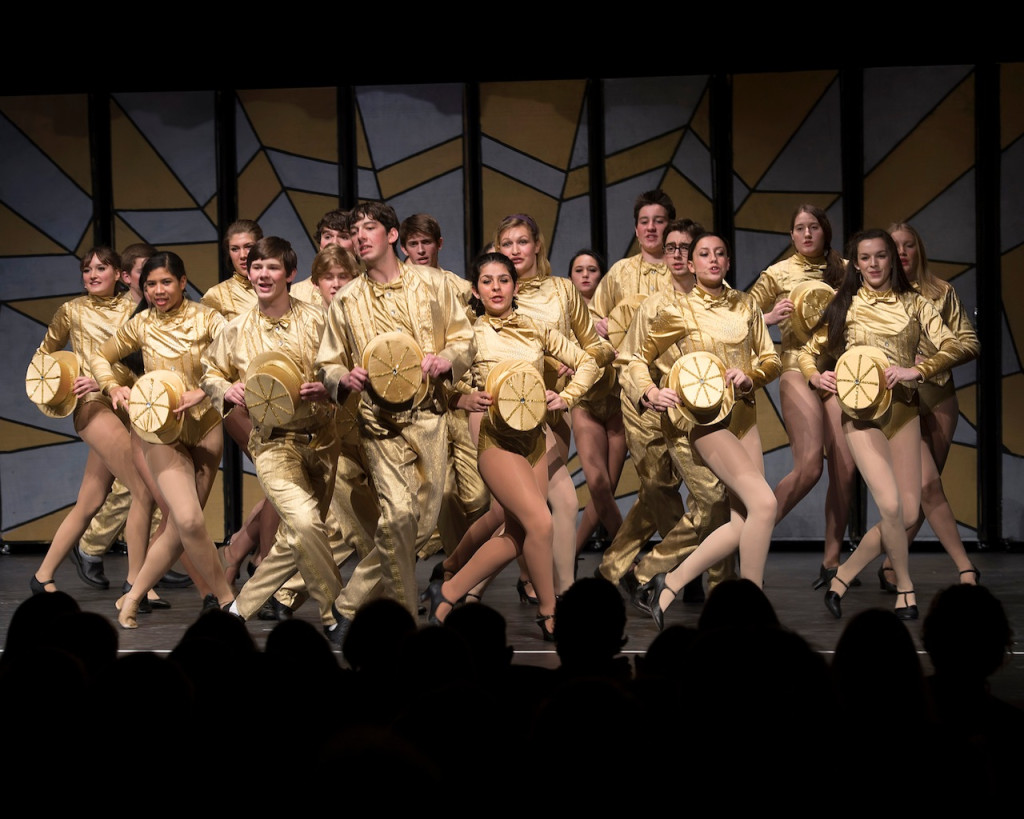 6/8/2014 12th Annual Teeny Awards Ceremony?
Sunday, June 8, 2014, 3 – 5 PM? @
Longwood High School, 100 Longwood Rd, Middle Island, NY 11953
http://www.eastendarts.org
6/16/2014 6th Annual Ross School Golf with the Knicks
The Ross School invites guests to participate in a day of golfing with the Knicks. Join in for a chance to tee off with legendary Knicks alumni John Starks and Larry Johnson. Benefiting Ross School scholarships and programs, guests will be offered breakfast, a shotgun start, and a cocktail reception.
The Bridge Golf Club, 1180 Millstone Rd., Bridgehampton; development@ross.org
6/21/2014 Group for the East End
Annual benefit & Auction, 6-11pm Wolffer Estate Vineyard, Sagaponack
jchristrup@eastendenvironment.org. Kristina Lange at 631.765.6450 x216.
6/21/2014 SUMMER SOLSTICE Gala Cocktail Party
Benefit for Ellen's Run? Saturday, June 21, 2014 in Southampton, NY?Hosted by ELLEN & CHUCK SCARBOROUGH ?Honoring…JEAN SHARINOFF, Philanthropist-Volunteer-Leader?and ROBERT CHALONER, President & CEO of Southampton Hospital
http://shop.ellensrun.org/product_p/party-ticket.htm

6/21/2014 Shelter Island Run
530pm start time, 35th Annual Shelter Island 10K & 5K
Shelter Island, NY
http://www.shelterislandrun.com/events.html
turbo Adult race to benefit I-TRI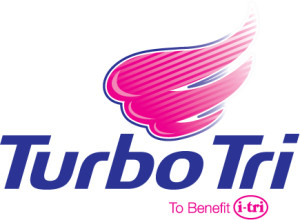 Saturday, June 21st, @ 5pm
Maidstone Park, Springs, East Hampton 300 yard Open Water Bay Swim 7 Mile Bike 1.5 mile run. Race as an individual or as a team. Awards will be awarded for 1st, 2nd and 3rd place overall in each of three categories: Men, Women & Relay Teams. Plus a special "Spirit of i-tri" award is given for the racer in each division who truly encompasses the i-tri spirit! Anyone can TRI! Racers should arrive by 3pm. Parking is limited–carpool if possible. Register here
http://itrigirls.org/turbo-tri/
6/21/2014 Artists Against Abuse 630p-1030pm The Retreat
http://www.theretreatinc.org/artists-against-abuse/
Ross School Lower Campus Field House, Butter Lane, Bridgehampton, NY
6/23/2014 The Hamptons Golf Classic
The Hamptons Hills Golf and Country Club
The event starts at 10 a.m. and will be followed by a silent auction and awards reception. Limited player foursomes are available zev@gettherepr.com or calling 917/232-2355.
6/28/2014 An Enchanted Evening East End Hospice summer Gala @7pm
7pm , Sandacres Estate, Quogue, NY…
http://www.eeh.org/summergala14.html
6/28/2014 Holiday House Hamptons
Opening Night White Gala 6-9pm
Watchcase, Sag Harbor
http://www.holidayhousehamptons.com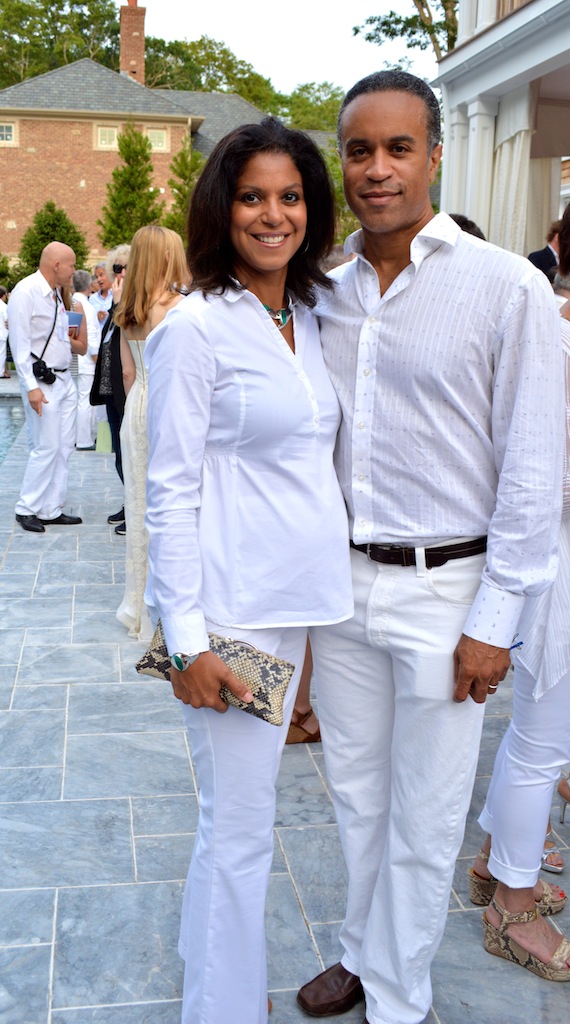 6/28/14 18 Annual Heart of the Hamptons Gala Bridgehampton 630-1130pm
Hayground School, 151 Mitchells Lane
Bridgehampton, New York, 11932
contact Barbara Poliwoda at (631) 734-2804 or visit
http://hamptonsheartball.heart.org/
Purchase your ticket:
http://hamptonsheartball.ahaevents.org/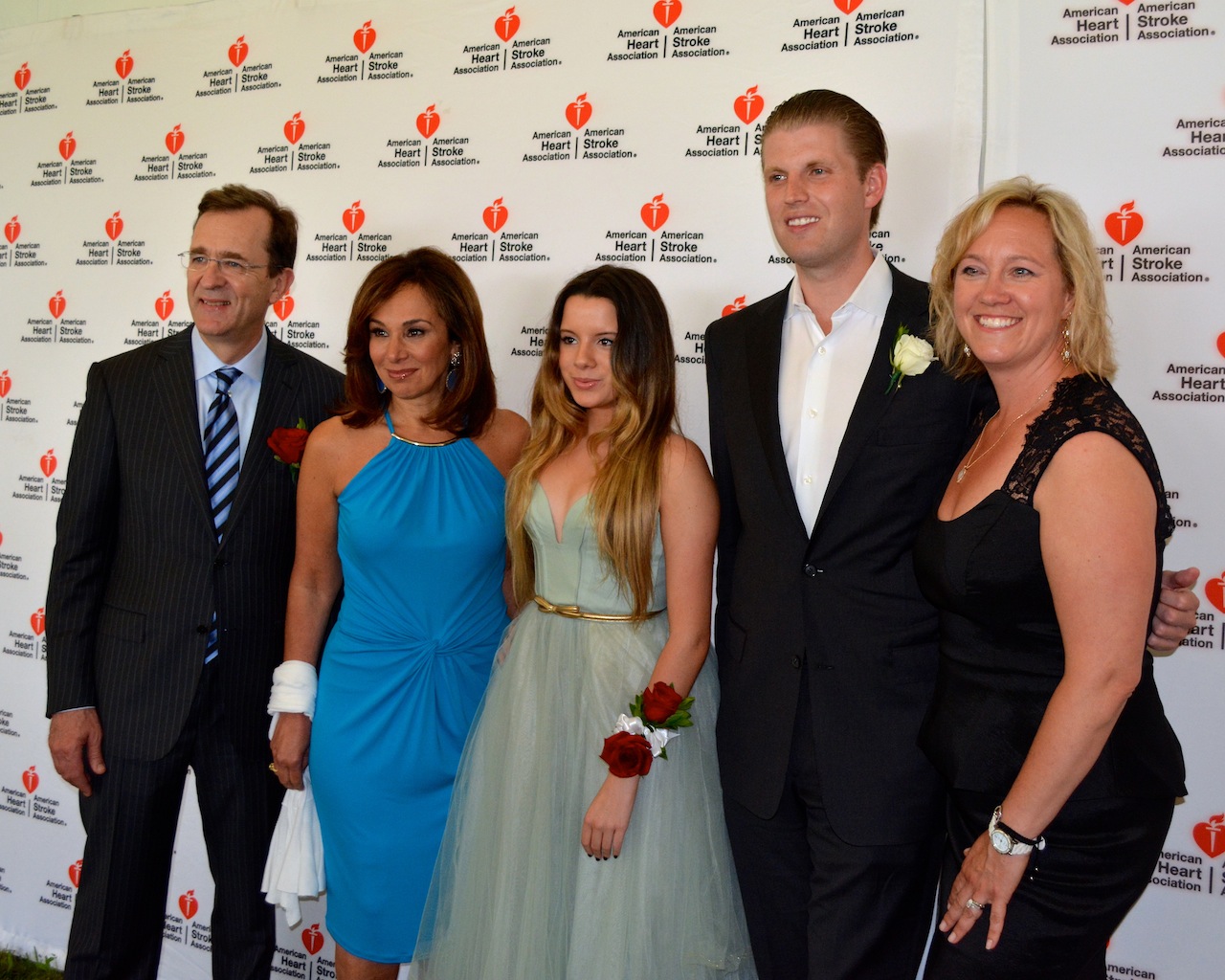 JULY 2014
7/4/2014 Southampton Fresh Air Home
The 27th Annual American Picnic
with fireworks by Grucci…1030 Meadow Lane,
Friday, July 5th, 7:00 – 10pm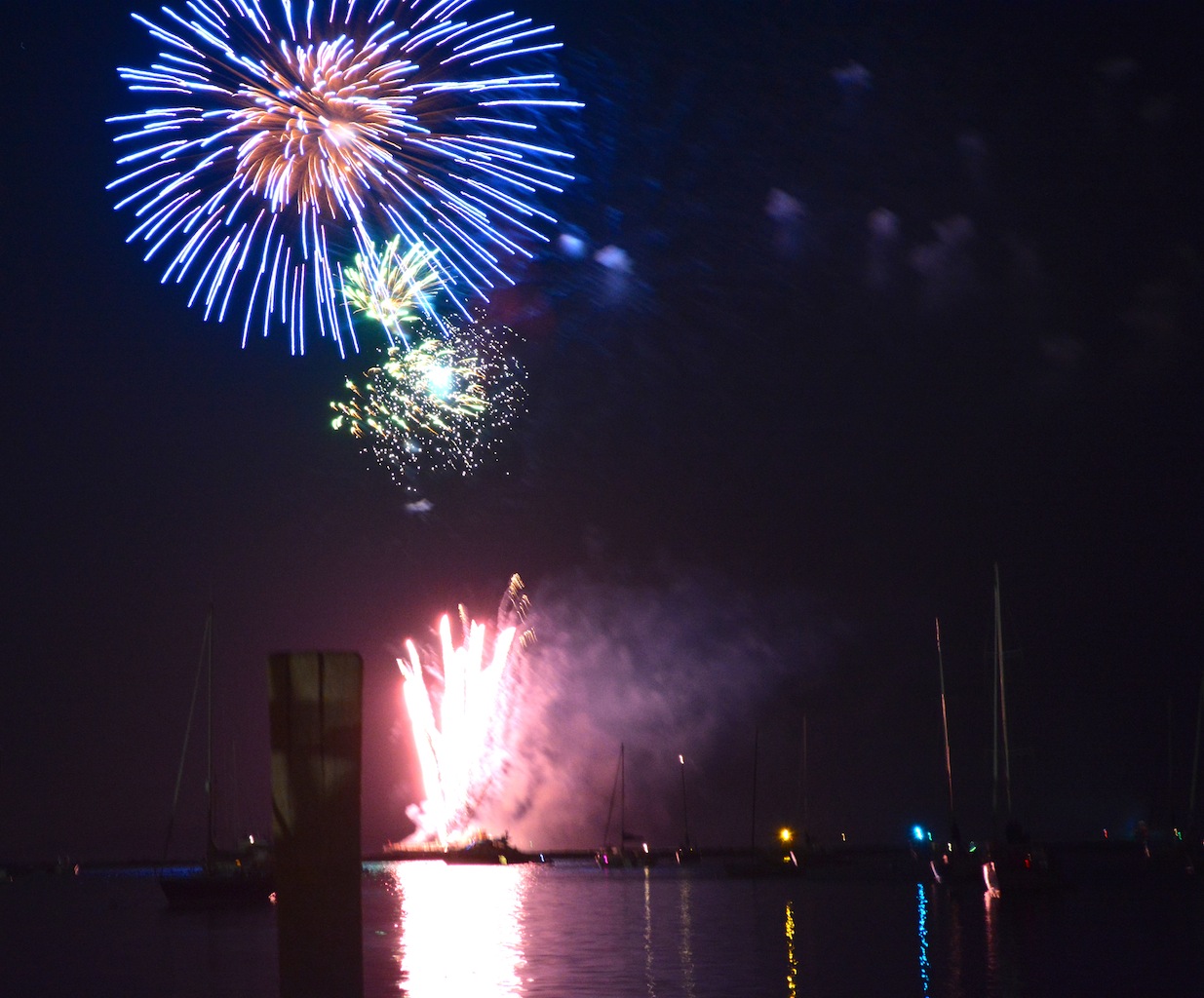 LUNA FARMS Love Heals
in Sagaponack DATE NOT CONFIRMED YET!
http://www.loveheals.org/events/upcoming-events/
7/10-2014 – 7/13/2014 ART HAMPTONS
Sculpture Fields of Nova's Ark is located on 60 Millstone Rd. (off Scuttle Hole Rd.)?Bridgehampton, NY. 11932

7/12/2014 MIDSUMMER PARTY
7PM-1AM Parrish Art Museum in Water Mill
Artists Alliance of East Hampton (HAS BEEN POSTPONED UNTIL THE FALL 2014)
28th Annual Tour Artist Tour…
http://www.aaeh.org/Studio_Tours.html
7/12/2014 Hamptons Tea Dance @ Art Hamptons
Sponsored by Empire State Pride Agenda
Saturday, July 12, 2014?4-8 PM?The Ark Project, 60 Millstone Road?Water Mill, NY
7/12/2014 Bay Street Rock the Dock Summer Gala,
630pm Bay Street Theatre ?Corner of Bay and Main Streets,?Sag Harbor, NY, 11963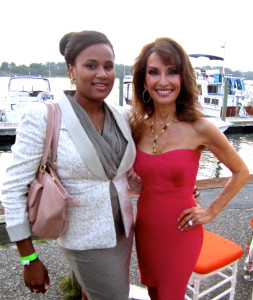 Bay Street Theater Presents Travesties
Tuesday July 15th-Sunday, July 20, 2014
8:00 pm – Matinees at 2pm on Wednesday & Sunday
For the second production, Richard Kind returns to Bay Street Theatre in TRAVESTIES, a Tony award winning comedy, which runs June 24-July 20. This Tom Stoppard classic will be directed by Gregory Boyd. Stoppard creates a smashing theatrical extravaganza with the wit of Oscar Wilde crashing headlong into song-and-dance, strip-tease, pie-fights, and brilliant wordplay. Set in 1917 and 1974 in Zurich, Switzerland, the play fantasizes how a British consul named Henry Carr (Richard Kind) encounters some of the most famous figures of the 20th century.
Contact Information: Box Office* 631-725-9500* boxoffice@baystreet.org
Bay Street Theater, Long Wharf, Sag Harbor
JULY 19TH 2014
7/19/2014 Long House Summer Benefit- White Night 6-9pm
…
Longhouse Reserve, Hands Creek road, East Hampton
http://longhouse.org/google-calendar#year=2014&month=7&day=1&view=month
JULY 19th 2014 Hampton Designer Showhouse
The 2014 Hampton Designer Showhouse Gala Preview Cocktail Party, $225
Gala Preview Cocktail Party on Saturday, July 19, 2014
Sunday, July 20, 2014- Monday, August 18,2014 11am-5pm $35* Tickets can be purchased at the door.
Proceeds will benefit Southampton Hospital, Southampton, NY.
The 2014 Hampton Designer Showhouse
408 Pauls Lane, Bridgehampton, NY
http://www.hamptondesignershowhouse.com
Contact info: info@hamptondesignershowhouse.com
Black & White Benefit July 19th
Contact Information: Stephanie Lebowitz, 6317490025
info@shelterislandhistorical.org
Shelter Island Historical Society Barn, 16 South Ferry Road, Shelter Island
www.shelterislandhistorical.org
The 5th Annual Southampton Animal Shelter Foundation's Unconditional Love Dinner Dance Gala
July 19th 630-1103pm
The Southampton Animal Shelter Foundation will host its 5th annual Unconditional Love Dinner Dance Gala on Saturday,July 19th. This year's benefit will honor author, international equestrian Georgina Bloomberg for her work on behalf of homeless, abused & neglected animals.
Contact info: Barbara Riegger (631) 728-7387 ext 240….barbara@sasfinc.org
SOFO (South Fork Natural History Museum) Goes Silver Benefit For 25th Anniversary 7/19 630-930pm…South Fork Natural History Museum, 377 Bridgehampton Sag Harbor Turnpike
Linda Shapiro*631-725-2023 email:lbspro@optonline.net
price: 275.00 for regular ticket, junior ticket under 30 = 150.00
6th Annual CMEE Family Fair 7/19/2014 1030am-130pm
MAGIC at CMEE on Saturday, July 19, 2014 held right here at the museum! From 10:30am-1:30pm, families will enjoy magically-inspired arts and crafts, water rides, performances, games, music, food and more!
Adult Ticket – $150, $200 at the door, Child Ticket – $100, $150 at the door.
Children's Museum of the East End, 376 Bridgehampton/Sag Harbor Turnpike, Bridgehampton
St. Barth Hamptons By Social Life Magazine For St. Barth Tourism & Hosted By Brooke Shields
Saturday, July 19, 2014**6-10pm
Spend a night to remember at St. Barth Hamptons, an unforgettable evening set in Bridgehampton that evokes the 'haute romance' of the planet's ultimate luxury destination…St. Barth. Once a year, nestled amongst the charming villages and sprawling farm fields of the Hamptons, is a gala to remember. From one season to the next, there is a singular event that emerges as a beacon to which all others strive. Sought after by Manhattanites and coveted by sophisticated Hampton-socials. Bask in the company of elegant brands and enjoy an evening of exquisite tastings from local restaurants.
Contact Information:Rolise Rachel 212*725*1860
rolise.rachel@sociallifemagazine.com
Where:Bridgehampton Field
2368 Montauk Hwy, Bridgehampton, N.Y. 11932
80s Themed Hamptons Let's Misbehave To Benefit Love Heals
Saturday, July 19, 2014 630-9pm
Love Heals, the Alison Gertz Foundation for AIDS Education is hosting "Let's Misbehave," at Wölffer Estate Vineyard on Saturday, July 19th from 6:30 p.m. to 9:30 p.m. One-of-a-kind cocktails from Patron are being offered to guests, along with Hors d'oeuvres, and lots of dancing to the eighties cover band, Jessie's Girl. Also playing is Rock of Ages, and American Idol Star, Constantine.
Wölffer Estate Vineyard, 139 Sagg Road, Sagaponack
www.nycharities.org/events/EventLevels.aspx?ETID=7344
Soldier Ride The Hamptons* Saturday, July 19, 2014 830am-12noon
JOIN US FOR SOLDIER RIDE THE HAMPTONS
www.soldierride.org/thehamptons
IN HONOR OF LANCE CORPORAL JORDAN C. HAERTER
START LOCATION:
Soldier Ride and Amagansett 5K Walk, Ocean View Farm
551 Montauk Highway, Amagansett, New York 11930
Sag Harbor 5K Walk, Marine Park, 7 Bay Street, Sag Harbor, New York 11963
please support http://fundraise.woundedwarriorproject.org/sr/Search/Fundraising/?page=1&limit=20
Maxi Priest To Perform At The Backyard Restaurant At Sole East
Saturday, July 19, 2014 @ 6:00 pm
Reggae artist Maxi Priest (http://www.maxipriest.com) will perform poolside Saturday, July 19th at The Backyard Restaurant at Solé East Resort as part of the Summer Concert Series starting at 6:30 p.m. The London native's music is mostly reggae infused with r&b and soul. There will be no cover charge**Sole East, 90 Second House Road Montauk NY 11954
34th Annual Great Bonac Fireworks Show**July 19th, 2014 9pm
3 Mile Harbor East Hampton
Address: 3 Mile Harbor, East Hampton
Southampton Antique Fair*Sunday, July 20, 2014 9AM-2PM
Antiques, furniture, jewelry, vintage clothing, glass, ceramics, artwork, collectables and more will be sold inside the Red Barn and on the grounds. Vendors needed, for more info call 283-2494. Admission is FREE….Rogers Mansion, 17 Meeting House Lane, Southampton
Bridal Showcase At Long Island Aquarium & Exhibition Center Sunday, July 20, 2014
1-3:30 pm.. Hotel Tours begin at 12:30pm
Long Island Aquarium & Exhibition Center – Seastar Ballroom
431 East Main Street, Riverhead
$15/person with reservation; $20/person at door (free for all previously booked events)
www.atlantisbanquetsandevents.com
Art Southampton Returns July 24-28, 2014
Thursday, July 24, 2014 – Monday, July 28, 2014
– Friday, 12pm – 8pm, Sat & Sun, 12pm-7pm; Mon, 12pm-5pm
Art Southampton, the Premier International Contemporary & Modern Art Fair and marketplace for acquiring the finest investment quality works of art available in the Hamptons returns for its 3rd year July 24-28. The 2014 edition will feature a carefully selected group of 80 international art galleries exhibiting paintings, sculpture, works on paper, photography, video and installation by modern and contemporary artists.
Thurs. July 24, VIP Platinum Preview 6pm – 7:30pm, Champagne & Hors d'oeuvres; VIP Preview 7:30pm-10pm benefiting the Parrish Art Museum.Contact Information:
$15 to $40**Elks Lodge, 605 County Road 39 Southampton NY 11968
www.art-southampton.com
JULY 26TH
2nd Annual Hamptons Poker Championship, Saturday, August 2, 2014
Hampton Racquet Club
172 Buckskill Road, East Hampton, NY 11937
Charity Dinner and Poker Tournament to raise money to benefit the charitable programs of the Center for Wellness and Education. All are welcome, experienced players and beginners alike! No Limit Texas Hold Em Poker Tournament – light dinner and open bar included. Top prize – Pre-paid entry into the World Series of Poker Main Event in Las Vegas! The Center for Wellness and Education* 631-209-7602* info@togetherwehelp.org
$300 per person. If you aren't great at poker before you come, you can always play online at tructuyencasino.net with the Top 3 brands to make money and brush up on your skills for the tournament!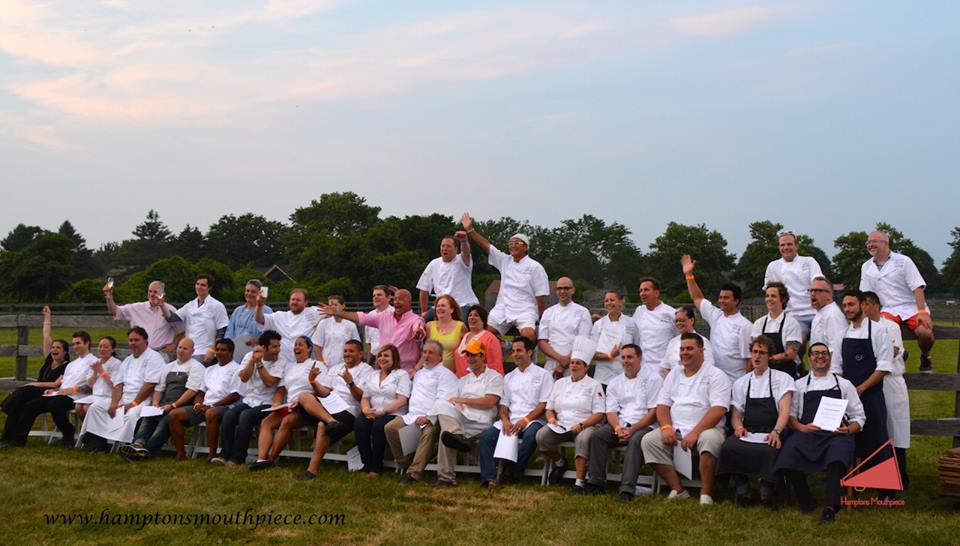 7/26/2014 James Beard..CHEFS & CHAMPAGNE
@ Wolffer Estate Vineyards 6-830pm
This was one of my favorite events last summer Bobby Flay, 2014 Honoree http://www.jamesbeard.org/chefsandchampagne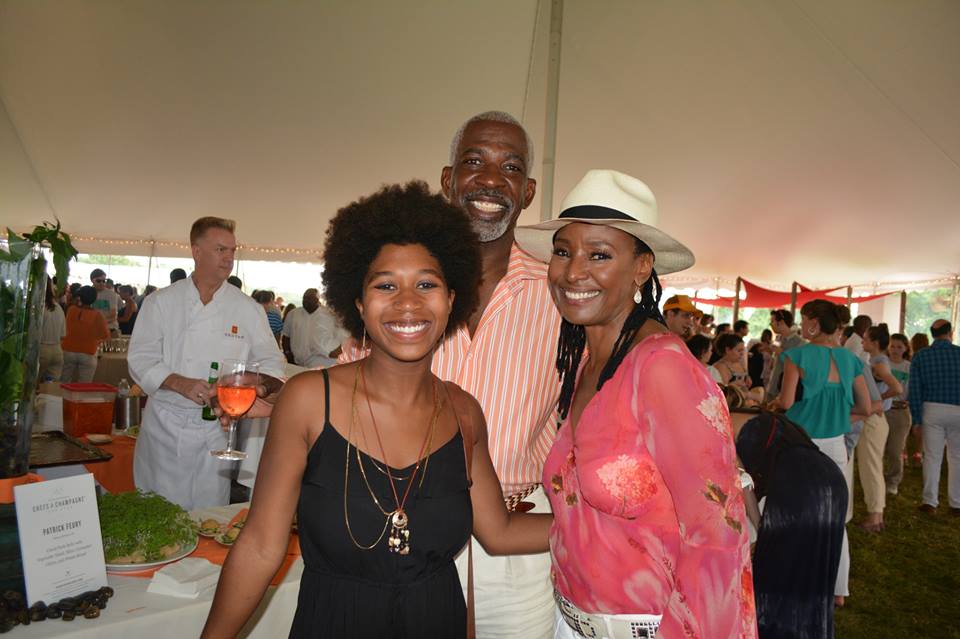 7/26/2014 Around the World in 80 Sips –
Bottlenotes, Inc
Saturday, July 26, 2014 from 6:30 PM to 9:30 PM (EDT) Southampton, NY …
Click here to purchase tickets
7/26/2014 10th Annual Hamptons Happenings..Samuel Waxman Cancer Research Foundation
10th Annual Hamptons Happening will take place Saturday, July 26th in Bridgehampton. Featuring Chef David Burke with Honorees, Fashion Designer Betsey Johnson Philanthropist Paul Ridley
Tickets now available!
For more information on the event or sponsorship opportunities please contact Bridget Stein at 646.398.5270 or
bstein@waxmancancer.org
9th Our Fabulous Variety Show production on Saturday July 26th at 2pm and 7:30pm at the Southampton Cultural Center for our show "Flashbacks!"
This show will feature OFVS favorites Samantha Slithers and Danny Raffa of The Raffa Show, our signature powerhouse dance routines and tap numbers, a fun 5 minute rendition of last summer's hit "Godspell" and more!
http://www.ourfabulousvarietyshow.org
7/26/2014 14th Annual Art For Life
, CLICK HERE FOR MORE INFO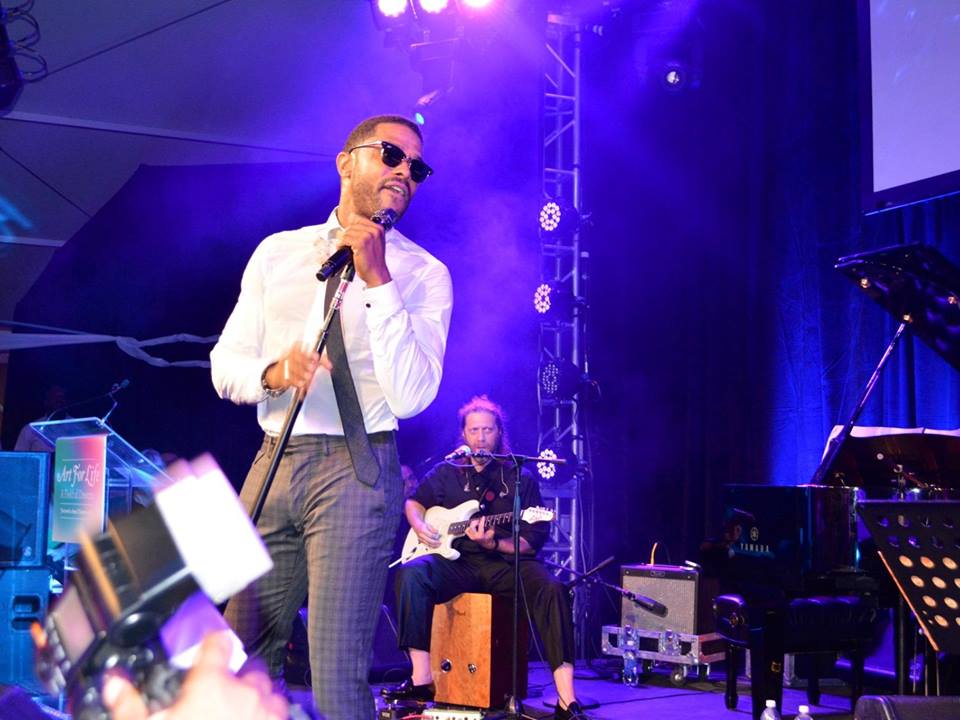 7/26/2014 Super Saturday Ovarian Cancer Research @
Nova's Ark Project in Watermill, NY Hosted by Donna Karan, Kelly Ripa
http://supersaturday.ocrf.org/super-saturday-new-york-july-26-2014
AUGUST 2014
8/2/2014 56th Annual Summer Party? Magical Madrid
Saturday, August More information to follow
http://www.southamptonhospital.org
Sunday 8/3/2014 Chefs Dinner & Meet the Chefs Cocktail Party
5:30 pm Cocktails, 7:30 pm Dinner @ the Hayground School, 151 Mitchell lane, Bridgehampton, NY
chefsdinner@hayground.org
August 8th 2014 The Great Food Truck Derby
Edible East End
Friday, August 8, 2014 from 4:00 PM to 7:00 PM (EDT) Bridgehampton, NY…
click here for more info.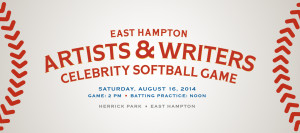 8/16/2014 Artists and Writers 65th Softball Game
Herrick Park, East Hampton …Game time Noon-4pm
Batting Practice at noon
This event supports the following charities: The Retreat, East End Hospice, East Hampton Day Care and Phoenix House. http://www.artistswritersgame.org
Sunday, August 17th 2014..19TH ANNUAL ELLEN'S RUN
9am, rain or shine
Parrish Memorial hall @ Southampton Hospital, Southampton, NY
http://www.ellensrun.org
Third Annual UNCF "A Mind Is…" Hamptons Summer Benefit**Saturday, August 23, 6:00 p.m. at the East Hampton Point Resort
Evening of waterfront cocktails, dinner and conversation is presented by the UNCF Leadership Council of New York and Chaired by Michelle Paige Paterson, Former First Lady of New York State and Camille Clark. Our illustrious Co-Chairs for this landmark event are Valentino D. Carlotti, Dr. Gallane D. Abraham, Jenna Bond, Troy Dixon, Dr. Gordon B. Anderson, Andwele J. Lewis, Barbara North-Lightning and Frederick E. Royall, III.
For more information and to RSVP, please visit
http://give.uncf.org/hamptons
or call (212) 820-0140.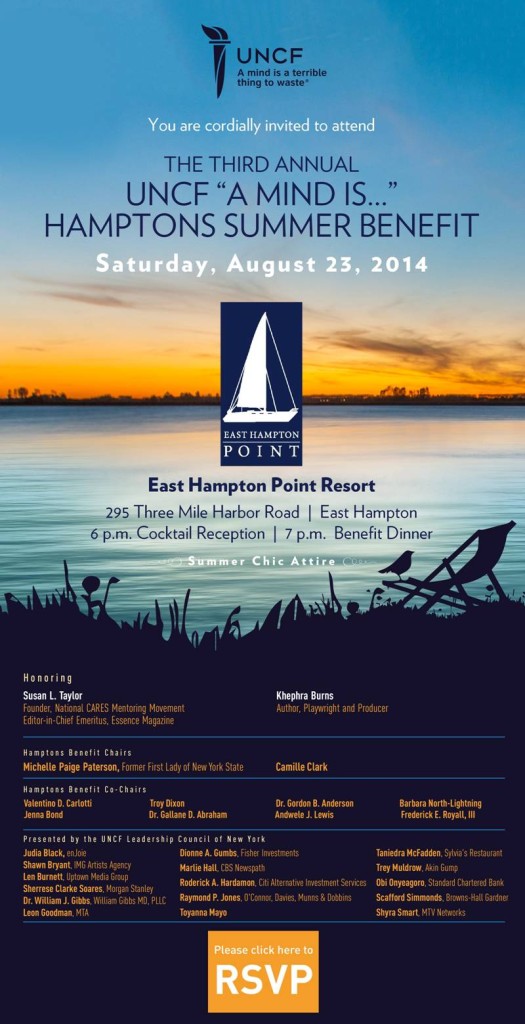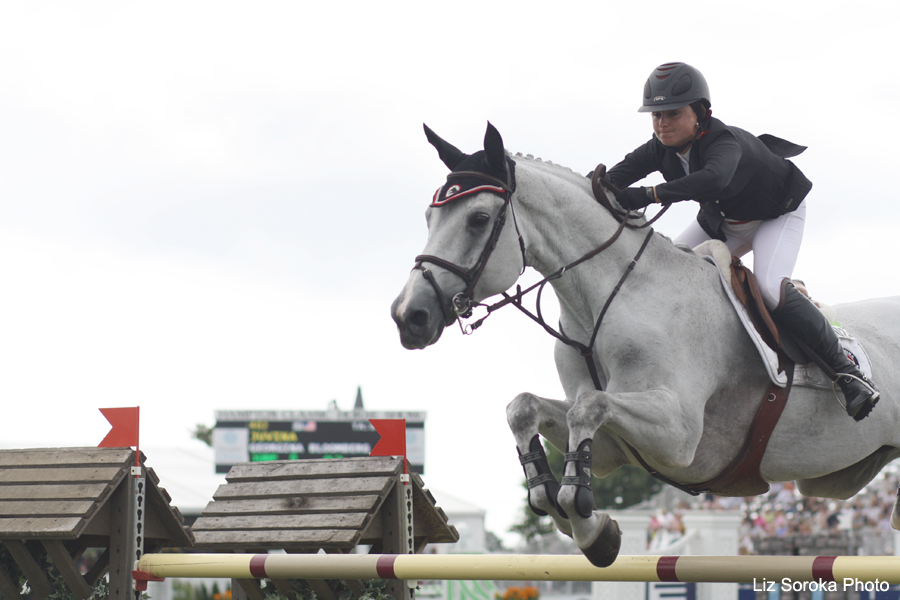 8/24-8/31/2014 The Hampton Classic One of the largest outdoor horse shows in the United States, and a premier destination for horse people, the Classic is a much-anticipated stop on the summer tour. http://www.hamptonclassic.com
8/29-9/1/2014 68th Annual Shinnecock Powwow
Shinnecock Reservation, Southampton, NY
http://www.shinnecocknation.org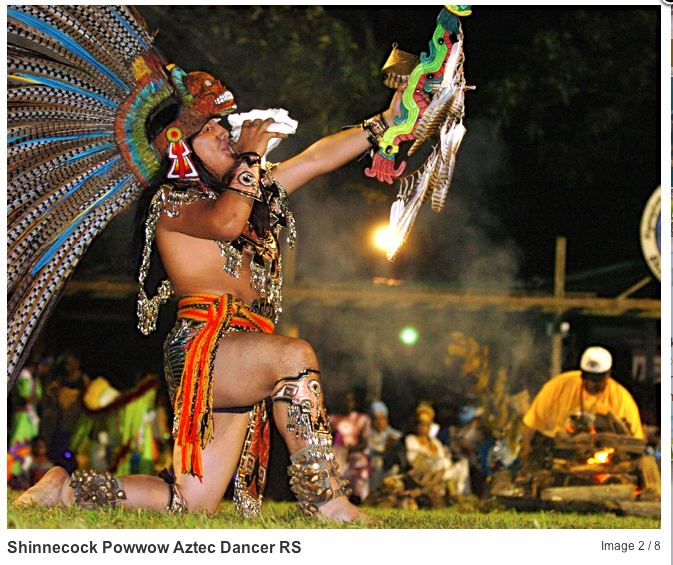 More events to be added LATER…stop back and check Hamptons Happenings…The Hamptons Events List 2014…
My favorite place last year that made a delicious Watermelon Martini is closed….Searching for who makes the BEST Watermelon Martini's in the Hamptons….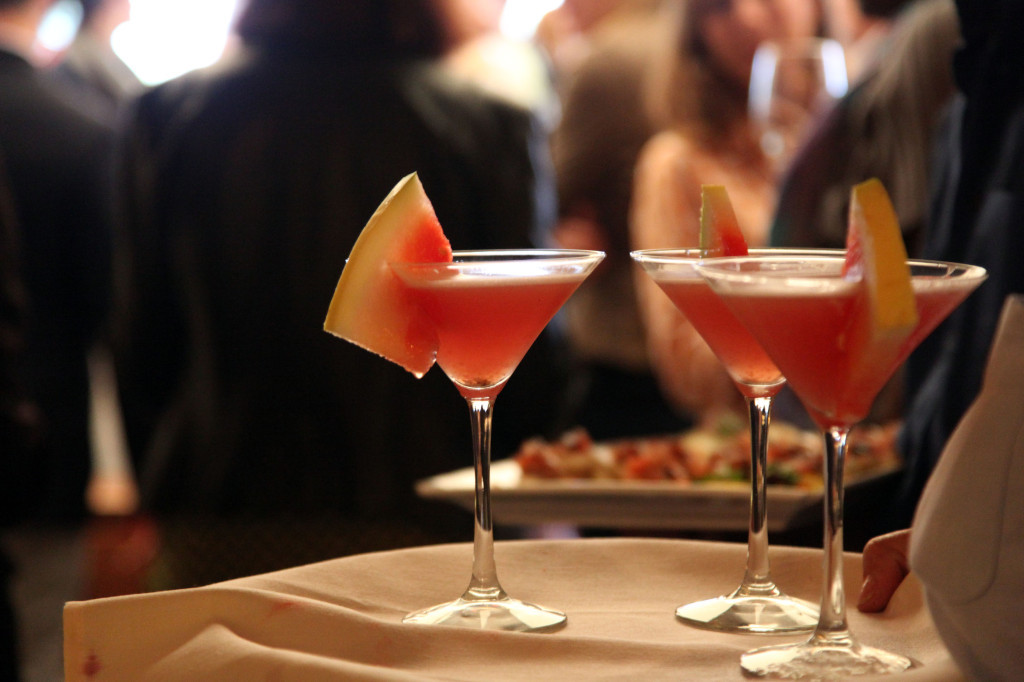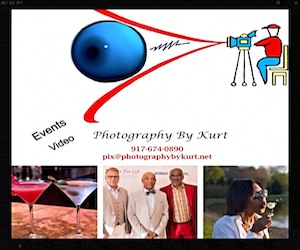 more updates to come….