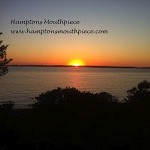 Greetings Hamptons Mouthpiece Readers...could "happy days are here again" be the slogan for both the home sellers and the realtors in the Hamptons? In a recent article "Leading Indicator: In the Hamptons, "Deals are Gone"posted on CNBC it indicates that the real-estate market has not only recovered. It's soaring past its pre-crisis peaks. Sales on homes are up and the demand is scarce. What does this mean for the home owners and more so for the buyers? More than 90 homes sold for more than $2.5 million in the Hamptons East End in the quarter. Was this just for the year 2012? Many sellers took advantage of lowering their price as part of the mansion cliff. Sellers were willing to take discounts if they could close the deal before January 1st when the tax rate on capital gains was scheduled to increase.
Is this the beginning of a new day in the Hamptons? Will sales continue to increase or will be see a drop now that the incentives are not there?
Will the Hamptons once again be occupied by only the wealthy? Will the year-round residents be able to afford to live here and use the services here in the Hamptons during the peak season?  With the surge of the home sales, who are these new buyers? Will these new buyers be seasonal owners or year-round residents? These are important questions that will affect different businesses year-round here in the Hamptons. What are your thoughts?