It is Here* Warm Weather** What is Happening in the Hamptons*May 2012
Greetings, Hamptons Mouthpiece Readers.….I am back with posting Hamptons Events for the month…The winter has been an extremely warm winter with no shortage of events. It has been a wonderful and exciting time in the Hamptons this winter. May is coming in with a splash of amazingly warm, beautiful weather and I am so excited. I love the Hamptons in the Spring because it is before the rush of tourism season and traffic jams it is a time to really take in the beauty of the area. This month there are many exciting events but as always there are too many to list and therefore I only list the one's that catch my eye that I might attend. There are several website calendars that I pull events from, my objective is to simplify it you. So without further adieu; I bring to you Hamptons MouthPiece event picks for the month of May 2012.

Hampton Singer Songwriters are back!

Sen's sister eatery "Phao Thai Kitchen" has opened it's doors to "Hampton Singer Songwriters" followed by an open mic. Weekly featured artists and members of HSS will start at 9:00 pm. You and your friends will be serenaded with mostly original songs. For these evenings only, drink specials will be available. $5 draft beers, a white and red wine by the glass special at 1/2 price….free appetizer for early birds so you can taste their menu!….make your reservations for dinner here:
http://www.phaorestaurant.com/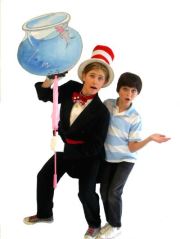 Stages' 'Seussical The Musical' At Bay Street Theatre
Friday, May 4, 2012 – Sunday, May 6, 2012
"The Cat and the Hat" and his many friends are sprung from Dr. Seuss's books to the stage, in "Seussical! "Seussical," will be performed at Bay Street Theatre in Sag Harbor on Friday, May 4 at 7:30 p.m., Saturday, May 5 at 2 p.m., and Sunday, May 6 at 2 p.m. All tickets are $15. Please call Bay Street Theatre, 631-725-9500, or visit the box office, Wednesday through Saturday, 11 a.m. to to 5 p.m. For more information contact Stages, 631-329-1420
5/4/12 Sunset Over the Harbor – Fundraiser Gala @ East Hampton Point 630pm
To Benefit the Greater East Hampton Education Foundation.
Tickets are $30 which include, dinner, chinese auction (fantastic prizes) and music by Michael of EAST END DJ's
www.eastendE.com
Bring your dancing shoes and a smile. This is a great way to kick off the 2012 season. For more info call 631.605.5125 or visit
www.gehef.org
Saturday, May 5th – 10am-Noon 3rd annual Peconic Family Fun Day

*Children's Museum of the East End
Bridgehampton Turnpike, Bridgehampton**
 FREE family fun. The day includes a carnival of
hands-on activities, guided hikes and music with the Bridgehampton School's Marimba
band. Please
contact ydebow@peconiclandtrust.org.
peconiclandtrust.org
Saturday, May 5th – 7 pm to 10 pm
"A Taste of New Orleans" cocktail party & more event news from the MPCCF!

 Sole East Resort 
Featuring Dr. Zsa's Powdered Zydeco Band
Crawfish Boil – Flying Buffet – Hurricane Cocktails – Wine & Beer
Tickets are on sale NOW for our season kick-off cocktail party for 
Montauk Playhouse Community Center Foundation. Please contact
mhrutkowski@montaukplayhouse.org or call 631.668.1124 for more info.
You may also buy tickets at the Willow Gift Shop and at the door.

montaukplayhouse.org
Every Saturday and Sunday in May***Long Island North Fork Wine Tours And Tasting @ 930am
Long Island North Fork Wine Tours and Tasting 131 Front Street, Greenport,North Fork,
North Fork Wine Tours specializes in personalized and guided tours of the LI wineries. Go on a behind the scenes tour of the Vineyard and hear a description of why the L I Wines are similar to Bordeaux wines. Visit five Wineries and enjoy live music. Lunch, dinner and accommodation packages…
Every Tuesday The Wine Project
The Wine Project occurs every Tuesday at 6:30 p.m. It is a gathering – a conversation with wine, about wine – no legs, no points, no nose, no attitude – it's about the story of the wine – it's journey, the how and why it got to your table – different wines, different wineries, different ways – at 6:30 pm **The Riverhead Project *300 East Main Street,Riverhead,11901
5/6/12  Spring Family Festival
The Parrish Art Museum's Spring Family Festival will feature a funny, fast-paced stage show by Slapdash Comedy. The show, which will begin at 1 pm, appeals to family audiences of all ages with fast-paced juggling, balancing skills, music, and audience participation. From 2 p.m. to 4 p.m., Sunday, May 6 @ 1:00 pm @ Parrish Art Museum 25 Jobs Lane,Southampton,11968
5/7/12 Seeking New Voices – Auditions For The Choral Society Of The Hamptons
Singers with experience in choral music or those who can read music and want to give choral singing a try have been invited to audition for the Choral Society of the Hamptons. Auditions, will be held on May 7, can be scheduled by calling the society's executive director, Veronika Semsakova Monday, April 30 @ 7:30 @ Bridgehampton Presbyterian Church *2429 Montauk Highway, Bridgehampton, NY
(Thursdays, Fridays and Saturdays at 8 p.m**Sundays at 2 p.m.)
HITFest & Skymaker will stage 'Extremities' by William Mastrosimone at The Bridge. 'Extremities' is a raw psychological drama that explores the terrible possibilities of our human nature when the roles of victim and attacker become blurred. Featuring: Minerva Scelza, Joseph DeSane, Molly McKenna, & Lydia Franco-Hodges. Directed by Tristan Vaughan.**Produced by Joshua Perl, Peter Zablotsky, & Minerva Scelza *To get tickets: http://extremities-hitfest-eac2.eventbrite.com  or by phone* 631- 525-2995 or @ the door by cash or credit card
5/10/12- 5/13/12 **17th Annual East End Garden Festival
17th Annual East End Garden Festival to benefit Peconic Bay Medical Center's Pegasus House Palliative Care Center. Scheduled for May 10 through May 13, the Garden Festival brings together the best of the East End – Thursday, May 10 @ 9:00 am @The Great Lawn, Westhampton Beach & Staples Shopping Center, Riverhead,Westhampton Beach
5/10/12 **Social Media Marketing Made Simple
Southampton Chamber of Commerce and Rogers Memorial Library present: Nancy Shenker, a local Constant Contact expert and founder of ONSwitch Marketing who will discuss an overview of strategies and techniques as well as time saving tips and hints to make your social media marketing more successful**Thursday, May 10 @ 6:00 pm @ Rogers Memorial Library **91 Coopers Farm Road, Southampton, NY 11968,Southampton,11968
5/11/12 Dog friendly YAPPY HOUR in the HAMPTONS
330pm-6pm***@ Foody's 760 Montauk Highway, Water Mill, NY 11976
Join dog trainer and author Lisa Hartman at Foody's for a pet friendly Happy Hour to celebrate Cinco de Mayo! Food and drink specials for the humans, treats and water for the pups. This will be a regularly occurring event and will feature special guests, pet topics, dogs for adoption and more!
5/12/12 AM Radio, Anita Boyer and Michael Contino, Harbor Grill in East Hampton
Saturday, May12! Its a free show, just come and enjoy a delicious dinner at Harbor Grill and enjoy live entertainment from 7-10
5/12/12 Swim Across America and East Hampton Ocean Rescue Jump-in Gala 6pm-930pm
Breakwater Yacht Club
51 Bay St, Sag Harbor, NY 11963***** The event is for everyone involved in the Swim Across America Hampton's Open Swim and for people wanting to learn more about the swim, how to become involved on many levels. This is a free event.
5/11/12 Grease Is The Word! Sock Hop Benefit Dance
Live music by Doug Ferony Big Band, Cash Bar, Chinese Auction,East Coast Swing Dance Lesson, 8 p.m. with Scott Trevor, one Free Root Beer Float, 1950s Themed Desserts and Gift Bags. Your choice of Kielbasa sandwich, hamburger, cheeseburger, soy burger or two hot dogs; all served with fries**Friday, May 11 @ 7:00 pm @ Riverhead Polish Hall **214 Marcy Avenue, Riverhead,Riverhead,11901
5/13/12 Dockers Mothers Day Grand Brunch Buffet
Happy Mothers Day – Please join our family on Sunday May 13, 2012 for our grand waterside buffet brunch. Seatings @ 11 a.m., 1 p.m. and 3 p.m. The buffet is and endless selection of delicious items prepared from Executive Chef Scott Hastings. Sunday, May 13 @ 11:00 am **Dockers Waterside Restaurant & Marina *94 Dune Road, East Quogue, NY 11942,East Quogue,11942
5/12/12 A Toast to Mom's At Sparkling Pointe! @ 11am
Sparkling Pointe Vineyard 
39750 County Road 48,Southold,11971
Join us at Sparkling Pointe Vineyard for live music and a special Mother's Day Sparkling wine and Artisanal cheese pairing featuring local cheese, jam, honey, greens, edible flowers, and delicious fresh local breads! May 12 cheese & wine from 11 a.m. to 6 p.m., May 13 cheese and wine from 11 a.m….
5/13/12 Celebrate Mom Brunch Plus Day Of Fun Equal One Happy Mom @ 1030am
Long Island Aquarium & Exhibition Center 
431 East Main Street, Riverhead NY Brunch + Day of Fun = 1 Happy Mom. Create treasured memories with a beautiful Mother's Day Brunch at Long Island Aquarium & Exhibition Center in our Sea Star Ballroom. Enjoy a delicious brunch with a diverse menu sure to please every member of the family and then leave time to enjoy the aquarium….
5/14/12 **The Retreat's Spring Golf Outing At The Maidstone Club
The Maidstone Club *50 Old Beach Lane,East Hampton,11937
To benefit The Retreat, the only domestic violence agency on the East End of Long Island offering comprehensive services to women and children. 7:30 a.m. to 8:30 a.m.: Breakfast and Registration; 8:30 a.m.: Shotgun Start; 1 p.m.: Cocktails/Lunch Monday, May 14 @ 7:30 am
5/18/12 CTREE Open House @ Wolffer Estate Stables *41 Narrow Lane East, Sagaponack, NY
Please join us at our Open House and watch therapeutic riding lessons in action. CTREE riders will show off their skills and ride a 'pas de deux' and demonstrate developmental vaulting**Friday, May 18 @ 5:30 pm
5/19/12 **Brazil 2014 World Cup Inaugural – Swimsuit Edition By Lu Berry @ 75 Main, Southampton
Zach Erdem and Lu Berry Present. Come join us for a colorful evening of fashion and celebration along our beautiful runway models exhibiting this season's most sensual summer collection**Saturday, May 19 @ 10:30pm
5/19/12 TIME FOR TEENS ANNUAL SPRING FUNDRAISER
Southampton Cultural Center 25 Pond Lane, Southampton, NY 11968
| | |
| --- | --- |
| | JAZZ PIANITST EXTRAODINAIRE JUDY CARMICHAEL PERFROMS! 7pm-10pm |
5/19- 5/20/12 Studio 3 Presents 'The Wizard Of Oz'
Southampton High School Auditorium 
Narrow Lane,Southampton,11968
Performed at the Southampton High School Saturday, May 19 at 7 p.m. and Sunday, May 20 at 2 p.m. Come watch Dorothy, Toto and over 120 local dancers perform this magical classic tale. There will be Tap dancing, Hip Hop, Ballet, Jazz and Contemporary dancing and is suitable for all ages! Saturday, May 19 @ 7:00 pm
5/20/12 Third Annual Healing Heart 5K Run
Martha Clara Vineyards 
6025 Sound Avenue, Riverhead, NY,Riverhead,11901
The American Heart Association's 3rd Annual Healing Heart 5K will be held at the beautiful Martha Clara Vineyards in the heart of the Long Island wine country in Riverhead Race Time: 10 a.m**Sunday, May 20 @ 10:00am
5/26/12**BRIDGEHAMPTON FINE ART AND CRAFT SHOW
Bridgtehampton Presbyterian Church 
2429 Montauk Highway, Bridgehampton,
Annual juried arts and artisan show featuring many local artists including Kristin Taliercio, a painter from Water Mill, John Todaro's award winning photography from East Hampton, handcrafted jewelry, woodworking and a variety of other fine crafts. If interested in displaying at this show please**Saturday, May 26 @ 10:00
5/26/12 Miracle House 22nd Annual Summer Kickoff
Saturday, May 26, 2012 @ Bridgehampton Tennis & Surf Club
Memorial Day Weekend
Hosted by Countess LuAnn de Lesseps and Thomas Roberts
Performance by Pop Star Taylor Dayne
5/27/12 Planned Parenthood Hudson Peconic East End Benefit
Sunday, May 27 @ 5:00 pm @ Silas Marder Gallery *Bridgehampton,11932
Planned Parenthood Hudson Peconic's Annual East End Benefit will take place this year at the Silas Marder Gallery in Bridgehampton and catered by Nick and Toni's on Sunday,
BEYOND THE HAMPTONS..
5/3/12 **American Red Cross Honors Philanthropist MacDella Cooper
On Thursday May 3, the American Red Cross will honor philanthropist MacDella Cooper, President & Chairman of the MacDella Cooper Foundation. The Red Cross celebrates 95 years of service to Long Island at its annual Red & White Dinner Dance, at the Carlyle on the Green at Bethpage State Park. Cooper**Thursday, May 3 @ 7:15 pm @Carlyle On The Green **99 Quaker Meeting House Road, Farmingdale, NY,Huntington.
Well Friends these are my picks for the month…there are many more events happening this month, and you can find many of these events on Patch, 27 East, and many more online publications…..June's events will be posted last week of May…. Hamptons Mouthpiece…keeping you in the KNOW!