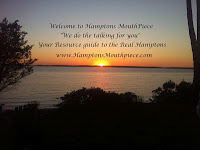 Greetings Hamptons MouthPiece Readers...July is heating up to be an awesome month in the Hamptons and I am bringing you a sneak look into some events you may not want to miss..it is also my birthday month 7/26 to be exact!..This upcoming week is jammed packed with Art Hamptons…Estée Maria performing at Georgica Restaurant & Lounge , MCF Foundation "All White Party",4th Annual Martinis for Mutts Benefit, Southampton Arts Festival Concert, Midsummer Party at Parrish, Sag Harbor Historical Society Gala,  Off the Record,  Hamptons Greek Festival, Fireworks in Shelter Island ……Hamptons Mouthpiece & Photography by Kurt will be out and about starting on Thursday, and possibly on Saturday…I am taking a drive to see my youngest at sleep-away camp for a visit. It's amazing how her presence is really missed, she will be at camp for another 2 weeks. On Sunday I am hosting an event for some girlfriends which will be very simple but very relaxing and I am really looking forward to it. 
The following list is a short list of Events July 12-15th 2012 in the Hamptons and upcoming events 7/21-7/28

THURSDAY JULY 12TH 2012
Off The Record – Wine & Dine**July 12th 6pm-11pm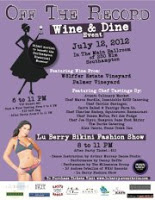 "Off The Record – Wine & Dine" will highlight local wine & chefs with tastings, followed by an after party with DJ Andres Ceballos and a fashion show by swimsuit designer Lu Berry. A silent auction will be held to benefit the Southampton Historical Museum.

Featuring wine from Wolffer Estate &..Place:Main Ballroom of 230 Elm 
230 Elm Street, Southampton
VIP Ticket: $50 (6 PM – 11 PM) or After Party Ticket: $10 (8 PM – 11 PM)• Swimsuit Fashion Show by Lu Berry*
For tickets visit 

www.indyeastend.com

 or 

www.hamptondaze.com



ENTER DISCOUNT CODE : offtherecord for 50% off VIP ticket

A

RT HAMPTONS *

Sculpture Fields of Nova's Ark

 is located on 60 Millstone Rd. (off Scuttle Hole Rd.), Bridgehampton, NY. 11932 Thursday, July 12 2012, 5:30-9pm *Opening Preview Platinum Party | Benefiting LongHouse Reserve.

Friday, July 13, 11am – 8pm | Benefiting

Guild Hall

.
Friday, July 13, 6-8pm | Pollock at 100 – 
Sunday, July 15, 11am – 6pm | To Be Announced
Free Onsite Parking | Valet Parking $20
Hamptons Greek Festival
4pm – 11:00pm
 Southampton Elks Club, 605 County Road 39, Southampton,
It will be a great event with our Hellenic music and dancing, delicious fare including our famous pastries, plenty of carnival rides and games for the kids, and a variety of shopping from our vendors.
Here is the link to our website.
http://kimisishamptons.org/festival
Hours are Thurs-Sat, July 12-14, from 4-11pm, and Sunday, July 15th, from 3-9pm.
Thursday 7/12 7-830pm East Hampton & Southampton Patch @ Georgia Restaurant
Mingle with Patch editors and fellow readers, passed hors d'oeuvres, and guests will receive a complimentary "Patch-tini" or glass of Prosecco. The event is free. Patch will also have giveaways, and there will be a door raffle for Georgica gift certificates.
The band goes on an 8 p.m….this week Estee Maria performs…check her out
FRIDAY 7/13/12
7/13 The Bridgehampton Antiques & Design Fair @ The Bridgehampton Community House 2357 Montauk Highway, Bridgehampton
The Bridgehampton Antiques & Design Fair presents 25 Exceptional Antiques Dealers from the U.S. & Europe Offering a Extraordinary Selection of Antiques, Mid-century Modern, Asian, Vintage Couture, Folk Art, African, Garden & Architectural Elements, Americana, Silver, Fine Art, Art Deco, Textiles,…
Pollock Family Drip Painting**7/14/12 10AM
Guided by children's book author Joyce Raimondo, children and adult companions tour the home and studio of the famous artists, Jackson Pollock and Lee Krasner. Then families drip and splatter paint onto their own canvases on the spectacular grounds overlooking Accabonac Harbor.


Pollock-Krasner House and Study Center 
830 Springs Fireplace Road,East Hampton,11937
4th Annual Martinis For Mutts Benefit – Saturday, July 14th, 5:30-8:30 pm, at Michael & Marcy Warren's home in Watermill. Enjoy cocktails, hors d'oeuvres, music, & auctions. Honoring Wendy Diamond, founder and editor of Animal Fair Magazine and Dina Manzo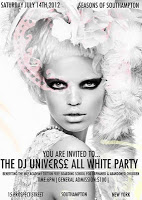 Saturday, July 14 @ 5:30 pm **MacDella Cooper Foundation 'All White Party' Hosted by DJ Universe in Southampton to benefit the MCF Academy
Four Seasons Southampton*
15 Prospect St.
The MCF Academy is a tuition free boarding school in Liberia. Proceeds from this event will grant additional scholarships for the 2012/13 academic year as well as a personal bed, uniforms, shoes, a backpack filled with supplies, and three nourishing meals a day.
The MCF Academy will donate a portion of the proceeds to a Local organization "Bridgehmapton Childcare Center in Bridgehampton" info@muipr.com
The Midsummer Party @ The Parrish Art Musuem *
25 Jobs Lane, Southampton
Saturday July 14th @ 630PM
This year's Midsummer Party, a highlight of the Hamptons summer season, will celebrate the "creative spirit of the East End" by honoring director-choreographer Patricia Birch, visual artist Chuck Close, author-historian Barbara Goldsmith, interior designers Tony Ingrao and Randy Kemper, musician…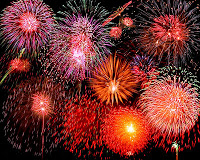 7/21/2012 32nd Annual Great Bonac Fireworks Show by Grucci @ 930PM off Three Mile Harbor Rd, 
East Hampton.
Shelter Island Annual Fireworks Display
Begins at dark at Crescent Beach, Shelter Island. Sponsored by the Shelter Island Chamber of Commerce. Raindate, July 15. 

Saturday, July 14@ 
Crescent Beach 
Shelter Island,Shelter Island,11964
7/14/2012 6th Annual Wild Night for Wildlife Benefit Gala
7:00 pm – 10:00 pm
 Quogue Wildlife Refuge, 3 Old Country Rd., Quogue , NY. 11959.
SAVE THE DATE:
James Beard Chef's & Champagne 2012
Saturday, July 21, 2012**6:00 pm to 8:30 pm 

 
(followed by VIP Afterparty)
VIP Experience  5:00 pm to 10:00 pm
Wölffer Estate Vineyard*139 Sagg Road* Sagaponack, NY 
(212) 627-2308 Call for Reservations…
General Admission ranges from $200-$275 & VIP $375* 
General admission includes: all tastings, silent auction bidding opportunities, and gift bag.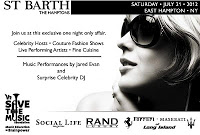 Rand Luxury * Social Life Magazine &  Ferrari Maserati of Long Island  Saturday 21, 2012 
Charity celebration for VH1 Save The Music Foundation…
St. Barth in the Hamptons –  
7pm – 11pm**tickets $100- $150 
East Hampton Studios* 77 Industrial Road,  
7/21 Soldier Ride The Hamptons 2012* 7AM-4PM
Ocean View Farm/Marine Park, 551 Montauk Highway/ Bay Street, Amagansett/ Sag Harbor,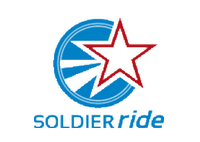 Saturday, July 21st! Soldier Ride The Hamptons 2012
Dedicated to LCpl Jordan Haerter,USMC of Sag Harbor, New York.
A 30 or 60 mile bike ride through the scenic Hamptons villages or a 5K walk starting in Amagansett or Sag Harbor. Soldier Ride is a program of the Wounded Warrior Project..Sign up online to join the rides or walk/run/jog/stroll or watch from the sidewalk as the ride goes by. Cheer and thank America's Wounded Warriors as they ride by. Ocean View Farm is Amagansett is the ride start- Enter from Bunker Hill Road.
Marine Park in Sag Harbor is the walk start and the Tribute ceremony to LCpl Jordan Haerter as the ride comes into Sag Harbor at 11:00AM-All Participants welcome to BBQ 12-4 at Ocean View Farm after the rides/walks. $25-$50
4th annual Family Fair "CMEE In The Great Outdoors"
10:30 am -1:30 pm
 CMEE, Bridgehampton, 11932.
CMEE In The Great Outdoors" is a day of nature themed arts and crafts, water slides, entertainment, games, music, food and more with Honorary Chairs Naomi Watts, Liev Schreiber, Mariska Hargitay, Peter Hermann, Alexandra Wentworth, George Stephanopoulos and Mark Feuerstein.
2012 East Hampton Antiques Show
10:00 am -4:00 pm
* Mulford Farm, James Lane, East Hampton, NY. 11937.
The East Hampton Historical Society announces the return of the highly anticipated East Hampton Antiques Show to the historic grounds of Mulford Farm on Saturday July 21st through Sunday, July 22nd. Now in its sixth year, the East Hampton Antiques Show is widely recognized as the premier antiques event on eastern Long Island and a highlight of the East Hampton arts and social calendar


ROCK THE DOCK! SUMMER BENEFIT BASH BENEFIT FOR BAY STREET
6:00 pm
 Long Wharf, Sag Harbor,
Bay Street Theatre is busy planning for the annual ROCK THE DOCK! SUMMER BENEFIT BASH on Saturday, July 21 with the amazing water view location on the Long Wharf in Sag Harbor! Tickets are available online at www.baystreet.org 
The 2012 Hampton Designer Showhouse Gala Preview Cocktail Party
6-830pm
* The 2012 Hampton Designer Showhouse, 80 Flying Point Road, Water Mill, NY. 
Public opening M-Sun, 11:00 AM to 5:00 PM. Children under six, infants, strollers and pets are not allowed in the Showhouse. Admission to the showhouse is $30 and includes the Showhouse Journal. Gala tickets are $225 each.**www.hamptondesignershowhouse.com.
Hamptons Poker Championship to Benefit Fighting Chance* 
Saturday, July 21, 2012
- Doors open  6:30 pm – 11:30 pm

American Legion – Amagansett, 15 Montauk Highway, Amagansett, NY. 
First Annual Hamptons Poker Championship
The Jewish Center of the Hampton Art in the Yard Sale & Festival at 44 Woods Lane, East Hampton, NY on July 21st through July 22nd
 "Art in the Yard" – Sale and Festival Saturday, July 2lst and Sunday, July 22nd
Jewish Center of the Hamptons,
44 Woods Lane, East Hampton.
preview art cocktail party on Saturday, July2lst, 5-8pm
dessert reception from 9:30-11pm.
July22nd from l0am-4pm,  full day of extraordinary art, sensational live music, food and arts and crafts activities for children of all ages.
For inquiries and ticket reservations you can go directly to the Jewish Center of the Hamptons website, www.jcoh.org or contact us at 631-324-9858 extension 3401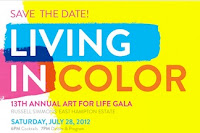 SAVE THE DATE : Russell Simmons, Danny Simmons, and the Board of Directors of Rush Philanthropic Arts Foundation invite you to ART FOR LIFE
Living In Color
Thirteenth Annual Garden Party Gala

at Russell Simmons' East Hampton Estate

 *

Saturday, July 28th 2012 @ 6pm ..honoring Mariah Carey & Nick Cannon, Betsy Z. Cohen, Tamia & Grant Hill & Marc J. Leder….Host: Soledad O'Brien and performances by: Anita Baker, Salt-n-Pepa & Diggy Simmons***Tickets $1500 each.
Wow…this is some list of events, but there are so many more events happening in the Hamptons starting this week and next….I only tapped in on a few…my picks…you can check out southamptonpatch.com, easthamptonpatch.com, danshamptons.com and 27east.com for a more extensive list of events… As always come back everyday to see what's happening in the Hamptons…Hamptons Mouthpiece is your resource guide to the Hamptons and keeping you in the know on things you may not be aware of.