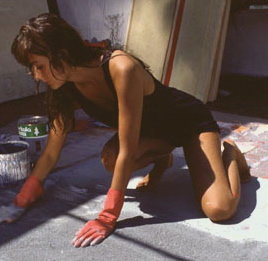 "Hamptons Art" Bettina Werner, The Salt Queen, is an international acclaimed artist, born in Milan, Italy in 1965. She arrived in the United States in 1989, she was discovered as an upcoming artistic starlet by a prestigious New York Gallery in the 90's. Bettina Werner is a pioneer who invented the first use of colorized salt as an art medium in the History of Art.
"Tripping the light fantastic", artist Bettina Werner, is a fountainhead of creativity sprouting galaxies of light and radiance in her unique colorized salt crystal artworks. Ms Werner's innovative salt paintings are crystallized salt textures, with brilliant colors, created with  sophisticated  movements and dynamic artistic flow. Her artworks have a radiant cosmic surface, where each grain of salt is masterly treated like facets of a diamond which reaches out for enlightenment through the power of salt.
What gave the Artist the idea of creating art with salt ?
Bettina Werner is drawn to paint and sculpt with salt resulting from its long history and intimate necessity in human life. In Italy salt represents knowledge and wisdom. This is because of the ubiquitous mineral's vital importance to the balance of human health and the development of civilization, as well as its metaphysical and metaphorical legends. Salt is used by every culture for food preservation and cooking. Salt was more valuable than treasure. Salt figures in many marriages and religious customs. It has been a mainstay of trade all over the world, and has functioned as currency. Most of this planet is covered in salt water. There is a wonderful connection that human blood, sweat and tears are about the same salinity as the ocean.
The mystery of salt and its beautiful crystalline quality attracted the Artist while studying at the prestigious Brera Academy of Fine Arts in Milan, Italy. She desired a medium capable of expressing her own unique vision, something new, not really explored yet in the art world. It came in her mind like an idea, a strong intuition. While still a student she experimented with combinations of pigments and the myriad gradations into which salt can be reduced. She developed the technique of fixing salt crystals with colors that render what is a mutable compound into a permanent surface that attracts the eye with millions of reflecting facets transmitting a single color into all possible shades.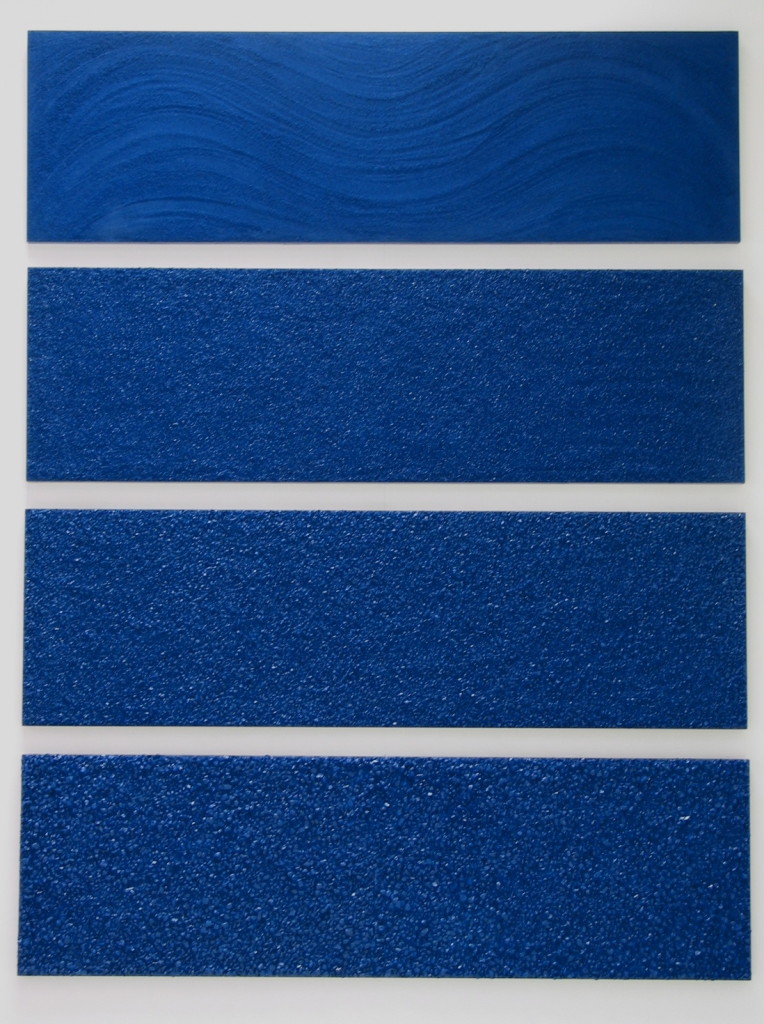 Her recent 25 Year Retrospective, at 7 World Trade Center, in a 40,000 square foot pristine space, immediately overlooked "ground zero", represented Bettina Werner's crowning achievement in her career with a spectacular panoramic view of New York City skyline.
View the video here: 
Bettina Werner's plush  loft, overlooking the New York Stock Exchange, is located in the heart of the historical Wall Street, world- famous district,  she is an amazing and empowered "woman of our time" who is rocking with her magical healing salt in her crusade for uplifting human consciousness and world harmony. She is an artist with a clear mission expressing her unique salt invention as a healing spiritual and transcendental experience. History has taught us, the most successful artist are those who have a recognizable medium that one can spot from far away –  "a language of art". Bettina Werner has truly created an entire unique luminescent world, with her textured salt technique, that is easily translated to all who encounter her artworks around the globe. Bettina Werner's salt crystal artworks are unmistakably recognizable while synonymously profound and spaciousness creating a sense of calm and essentiality.
Her fascinating life is being born as a surviving twin, who is still spiritually connected to her unborn sister, who was found dead in her mother's womb. Bettina Werner believes her spiritual sister guides her giving Ms. Werner artistic inspiration and intuitive messages. Through Bettina Werner's innovative artwork, one experiences the vibrations emitted by the salt rock crystals masterly moved by her sensing and slender long hands.  She captures with the salt crystals our souls in a dialectic conversation that goes beyond our awareness.
In the year 2002, she established The Salt Queen Foundation, a non-profit educational institution. Its goals include the celebration of artists whose free imagination is uniquely expressed through the use of innovative techniques and unusual materials.
Art collectors fall in love with the radiant energy flowing in Bettina Werner's paintings, connecting to the depth of the colors created with the salt and to  the unique concept of creating wise investments in their own homes when they acquire her distinctive innovative salt crystal paintings.
Reviews and features on her work have appeared in The New York Times, The Wall Street Journal, Vogue, Art in America, Elle, Architectural Digest,The Chicago Tribune,The Miami Herald, ArtNews, Elle Decor, GQ, Flash Art, Hamptons Magazine, New York Post, l' Espresso, Il Corriere della Sera, and many more publications.
Press link: http://www.bettina-werner.com/press.html
FACEBOOK Fan Page:
http://www.facebook.com/pages/BETTINA-WERNER-THE-SALT-QUEEN/61567350599
PHOTO CREDIT: BETTINA WERNER: Salt Crystal Painting
"OCEAN", 1996 (4 panels, 24 x 80 inches each)
© Bettina Werner 1996
Painting created with textured colorized salt technique invented by Bettina Werner in the early 1980's
Courtesy The Salt Queen Foundation, New York
http://www.bettina-werner.com/
Photo Credit cover: BETTINA WERNER Salt Crystal Painting MONACO FLAG 18 x 24 Painting created with textured colorized salt technique invented by Bettina Werner in the early 80's © Bettina Werner 2012 All Rights Reserved Courtesy The Salt Queen Foundation
Hamptons Art…BETTINA WERNER,The Salt Queen