Hamptons Home: Choosing the perfect fire feature for your backyard. The alluring fire pit is desired by just about everyone. A perfect addition to any home.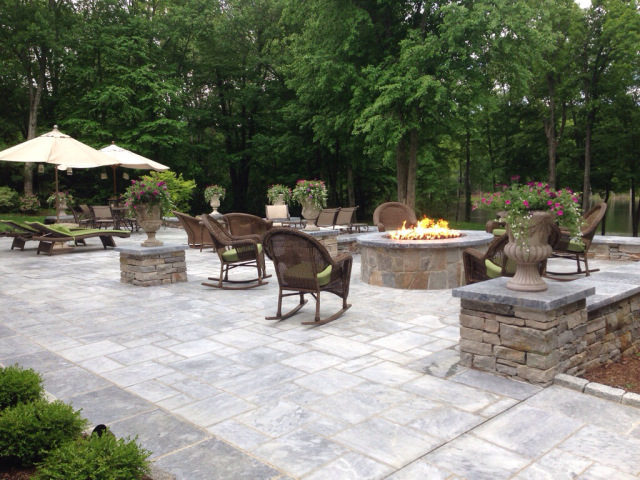 The allure of fire from either a fireplace or fire pit can consume any outdoor enthusiast endlessly for hours. It's the idea of knowing that an outdoor fireplace will keep you warm in the colder months/evenings is something that is appealing to some of us, which is why this would be a good edition to any back garden.
The warmth, light, and sound of snap crackle amongst dancing flames can set a romantic mood soothing for conversation via an outdoor fireplace or gangbusters amongst party goers surrounding a fire pit. Both fireplaces and fire pits give off beneficial differences. Choosing the right fire feature for your own use in your own backyard may be an arm wrestle between the male and teenage image of a bonfire versus bonding through the night in front a fireplace with your loved one. Using an informative site such as modernethanolfireplaces.com/blogs/news/how-does-an-ethanol-fireplace-work may even help you decide on which type of fireplace is right for you.
Understanding these differences will help develop the theme, location, and commitment to building just the right outdoor living space. Choosing a designer who can build anything you desire is a blessing to the all-inclusive thought process. A designer will also be able to tell you what other features would look great in your backyard, whether it's outdoor pergolas or fancy garden furniture. Besides money invested, it's how your time spent outdoors will be invested. In our last handful of the grande outdoor kitchen and outdoor living designs, we built both fireplaces and fire pits in different locales on the property for completely different reasons pertaining to the likes, desires and must-haves of all the participating family members. Later we will cover fireplaces but today the fire feature chosen to anchor this luxury marble patio setting complete with outdoor kitchen island was a remote gas fired fire pit. "marble topped fire pit is the hit of the party. Clean and instant fire mesmerizes the crowd during all seasons all evening long.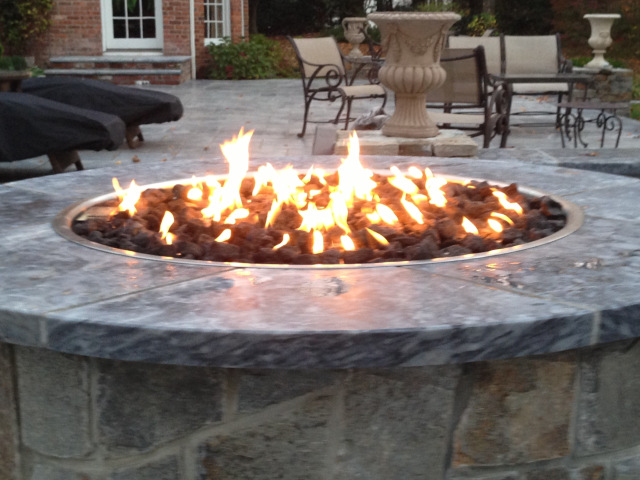 This stone and marble-topped fire pit is the hit of the party. Clean and instant fire mesmerizes the crowd during all seasons all evening long.
Now you've chosen the type of fire feature you look forward to. You need to understand the special requirements for safety, aesthetics, and comfort.
Fire pits surrounding by sitting walls create extra sitting space as well as a windbreak defending the fire. Here we show the building of this tremendous stone and marble gas fire pit adorned to match the rest of the stone outdoor kitchen and marble patio.
OUTDOOR LIVING FABULOUSLY DESIGNER
Outdoor Living Fabulously designer and masterful Outdoor kitchen builder with over 12 Outdoor kitchens featured nationally in publications such as Signature Kitchen & Bath, Hearth & Home magazine and hardcover book BEST SIGNATURE OUTDOOR KITCHENS. Recipient of Award-winning outdoor lighting honors through AOLP. Association of Outdoor Lighting Professionals.. Go to Outdoor Kitchen Designer outdoor Kitchens www.OutdoorlivingCt.com -main site www.NightLightingDesigner.com– outdoor lighting portfolio.
Michael is president and founder of THE OUTDOOR KITCHEN DESIGN STORE-
For more ideas on enjoying your outdoor space, read 45 Best Front Yard Landscaping Ideas. https://happydiyhome.com/front-yard-landscaping/
SaveSave
SaveSave