Wellness: I am feeling so very blessed and I wanted to share my story. Two years ago I had the scare of my life and I am so very grateful to be a survivor. April 20th, 2018, I woke up and something looked wrong with my face, my left eye was tearing and I had no idea what was happening but my husband said let's go see the doctor. It was my oldest daughter's last day living at home and her last day at her job in East Hampton, she was moving on with her life and would be starting a new job in NYC. I said let's go to SagTown in Sag Harbor to get some coffee. Kurt my husband had taken the day off to go to the doctor with me because I was nervous, we ordered our coffee then in a matter of seconds things were progressively moving quickly. I went to the bathroom to look at my eye and when I looked up my face had drooped more, I was immediately nervous. I told Kurt I am very concerned, so he said I will drop Dani off at work and you go pick up the eyedrops, he said we would leave my car in town and he would drive me to my doctor's office. I went to pick up the drops and came back to my car to put the drops in my eye and wait for Kurt to come back. Kurt called me to make sure I was ok and all of sudden I could not speak, it was terrifying, I honestly did not know what was happening. I heard a tap on the window of my car, I rolled down the window and there was an officer asking me if I was ok. I was at this time unable to speak and became very agitated because I did not know that Kurt had sent them to find me. The officer proceeded to ask me questions and because I was unable to find my voice he became concerned, took my car keys, and called for an ambulance. As you can probably imagine he thought I was having a stroke and there was a small window to rush me to the hospital to minimize the symptoms if this were a stroke. I was very scared, I had never heard of Bell's Palsy but I did not think I was having a stroke because my parents and grandmother had all had strokes within the last 3 years and I knew the symptoms.
Once I arrived at Southampton Hospital the staff was very attentive and proceeded to do all the necessary tests to rule out a stroke, once they ruled out that I was not having a stroke they then proceeded to assume I was having some mental issues because they could not understand why I was unable to speak. They kept me in the hospital overnight for observation and in the morning a very nice doctor came in and diagnosed me with Bell's Palsy. He explained what was happening and prescribed anti-inflammatory medication prednisone to help reduce the swelling of the facial nerve. I was released from the hospital later that morning, once I got home I was completely exhausted and just went to sleep for the rest of the day.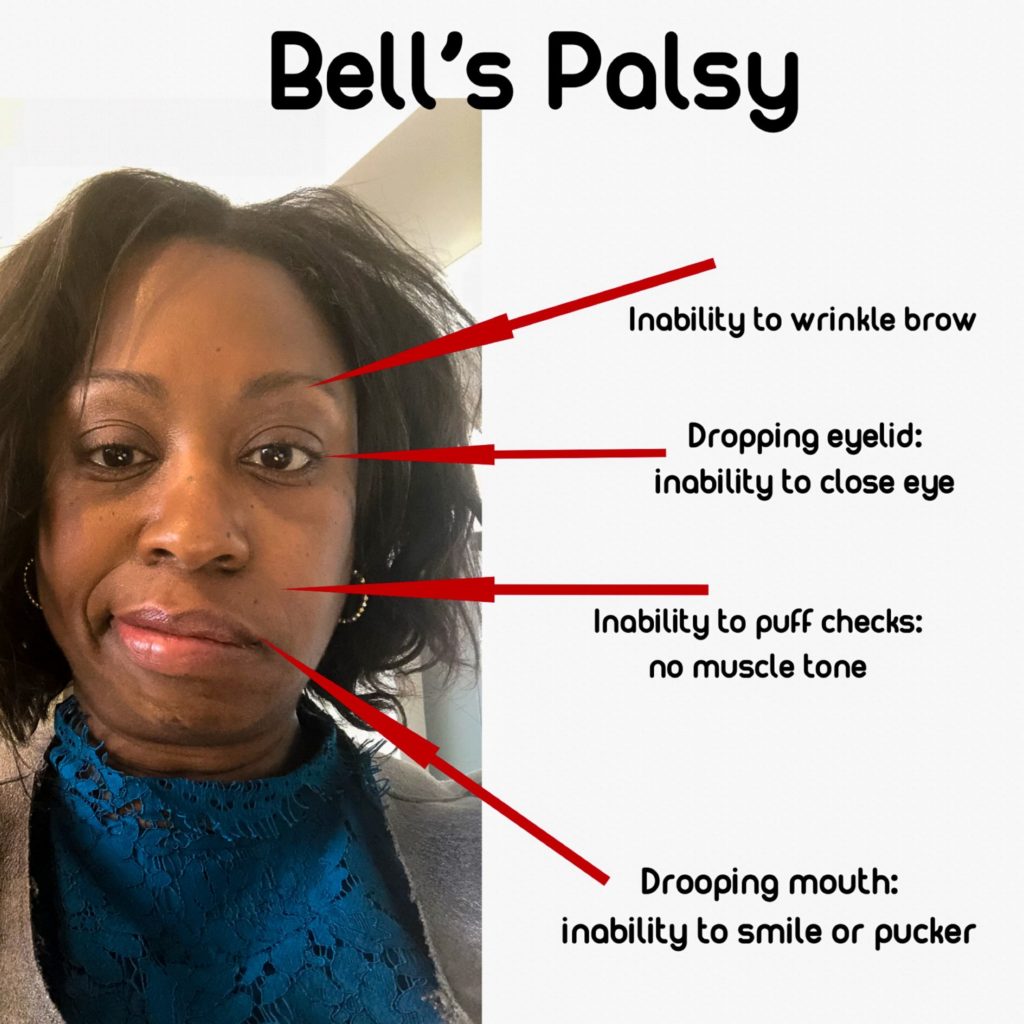 What is Bell's Palsy: Google definition "Bell's palsy is a condition in which the muscles on one side of your face become weak or paralyzed. It affects only one side of the face at a time, causing it to droop or become stiff on that side. It's caused by some kind of trauma to the seventh cranial nerve. This is also called the "facial nerve."
The recovery was hard, but I was so grateful that it was not a stroke, I was able to care for myself, go to the bathroom on my own, I believe my positive energy is what helped with my recovery. Many say that one gets Bell's Palsy from Lyme Disease, but for me, I think my Bell's Palsy was activated by stress. Prior to my illness, I suffered the immeasurable loss of both my mother and grandmother, information that was gut-wrenching was shared with me and it took months to absorb and heal from it. I found myself in the position of being the Matriarch of the family and I felt I had no time to break-down I needed to show strength and so I think all of that bottled up stress needed to be released.
During my recovery it was hard to do many things, eating, drinking, swallowing, talking, smiling, closing my eye, sleeping. My left eye did not close, so I was very tired because when your eye does not blink it can be very exhausting. It was challenging driving, watching television, or being on the computer for an extended period of time. I had to change my daily way of doing things. I went back to work after being home for a couple of days, it was a challenge because I felt all eyes starring at me, but after watching my parents and my grandmother suffered a stroke, I felt like God had spared my life and I did not focus on anyone staring at me. I focused on recovery. After the 1st day, everyone stopped starring it was back to normal. I continued to stay focused and positive on my recovery over the next month. I shut down my computer, television, and phone at 9 pm every night. I researched what I should eat, what I should not eat, and what I needed to do to recover in 4-8 weeks. I avoided foods that contained, Arginine-Rich Foods, Omega-6 Foods, and Trans Fats. This website helped me https://www.livestrong.com/article/352853-foods-to-avoid-when-you-have-bells-palsy/. 
I cannot tell you if that helped, but for me, I was going to take all advice because I was determined to get better. I slept with an eyepatch, it was very helpful, I drank from a straw because drinking from a cup was very hard, 1/2 of my face was paralyzed, I ate soft food because swallowing was a challenge. As my face began to slowly recover it was painful and sleeping at night was a challenge, sometimes I would need to take an Advil to get some sleep. Talking was definitely the hardest part, if I spoke slow I was ok but if I got agitated with someone who I felt could not understand me, my speech would get worst. At that moment I felt the agony of a stroke victim, it humbled me and I would not allow myself to feel sorry for myself. I began to see the progression in four weeks and someone who just met me for the first time would never know a month earlier I had partial facial paralysis; it was able to eat real food, swallow, talk, partial smile. In 2 months I was able to smile, it took a bit longer for my left eye to close completely, washing my face with soap was always a real challenge.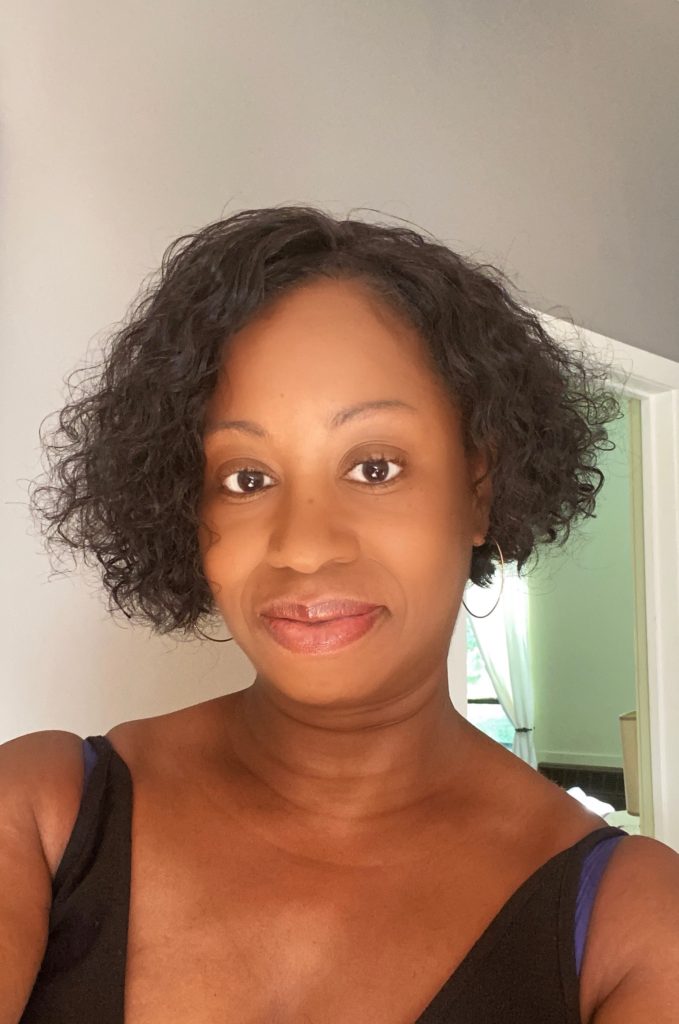 It has been 2 years and I still have some residual of my Bell's Palsy, my left eye twitches and I never feel like it is fully closed, the cemetery of my face is slightly off, but only I notice it and my smile is slightly crooked, but I'll take it because some never recover. I was one of the lucky survivors and I never stop thanking God for blessing my life. I share my story because I have discovered this happens to many people of all ages all the time.
I wanted someone who might be going through this condition to know that there is hope and you can recover. Be positive, be patient, and be grateful. Don't let your physical appearance define who you are, focus on recovering and not your vanity. I had an opportunity to interview a doctor who specializes in treating patients who don't organically recover from Bell's Palsy, in my part two of this series Recovering from Bell's Palsy I will share that interview.