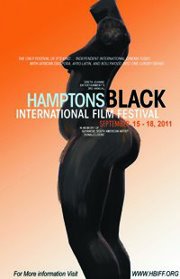 GreetingsHamptons MouthPiece readers…sorry for the delayed information, this has been an emotional and semi-stressful week. I am pleased to bring you this information in case you were unaware of this special event happening this weekend in the Hamptons. "The Hamptons Black International Film Festival is a four day retreat and international/domestic showcase.  Established because Hollywood has limited platforms and distribution starring people of African descent.  The goal of HBIFF is to educate, inform, and enlighten the community by showcasing films by and for but not limited to people of African descent. HBIFF is dedicated to shorts, feature, and documentaries.  Through a diverse platform, the festival nurtures the growth and development of aspiring artists, and is open to filmmakers, and industry executives."
This event had its kick off in New York City and will be spending the remaining 3 days in the Hamptons with many of the events taking  place at our beloved Bay Street Theater in Sag Harbor. I am listing the schedule of events, I am excited to attend many of the weekend's events and my daughter Allura is excited to attend Tracey Moore acting class on Saturday. 
FRIDAY SEPTEMBER 16, 2011
Party Bus leaves from various destinations, and arrives in the Hamptons.
BRAZIL IN THE HAMPTONS BEGINS
Relax at HBIFF Royal Estate, (for those who arrive earlier than 5pm)
Twilight Film: Bellini and The Devil
6:30pm – 8:30pm Baystreet Theater, Sag Harbor NY
$50 for Screening and Private After Party
SATURDAY SEPTEMBER 17, 2011
 Bay Street Theatre, Sag Harbor
Class fee $40 for adults…kids under 18 are FREE
2:00pm – 2:45pm   
Children and the Arts
Performances by Michael Jazz Trio
Kôglb-zanga or Prince Wendemi an example of social exclusion fighter
(Short Documentary)
Prince Wendemi –

Meet and greet Prince Wendemi as his short documentary about social women issues in Africa is featured, coming from Burkina Faso 
Faubourg Treme: The Untold Story of Black Orleans
(Feature Film Documentary)
Early 1800's while African Americans were toiling on plantations, free black people in Tremé were publishing poetry and conducting symphonies 
Private Cocktail Event @ B'Smiths 
6:30 p.m.
Theater doors open for Red Carpet entrance
6:40 p.m. Children and the Arts Performances by Dylan Jenet Collins and Claudius Agrippa
7:00 p.m. Obama's Irish Roots
Hamptons Screening
8:30pm – 10:30pm Signature Feature Film
Starring Isaiah Washington (Science Fiction)
Brazilian Themed After Party @ Phao
SUNDAY SEPTEMBER 18, 2011 
Bay Street Theatre, Sag Harbor
 Ey Pari Kojai
For more information about the Hamptons Black International Film Festival www.HBIFF.org tune into

Hamptons Mouthpiece

weekly if you want to know what's really happening in the Hamptons!