Hamptons Eats…Blueberry Glazed Cheesecake Pie that will make you melt……..Greetings Hamptons Mouthpiece Readers, it is Holiday time and that means it is Cheesecake time. I am a huge cheesecake fan, it is my favorite dessert, so of course I was going to try to make my own. I loved Juniors Cheesecake because they do not add sour cream to their ingredients and as much as I love sour cream, combined with the cream cheese gives it an after taste in your mouth and that I do not like. I decided to search the internet for a cheesecake recipe and thought just maybe Juniors would share theirs, to my surprise they did. What you see listed below is Juniors Cheesecake recipe with some alterations. I do not particularly like the sponge cake with the cheesecake filling so instead of using the sponge cake I substituted with a pie crust. Choosing a pie crust is your personal preference but I can tell you , if you follow my instructions below you will not be disappointed. I only make this dessert once-to-twice a year, it is very rich and has every ingredient that I try to avoid in one dish, but  SO WHAT, it's the holiday. This pie is so delicious it will make you cry because it is light, smooth and literally melts in your mouth. This recipe makes 2 pies, instead of glazing my pie I choose to make the blueberries into a topping, but if you want you can make a glaze. The Glaze recipe came from Allrecipes.com however I altered the recipe to suit my taste buds and to change it from raspberries to blueberries.. (see recipe below)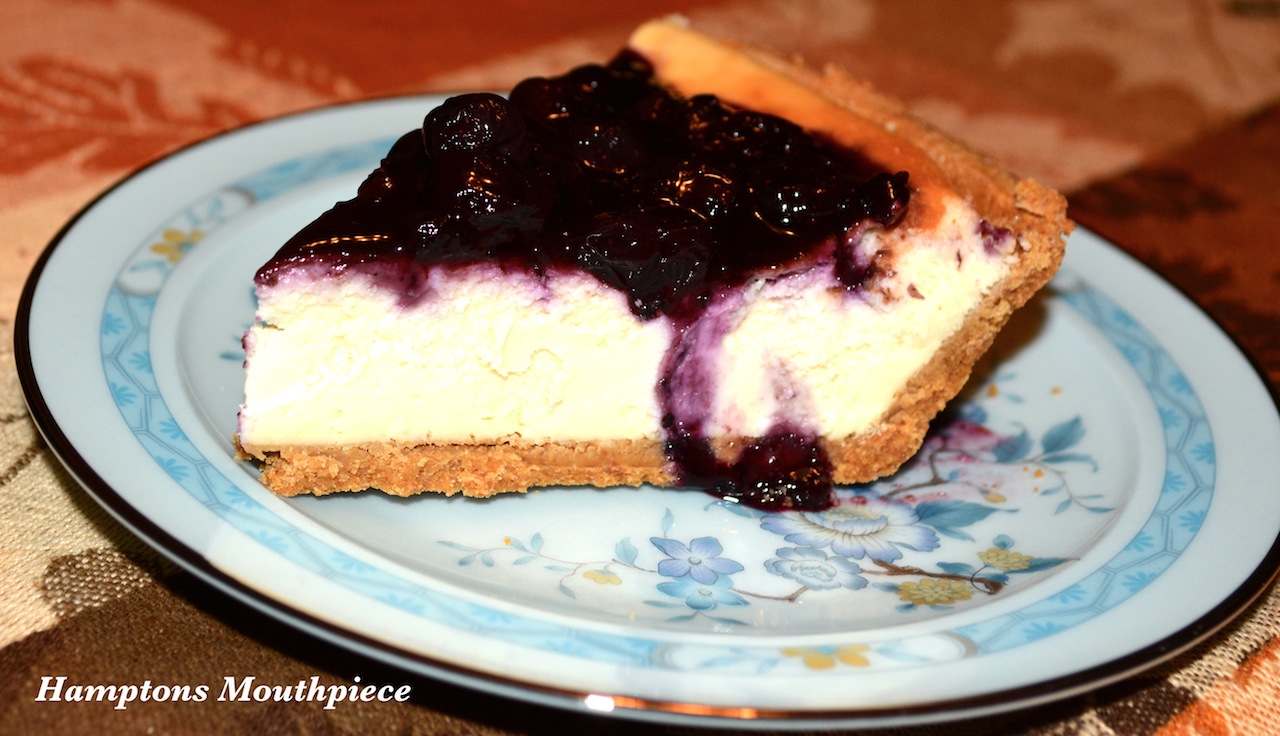 I make small changes to my recipe each year and this year BOURBON was my secret ingredient, it was added to the pie filling and to the Blueberry sauce, this is completely optional but I found that it gave my pie that "je ne sais quoi" that  I was searching for….The pie by itself with no topping is delicious, so I usually only add topping to one pie, You can also substitute blueberries for another fruit of your choice.
BON APPETIT! 
Blueberry Glazed Cheesecake
Author:
Prep time:
Cook time:
Total time:
This cheesecake pie is so delicious it literally will make you cry because it just melts in your mouth.
Ingredients
Cheesecake Filling
4 (8 ounce) packages cream cheese
1 2/3 cups sugar
1/4 cup cornstarch
1/4 Bourbon (optional)
1 tablespoon pure vanilla extract
2 large eggs
3/4 cup heavy whipping cream
2 Honey Graham Pie Crust
Topping or Glaze
frozen or fresh blueberries (1 cup)
fresh orange juice (2 tablespoons) I use an orange instead of orange juice, and I squeezed in a 1/4 of the orange in the sauce
bourbon 1/4 cup (optional)
1/3 cup of sugar
2 tablespoons of corn starch
Instructions
Pie Crust
Honey Graham pie crust…is my suggestion…to make the pie crust crispy (whip an egg white until it is frothy, then spread on the pie crust and bake for 3-5 min.
Cream Cheese Filling—————.
• Place one 8-ounce package of the cream cheese, 1/3 cup of the sugar, and the cornstarch in a large bowl.
• Beat with an electric mixer on low until creamy, about 3 minutes, then beat in the remaining 3 packages of the cream cheese.
• Increase the mixer speed to high and beat in the remaining 1 1/3 cups of the sugar, then beat in the vanilla.
• Blend in the eggs, one at a time, beating the batter well after each one.
• Blend in heavy cream.
• At this point mix the filling only until completely. Be careful not to overmix the batter.
• Gently spoon the cheese filling on top of the pie crust.
• Bake the cheesecake until the center barely jiggles when you shake the pan, about 1 hour.
• Cool the cake on a wire rack for 1 hour.
• Then cover the pie and refrigerate until it's completely cold, at least 4 hours or overnight.
TOPPING or GLAZE:
Combine blueberries, sugar, and orange juice in a saucepan. Whisk the cornstarch into the cold water until smooth. Add the mixture to the saucepan and bring to a boil.
Simmer for about 5 minutes, stirring constantly, until the desired consistency is reached. The sauce will thicken further as it cools.
note* you can puree the sauce or you can keep the blueberries whole…your choice
You can add the room temperature blueberry sauce to the top of the pie and chill for 1 hour or you can just chill the sauce and add to the cheesecake on the side.
To make a glaze: Puree the sauce, blend with a handheld immersion blender and strain it through a fine sieve. Serve warm or cold. The sauce will keep in the refrigerator for up to two weeks.
ok time for another piece….I will start that much needed diet tomorrow….