2012 Annual Chefs and Champagne in the Hamptons.
.Greetings
Hamptons Mouthpiece readers.
..I am excited to bring you this information that you may or may not be aware of the 
"James Beard Foundation Annual Chefs & Champagne"  at the Wölffer Estate Vineyard in Sagaponack, N.Y
.  This annual culinary fundraiser in the Hamptons features flowing Champagne Nicolas Feuillatte and delicious tastings from a select group of more than 30 fine chefs, several from JBF Award-winning restaurants. On Saturday, July 21, the James Beard Foundation (JBF) will honor multiple award-winning TV personality and cookbook author Ted Allen and the judges of Food Network's
Chopped
who include Maneet Chauhan, Scott Conant, Amanda Freitag, Alex Guarnaschelli, Marc Murphy, Marcus Samuelsson, Aarón Sanchez, Chris Santos, and Geoffrey Zakaria.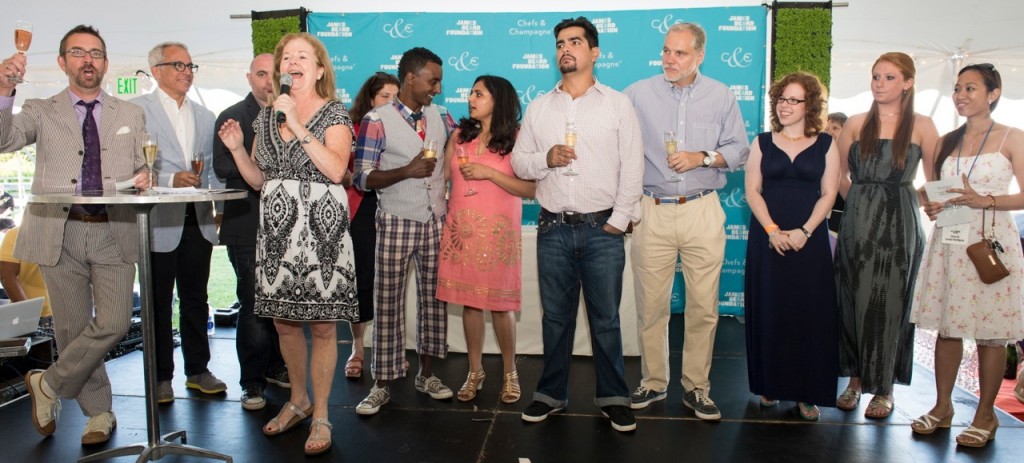 Chefs & Champagne® New York is considered the East End's premiere culinary event. Funds raised at the event will help to support the James Beard Foundation's mission and programs. A silent auction consisting of fine dining experiences, wines and spirits, cookware and culinary travel packages will also raise funds for the culinary arts organization. The 2012 recipient of the Christian Wölffer Scholarship for wine and food studies will also be announced.
Saturday, July 21, 2012**6:00 pm to 8:30 pm (followed by VIP Afterparty)
VIP Experience  5:00 pm to 10:00 pm
Wölffer Estate Vineyard*139 Sagg Road* Sagaponack, NY 11962
Call for Reservations…General Admission ranges from $200-$275 & VIP $375
General admission includes: all tastings, silent auction bidding opportunities, and gift bag.
The VIP experience includes exclusive reception with early access to all tastings; advanced silent auction preview; reserved table seating; access to VIP after-party (8:30 pm to 10:00 pm); and a gift bag.
*For reservations and more information, please contact the James Beard Foundation at (212) 627-2308. Visa Signature® is the preferred card of the James Beard Foundation.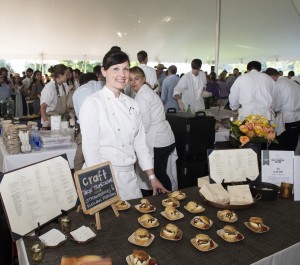 These are the participating Chef's that will be at the event…I am excited that the chef from Red Rooster in Harlem will be here in the Hamptons…I LOVE this restaurant…
Chefs:  Christopher Agnew, Caviar Russe, NYC; Pastry Chef Dominique Ansel, Dominique Ansel Bakery, NYC; Pastry Chef Marc Aumont, The Modern, NYC; Timon Balloo, Sugarcane, Miami, FL; Jonathan Benno,  Lincoln Ristorante, NYC; David Bouley**, Bouley Restaurant, NYC;  Pastry Chef Heather Carlucci, Print, NYC; Pastry Chef David Carmichael, Gilt, NYC; Cesare Casella, Salumeria Rosi Parmacotto, NYC; Jeremy Culver, Fulton, NY;  Todd English**, The Todd English Food Hall, NYC; Todd Gray, Equinox Restaurant, Washington, D.C.; Robert Gurvich, Alison Eighteen, NYC; Chris Hastings**, Hot and Hot Fish Club, Birmingham, AL; Gerry Hayden and Pastry Chef Claudia Fleming**, The North Fork Table & Inn, Southold, NY; Luke Holden, Luke's Lobster, NYC; Marcus Jernmark, Aquavit, NYC; Laurent Kalkotour, DB Bistro Moderne, NYC; Larry Kolar, Solé East, Montauk, NY; Christopher Lee**, Huntington Social, Huntington, NY;  Aliya LeeKong, Junoon, NYC; Andrew Matthews, BLT Prime, NYC; Jeremy McMillan,  Bedford Post Inn, Bedford, NY; Jehangir Mehta, Mehtaphor, NYC; Gretchen Menser, Fresno, East Hampton, NY; Seamus Mullen, Tertulia, NYC; Mads Refslund, Acme, NYC; Marcus Samuelsson**, Red Rooster Harlem, NYC;  Richard Sandoval, Raymi, NYC; Chris Santos, Beauty & Essex, NYC; Tim Sullivan, Great Performances, NYC; Pastry Chef Meredith Tomason, Craft, NYC; Steve Topple, Ludwig's at the Sonnenalp Resort of Vail, Vail, CO; Michael  Weisshaupt, Restaurant Latour at Crystal Springs Resort, Hamburg, NJ;  Simpson Wong,  Wong, NYC
About the James Beard Foundation
Founded in 1986, the James Beard Foundation is dedicated to celebrating, nurturing, and preserving America's diverse culinary heritage and future. A cookbook author and teacher with an encyclopedic knowledge about food, James Beard, who died in 1985, was a champion of American cuisine. He helped educate and mentor generations of professional chefs and food enthusiasts. Today, the Beard Foundation continues in the same spirit by administering a number of diverse programs that include educational initiatives, food industry awards, scholarships to culinary schools, and publications, and by maintaining the historic James Beard House in New York City's Greenwich Village as a "performance space" for visiting chefs. For more information, please visit
www.jamesbeard.org
. Find insights on food at the James Beard Foundation's blog
Delights & Prejudices
.
Is your mouth watering yet Hamptons Mouthpiece readers…I know my mouth is watering and my stomach is grumbling, just the thought of all these fantastic chefs in one place ….WOW and for such a great cause.