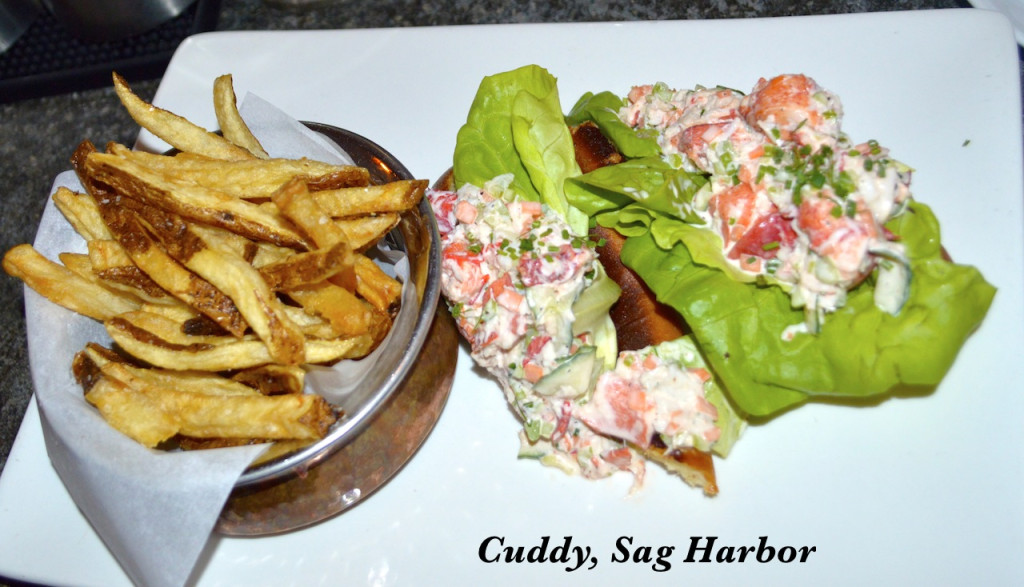 The Hamptons BEST and Favorite Lobster Roll 2013...Greetings Hamptons Mouthpiece Readers 2 new restaurants have joined the ranks of offering Lobster Rolls and it is a dirty job but someone has to do it, I had to venture out to do a Lobster tasting for this update because they both bragged about being the BEST. I decided to visit these 2 restaurants both in Sag Harbor  "CUDDY" and "MADISON & MAIN" to taste their Lobster Rolls to determine if they would make the list…Did they stand up next to my other favorites that once again this year would be serving a Hamptons summer favorite. They did and each one was completely different than the other, my personal favorite was Cuddy because the Lobster was succulent and I loved the creativity of spices used, I also loved the fries, but my daughter loved Madison & Maine it was more traditional and she loved the big fries; it was very good and worthy of making my list but I was not a fan of the bread.
Lobster rolls are a favorite of mine but not everyone makes a good one. I am not a real fan of mayonnaise so I like a Lobster Roll with very little mayo…Everything must be just right, the lobster, the right amount of celery, the bread…In my quest to find the BEST, I had to go on a tasting journey…Since I was unable to visit every place tasting Lobster Rolls I reached out to my friends for their favorites…Out of the 10 I have personally tasted 8…All of these places were given amazing reviews on YELP, Google and my Foodie Friends. Sag Harbor is home to over 22 different places to eat, with nearly 5 places that you can get a Lobster roll, this year 4 have made the list.
Lunch, Montauk
The Lobster Roll, Amagansett
The Cuddy, Sag Harbor* 
The Corner Bar, Sag Harbor (special note: very little mayo)
The Seafood Shop, Wainscott

Canal Café, Hampton Bays
John Scott's Surf Shack, West Hampton Beach

Bay Burger, Sag Harbor

The Fish Farm, Amagansett, NY 
I want to hear from you Hamptons MouthPiece Readers.….let me know what your taste buds say, who is the Hamptons Best.…..The one thing I know for sure is you will enjoy at least one of these places…Happy Lobster time this Summer.