Claim it! App hits the Apple Store offering Free Swag
Who doesn't like things that are FREE.. The new Claim it! app, which launched in New York City on "Black Monday" December 1st, offering free swag to users and all they have to do is watch a 15-second video ad in exchange. Think about it, for watching a 15-second commercial you could win $5 Metro-card, Chipotle gift cards or even Beats Headphones valued @ $380. You gotta CLAIM IT! to WIN IT!Unfortunately, Hamptonites the Claimit! truck will not be in the Hamptons right now, so you will need to make a trip to the city to claim your item should you win it….I hear however Claim it! might take a road trip sometime in 2015.
According to the press release, prizes will range from Beats headphones, designer handbags, high-end cosmetics, Nike and Air Jordan footwear, Sony Playstation 4s, AMC movie theater tickets, Chipotle gift cards, MTA MetroCards, and much more.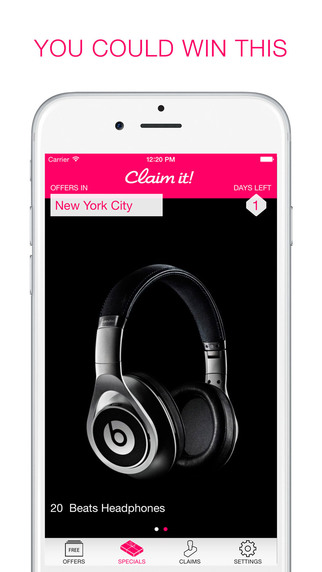 Download Claim it! on your iPhone (application download is free from the Apple App Store)
Register once with just a phone number (no name or email required)
View daily and weekly offers, select items you would like to win and submit a claim
Watch a 15-second video and you are automatically entered to win
Prizes are Redeemed:
Winners are drawn every Sunday and notified via SMS notifications
Winners will receive a unique code and have one week to claim their prize
Locate a Claim it! truck, scan your code, and redeem your prize
Anyone can use their weekly claim to automatically win and redeem a low value item (drinks, snacks, etc.) when in range of the truck's iBeacon
Claiming an offer is easy and takes less than a minute
New offers are added every Monday and expire the following Sunday when winners are drawn
Users get to claim one of three regular offers each week
Exclusive offers can be claimed by users who check the app frequently
Thousands of winners are chosen every week via a fully automated randomized winner selection
Easy prize redemption
Users who opt-in see special offers that are tailored to their age and gender (i.e. women see more cosmetics offers)
Anyone in range of the iBeacons on the Claim it! truck can automatically win lower value items
Incredible items every week of things people really want (not samples)
Winners must be 18 years or older to redeem prizes. Only the code is necessary to redeem.
Claim it! has plans to expand to other major cities in the very near future. New Yorkers can download the Claim it! app from the Apple App Store HERE
*You must be at least 17 years old to download this app.
Sorry Android users this APP is for iPhone users only….Requires iOS 8.1 or later. Compatible with iPhone, iPad, and iPod touch. This app is optimized for iPhone 5, iPhone 6, and iPhone 6 Plus.