DWTS Louis van Amstel brings LaBlast to the Hamptons
…Are you a Dancing with Stars Fan? Do you wish you could dance like the pro's or even be taught by one of these gifted dancers? Here is your chance…."Dancing with the Stars" acclaimed pro,
Louis van Amstel,
will be in Southampton to help raise funds and awareness for the newly formed
Southampton Hamptons Dancers AARP Community Group.
The 9 time Dance Champion will hold an exclusive VIP Meet & Greet with a mini Latin Dance Class at the centrally located Southampton Inn on Hill St. on Tuesday, November 12th from 6:30 pm to 8 pm. If you are unable to attend these classes but still want to get fit with dancing, you can alternatively check out
DivaDance
online to see how you can get your dancing going.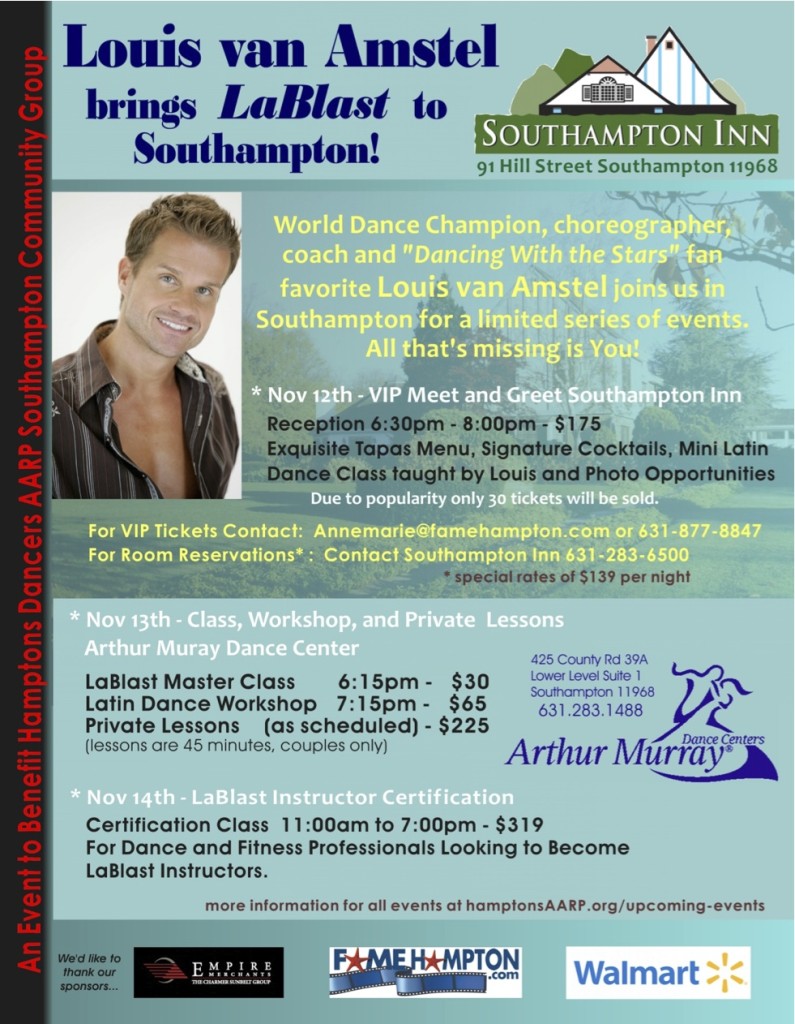 My friends I tried this Youtube workout and WOW does it get your heart beating fast, I was amazed how quickly I picked up the steps, I think Louis is a great teacher and I am looking forward to meeting him in person. I do think this is a workout that would work for me and I am anxious to take this class.
Wednesday, November 13th, the "Dancing with the Stars" delight will be introducing his new fitness Sensation "LaBlast"to the Twin Forks
. This exciting new fitness program is based on the hottest Latin American & Ballroom Dance moves, but takes the concepts of Zumba to the next phase! The moves are quick & easy to learn and cam be adjusted by intensity to work for the new beginner or the voracious expert.. The new "LaBlast" as well as a Latin American Dance Class and several Private Lessons will be held at the
Arthur Murray Dance Center
at 425 County Rd. 39A in Southampton.
LaBlast is an exciting new dance fitness program created by World Dance Champion, coach, choreographer, Dancing with the Stars fan favorite and fitness expert, Louis van Amstel. LaBlast is a fun-filled, high energy dance fitness class that will both challenge and inspire people of all ages and fitness levels, while dancing to a wide variety of music. Types of dance include: http://www.lablastfitness.com
Cha Cha
Disco
Jive
Salsa
Lindy Hop
Merengue
Paso Doble
Quick Step
Samba
Hustle
Viennese Waltz
Finally, The Master instructor will be holding "LaBlast" Certification Class on Thursday, November 13th from 11am to 7 pm for the very first time on Long Island. Any Dance, Health and/or Education Professional in the Tristate area is invited to join the class to become a "LaBlast" trainer.
Information about the VIP Meet & Greet, LaBlast, Latin Class enrollment can be found at
www.HamptonsAARP.otg
Any information about the Trainer Certification should connect with "laBlast" directly at
www.LaBlastFitness.com