Hamptons Spotlight: Ronald McDonald House of Long Island Project Design 2014 Last week I was invited to a special Bloggers day to see The Industry's first permanent show house. Many designers from around the country volunteered their time, talent and resources to Phase II of the Ronald McDonald House of Long Island, Project Design 2014. The Ronald McDonald House of Long Island gives comfort and shelter to families experiencing the pain of having a sick child in local hospital facilities. A "home away from home", the House provides the parents and siblings of these children with a temporary haven in a secure and comfortable environment among other families sharing a similar burden.
Project Design 2014 is a groundbreaking initiative in the design community created by KRAVET and Anthony Baratta, the original designer of the house and creative director for the project, New York Cottages & Gardens gave their support in this project for the house to receive a top-to-bottom makeover by leading design taste masters. There are many sponsors that made this project possible, some of those sponsors included Stanton Carpet, AERIN, Kravet Inc, Planet Fitness, Ralph Lauren, Accents et details, Avanti Furniture, Benjamin Moore Paint, Behr's Furniture, New York Design Center,Serena & Lilly and many many more…
The Project Design program is the largest redesign RMH-LI has seen in its 28-year history. The interior design-led initiative began through a partnership with global fabric provider Kravet Inc. and NYC&G magazine. The goal was to provide a calm and restful healing environment for families experiencing the pain of having a child in area hospitals. More than $4 million in design, labor and materials were donated to complete the makeover of 42 bedrooms, eight kitchens, several common areas, laundry rooms, fitness center and meditation room.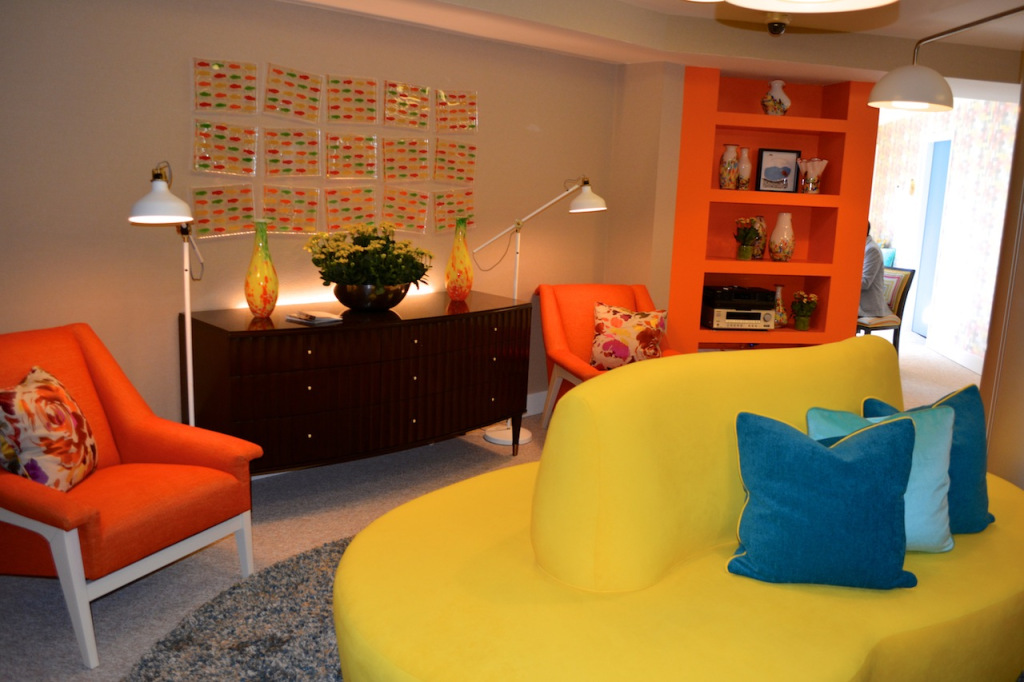 During my tour of the showhouse, each room I visited I felt the love,compassion and complete joy that each one of these very talented designers poured into the redesign of their room. The passion and attention to detail was so prevalent that it brought tears to my eyes. It was wonderful speaking with many of the designers and listening to their reason for participating in this project was so emotional. To hear them tell me about their design and what they were seeking to achieve for the family that would be staying in their room was beautiful. One of my favorite rooms was designed by Input Creative. This room was designed for the inquisitive mind, the designer tells the story of an old japanese fable that shows a child going through a journey and coming out victorious. The room was full of bright bold happy colors, full of wonder to escape into a world of make-believe. There was so much creativity put into the design and I knew any family staying in this room would feel at ease after a very long day at the hospital. click on the video…

Libby Langdon's Outdoor Lounge was of course breath-taking, it is colorful, happy and joyful. I felt relaxed and comfortable and the landscape design was perfect.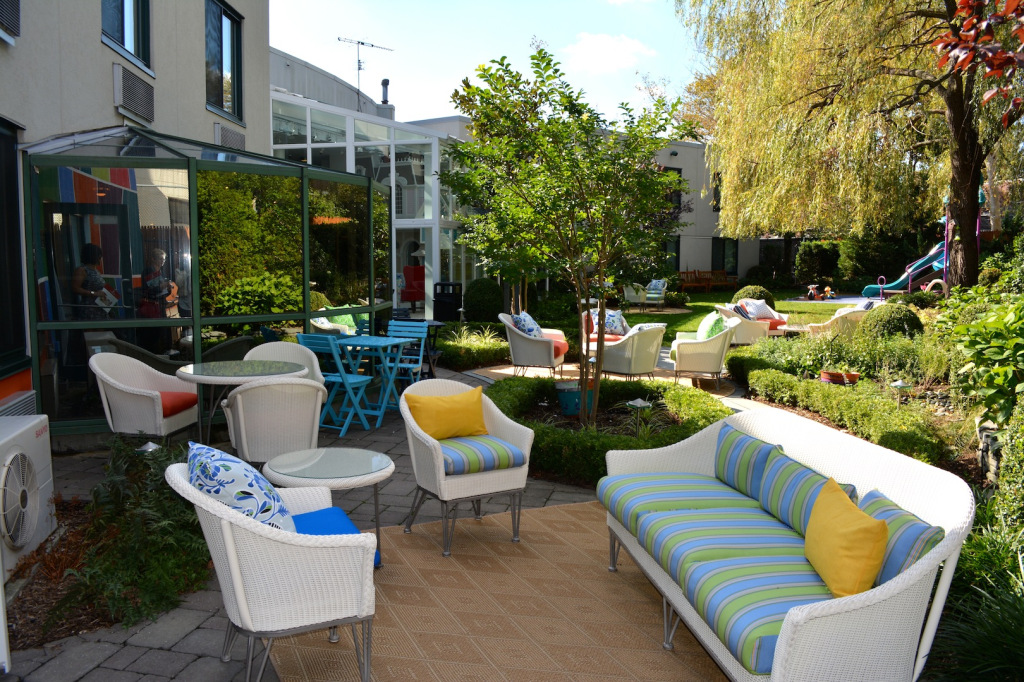 The collaboration of ideas are cohesive throughout the house. Each room is unique and has its own character. There is a room for every mood and that is what makes it so special. The organizers and designers really put their whole heart into this project, and you could feel it in each space you visited from the Laundry room to the Rooftop Lounge.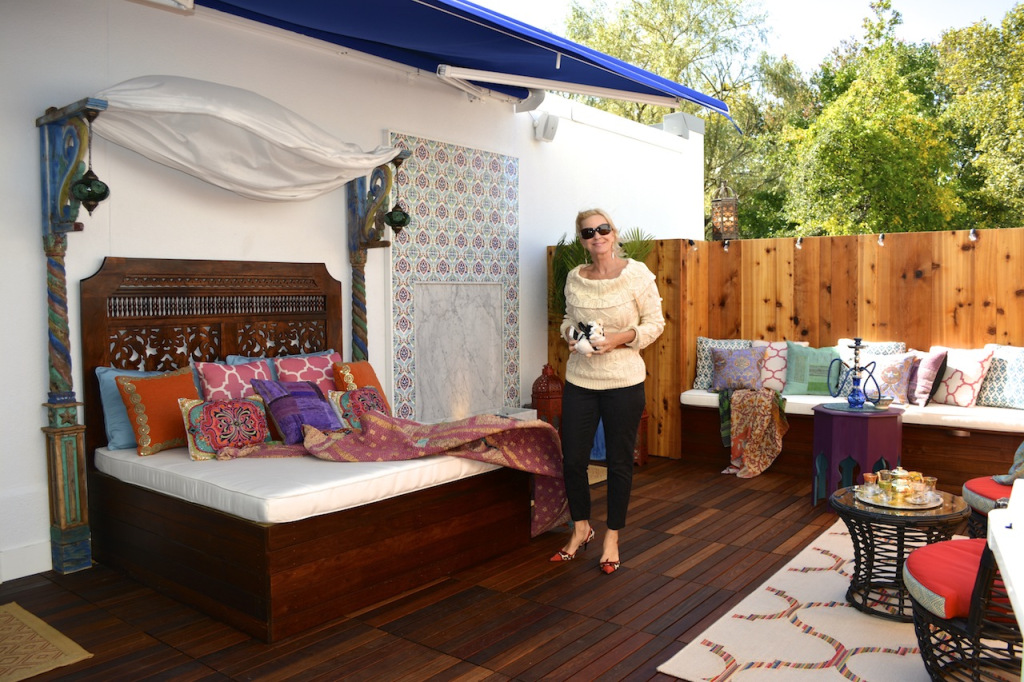 The Tower Lounge nicknamed the "Rabbits' Run" designed by designers Danielle Colding, Drew McGukin and Young Huh was exactly what they intended the space to be, a place where families could bond and share in their healing process together. Both Children and adults can safety access a wonderland where everything makes complete sense. The designers created a setting not only vivid but also thrilling different from imagined places with each mise en scene delineated by surfaces painted and papered.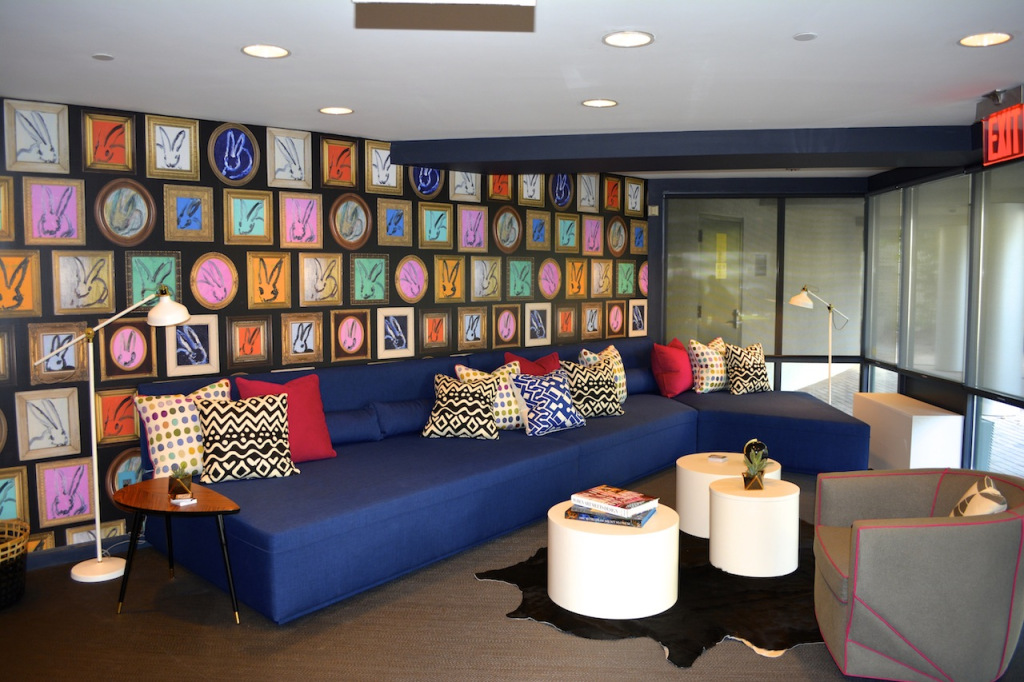 Their goal was to create a child-friendly, warm and hopeful environment for children to play and families to gather in a kind of sanctuary transcending time and place where loved ones share in the healing process.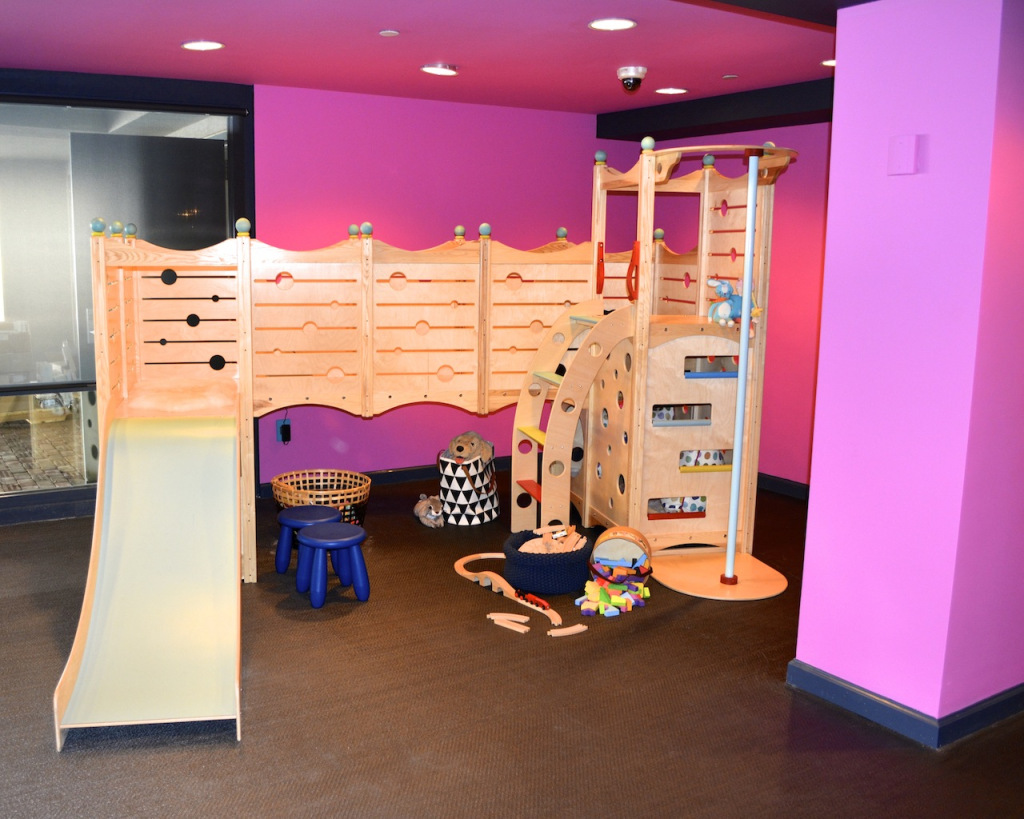 The Ronald McDonald House will sometimes house families from other countries and designer Bonnie Steves had that in mind when she designed her Hello New York room. The colors were vibrant, bold and the room just made you joyful. The bathroom was playful and designed for both a child and the parents… Bonnie love of bright bold colors is displayed throughout the entire suite, from the lime green toilet tissue to the bright bold blue walls. She brought the NYC attractions in her art design on the wall to share with the families who might not have time to visit these attractions during their visit. What a beautiful gift to share with these families to help them escape from a gloomy long day and relax in this fun and playful place.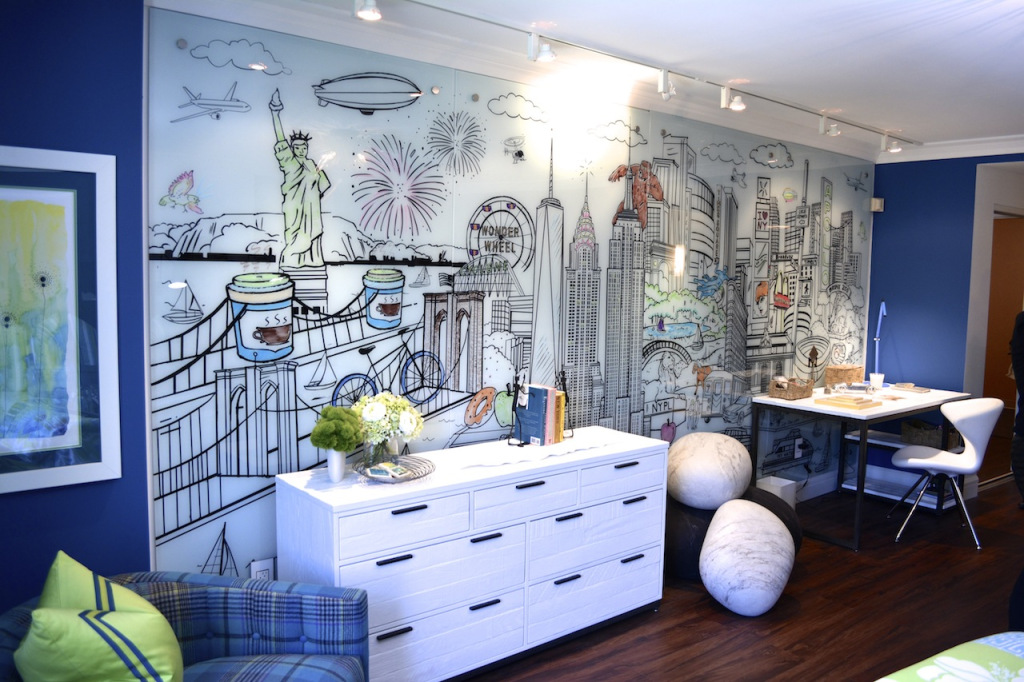 The stunning kitchen & dining area transformation at the 2014 Project Design Ronald McDonald Show House was created by Long Island designers Vasi Ypsilantis, owner of Poggenpohl Long Island www.thebreakfastroom.com and Margreet Cevasco www.margreetcevascodesign.com.The contemporary space features several design and architectural details that accentuate the room and offer a dramatic outcome: the enhanced coffers created to offset low drop ceilings, energizing green wall color, whimsical chandeliers, cerulean sliding pantry doors that make a bold statement alongside classic white European frameless cabinetry and state-of-the-art stainless steel appliances.
Photos courtesy:Margreet Cevasco & Vasi Ypilantis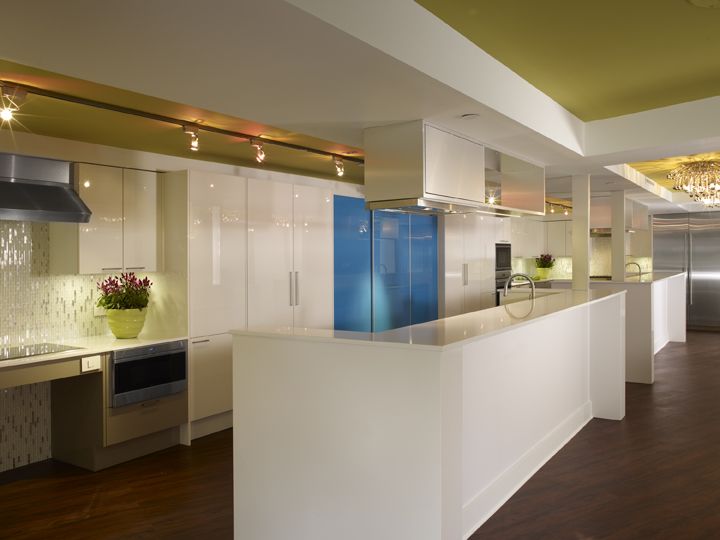 The kitchen layout functions to support both cooking, storage and eating at any hour of the day or night and multiple integrated appliances complete the design. Additional shelves were built-in to the expanded pantry so each family can store grocery items.The adjacent dining area with cozy banquette seating offers a soothing home-like setting that helps guests unwind and offers a moment of relaxation. "If we can allow families caring for their children in the neighboring hospital some comforts of home and a living space that supports them, then we have achieved our goal," said Margreet Cevasco.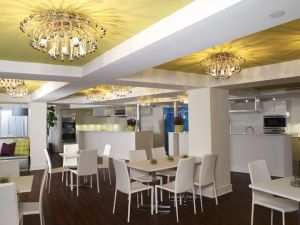 The Designer Showcase Open House is open to the public until Sunday October 19th 2014. Tickets are $25 for adults and $10 for students and children under 12. The Ronald McDonald House of Long Island is located at 267-07 76th Avenue, New Hyde Park, NY. The proceeds of this fundraiser will ensure that RMH-LI's programs and services continue to assist families in need, regardless of any financial constraints they may have. After the 19th of October, these rooms will be occupied with families and I wish I could be there to see the look on their face when they open the door to these beautifully designed rooms. May God help them through this very challenging and difficult time in their life. I pray that when they open the door to these rooms they feel the love and compassion that went into the design.
How can you help? Everyone can do something, kids can draw pictures for those children who are having a difficult time right now. The Ronald McDonald house could use donations either financially or volunteer. Please visit the website for more information. www.rmhlongisland.org