Greetings Hamptons Mouthpiece Readers….so what's the NEWS AROUND TOWN this week in the Hamptons…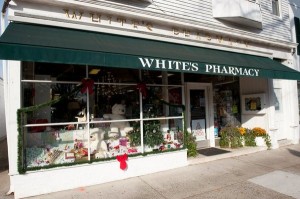 What do Whites's Pharmacy in East Hampton and City Chemist  in Brooklyn Heights, NY, have in common? They are now both owned by the same person. Seems like City Chemist and White's Pharmacy have merged, I am happy they will not be changing the name at the East Hampton location or the Pharmacist Vincent Alibrandi. White's Pharmacy will be redesigned and I am told they would like to bring the Brooklyn vibe to the East Hampton location.  I liked the set-up at the Montague Street location and I am excited to see what new changes will be made in East Hampton. I am told these changes should be completed by May 2014, just in time for the very busy summer crowd. The question is which products will they now carry, I do hope they continue to carry Bare Escentuals:
Michael Wudyka of Enclave Inn and East Hampton Studio has apparently had his fill with the Hamptons…All but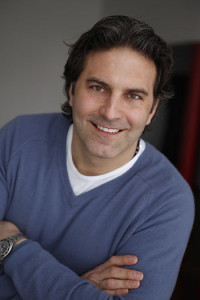 1 of the Enclave Inn locations in the Hamptons were sold last year and this year the last remaining location in Bridgehampton was sold to Donna Karan's
daughter Gabby Karan De Felice's who owns Sag Harbor and Southampton restaurant Tutto Il Giorno..Hmm Will she be turning the inn into another Tutto Il Giorno location? Mr Wudyka in addition has sold the East Hampton Studio in Wainscott and his home…So what's next for Mr. Wudyka, when I spoke to him last week he was enjoying some funtime at the Emmy's in Los Angeles. Good Luck Michael, hope to see you in the Hamptons soon.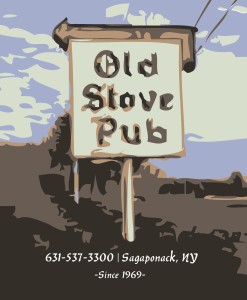 DANCING? Where is there a place to go dancing on a Saturday night in the Hamptons in the Fall and Winter months…Old Stove Pub in Sagaponack is opening up its restaurant space after 1030pm for dancing…and get this ladies pay $10 at the door and drinks are on the house until midnight…Fellows this is where the ladies will be, but make sure you bring those dancing shoes because women love a man that can dance. In addition on the weekends Old Stove offers a 2 for 1 at the bar…call them for more information.
The Sag Harbor Music Festival is this weekend in the Hamptons 9/28….Looking forward to hearing some really great music from some amazing musicians…As Always Sag Harbor is always happening…Along with the Music Festival, come out on Saturday Morning to support Pierson HS for their annual Home-coming, always so much fun, I am looking forward to seeing the floats parade down Main Street to Mashashimuet Park – Sag Harbor…then immediately following are a series of varsity games by the Field Hockey Team, JV Girls Tennis and the Girls and Boys varsity soccer teams all being played at the Park.
September Fest in Southampton kicks off  this weekend…9/27-9/29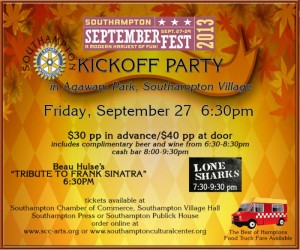 San Gennero Festival :October 5th and 6th in the heart of Hampton Bays on Good Ground Road. There will be great food, entertainment, fireworks, carnival rides and games, signings, parade, raffle chances to win a Fiat and so much more! Proceeds for this event go to local charities, specifically the San Gennaro Feast of the Hamptons Scholarship fund, Maureen's Haven and Coalition for Women's Cancers at Southampton Hospital.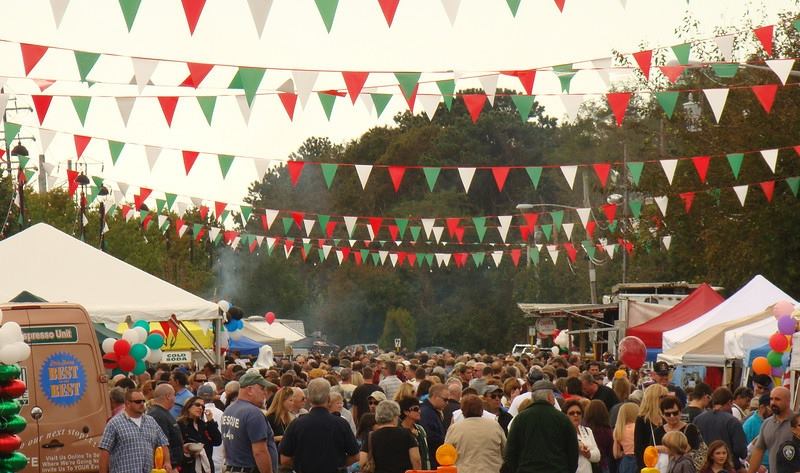 Artist Dinner every Thursday night at Madison & Main this Fall…Pre-fixed dinner $25 and $5 wine…Music later Sag Harbor, Main Street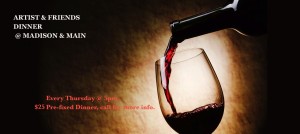 Barristers in Southampton will be closing their doors this weekend 9/28-9/29 after 35 years of business. I love their Burgers, the BEST in the Hamptons. They will be missed…The building is for sale with a price tag of $4.1 million, which includes the business and two second-floor apartments.
The Hamptons Film Festival is coming up…stay tuned for my Hamptons Mouthpiece Must See movies to see at the Festival this year. Check back next week for more news around the Hamptons….
check out the new Hamptons Business Guide…list your business $100 for an annual listing.