Hamptons Happenings Southampton Hospital Celebrates the Opening of The Audrey and Martin Gruss Heart and Stroke Center

Southampton Hospital will host a ribbon cutting ceremony on May 15th to celebrate the opening of the Audrey and Martin Gruss Heart & Stroke Center and to honor the Gruss' gift of $5 million to the new facility at the Hospital.
The state-of-the-art center consolidates a broad spectrum of sophisticated diagnostic and treatment capabilities with existing cardiovascular programs and services. An advanced endovascular surgical suite features the latest imaging technology ideally suited for endovascular surgery, and many of these procedures and repairs can now be done through minimally invasive techniques.
Audrey Gruss, President of the Audrey & Martin Gruss Foundation, said, "Martin and I felt it was important that our local hospital have the capability to conduct stroke and vascular distress intervention. Southampton Hospital is essential to all of us living or vacationing in the East End and we are honored to be part of its quest for excellence."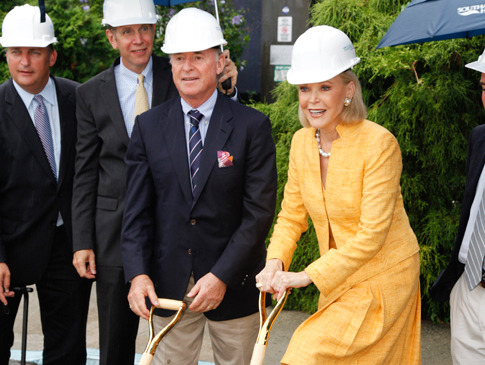 "It is well-known that the over-50 age group has the highest probability of experiencing a stroke or heart attack," Audrey continues. "With many of us spending weekends or weeks year-round in Southampton and the East End, we are gratified by this addition, knowing that our family and friends will be able to get timely medical care right in Southampton, if and when they need it. "
Hospital President and CEO Robert S. Chaloner comments, "We are very grateful to Audrey and Martin Gruss. Getting treatment as quickly as possible is critical to recovery. Our ability to provide sophisticated diagnostics and interventional treatment of stroke and vascular disease will save lives."
WHO:
· Audrey Gruss, President, Audrey & Martin Gruss Foundation
· Robert S. Chaloner, President & CEO, Southampton Hospital
· Reuven Pasternak, M.D., VP & CEO, Stony Brook University Hospital
WHEN:
11:45am – 1pm Friday May 15th, 2015
· 12pm: ribbon cutting ceremony and remarks
· 1pm: Interview opportunities available MAYBE
WHERE:
The Audrey and Martin Gruss Heart & Stroke Center, Southampton Hospital, 240 Meeting House Lane, Southampton, NY
photo credit: www.hamptons-magazine.com and www.danspapers.com