Student Athletes Heat and Wind Chill NYSPHSAA Policy
HEAT ALERT POLICY
I am posting this information for both students and parents because my objective always is to help student athletes prevent avoidable injuries and keep them safe. My daughter is an athlete that participates in 3 sports throughout the school year and is often faced with EXTREME WEATHER CONDITIONS. PARENTS it is VERY IMPORTANT that athletes say hydrated in extreme hot weather, the coaches will constantly reinforce this message, but it is advisable that this message start at home.
The information below is listed on the NYSPHSAA website.
Modified Heat Alert – When the heat index reaches 88 (equivalent to T.H.I. of 73), practice sessions or contests in all sports must include:
a. Forced, frequent water breaks (every 10-15 minutes).
b. Loose clothing, light colored shorts and tee shirts (mesh recommended) for practice sessions.
c. Frequent rest breaks in shaded areas.
d. For football and lacrosse, mandatory water breaks every 15 minutes during which all players must remove helmets. Those players not participating in contact activities during practice, games or scrimmages shall not wear helmets. Players looking to get the latest equipment for their next match may want to check out things like lacrosse sticks available online from sites like String King.
NOTE: During all contests, the rules are to be modified to permit additional time outs for rest and forced water breaks.
Full Heat Alert – When the heat index reaches 95 (equivalent to T.H.I. of 78), no physical activity in any sport is permitted. Team meetings are permitted.
for more information on New York State Public High School Athletic Association (NYSPHSAA) Heat and wind chill policies click on links below:
HEAT INDEX PROCEDURES
WIND CHILL PROCEDURES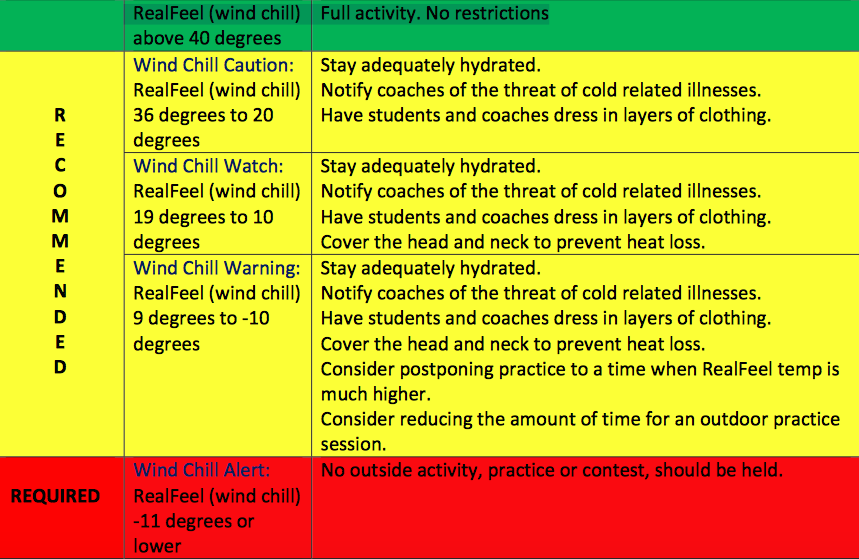 Remember it takes a village to raise a child….Parents lets work together to keep our kids injury free and safe.
In addition you can check Accuweather.com for your local temperature and "REAL FEEL" temperature.