The Genie is Out the Bottle: I don't know about you but I suspect that we are all just alike concerning the use of digital media. Whether we are consumers or producers of digital content, I am becoming more and more alarmed and so should you. Yes, I admit it…. I am becoming increasingly paranoid about my exposure to digital media hijack. It could be Facebook, Instagram, pictograms, or whatever, I am more and more aware of my loss of privacy and my ability to remain anonymous is fading. That world has ended for me and you.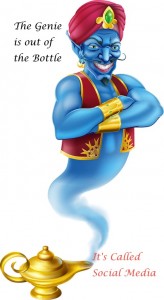 I am old enough to remember reading Orwell's 1984. And sure enough, BIG BROTHER IS WATCHING! I know you've heard this before but it scares the crap out of me knowing that 'THEY' know where I'm at and what I'm doing all the time. Let anyone snap a picture of you and post it, someone can determine where you are by using GPS tracking on the digital data in the picture. This setting is turned on by the default settings on your iPhone or Android devices. The CIA and FBI are constantly before Congress attempting and sometimes succeeding in increasing their 'lawful' right to surreptitiously observe our use of digital content and store data on our usage.
It just drives me crazy (not clinically yet!) to know that companies such as Instagram (owned by Facebook ) tried to write into their policies that they had the right to publish and OWN digital images that were posted by their users. They had the gall (I really mean BALLS) to try to dictate that they actually owned our digital content and could make money off of our pictures. Now don't think for a minute that it was user outrage that changed their corporate minds and forced them to 'clarify' their policy and backdown from their position to usurp our ownership rights. It was when celebrities started to leave Instagram that the policy reverted back to 'normal'. I feel so weak and powerless.
This is my point. We are beginning to see a backlash in social media. There is a small but growing trend to stop using social media outlets such as Facebook. This is good and bad. I don't have my head so far in the sand to not see the advantages for the appropriate use of social media, there is a lot of good there. It is the manipulative behavior of corporate America and government to use our data against us that we have 'voluntarily' provided; to control and shape our perceptions and our society that we must be vigilant against. It is imperative that users become more familiar with privacy settings and limiting exposure to digital hijack.
The Genie is out of the bottle concerning the control of our digital and social lives. You DON'T get 3 wishes and the Genie can't be controlled and can't be put back in.