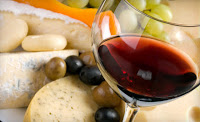 Wine:Look at the Legs
Greetings Hamptons MouthPiece Readers….Yesterday, March 10th I had the pleasure to do something that I have never done before and WHOW was it a wonderful experience. My friend Sharon and I took the Ferry from Shelter Island yesterday over to the North Fork and visited Water's Crest in Cutchogue, NY. When we arrived we were greeted and asked if we would like to have a wine tasting while we waited for everyone to arrive for our Wine Blending event. The answer to that was an absolute YES….since I was the designated driver for the day, my tastings were limited but Sharon was free to enjoy herself. We started with the 2009 Reserve Chardonnay, I am not a fan of Chardonnay but I did like this wine, it was light and fruity and one that I would enjoy drinking. Our 2nd tasting was the New Release "2010 Campania Bianco another Chardonnay, Sharon loved this one, I however preferred the 1st one, it felt a little heavy for me and I like wines that are very light. Our last tasting with the White Wines was the 2010 Dry Riesling…this was my favorite of the 3 and I loved it. It was perfect for me and I am told that it is a perfect pairing with spicy food. I'll have to write down all these pairings and go onto https://www.wineaccess.com/store/ as well as take a trip to the food store to pair up my wine with food for an at-home taste test!

It was then time for the event and so we were walked to the back where we each were seated next to our partners and we worked in groups. We were given 3 reds that we would be blending.
2008 Merlot
2007 Cabernet Sauvignon Grand Vin(cs)
2007 Cabernet Franc Grand Vin(cf)
James Waters
the owner and the Wine Maker was the host for the day and we were given a lesson on blending and an overall history of Water's Crest. It was incredibly informative and I'll be honest, I did start looking at
large used wine barrels for sale
so I could start making my own at home! I'll let you know how that works out… Although Water's crest makes several delicious wines on the East End in Long Island you might be surprised to learn that they do not have a vineyard, they purchase their grapes from another Vineyard that grows grapes in LI and they then make the wine on the premises. We were taught about our Palet's…how to taste the wine, what we should be tasting, why wine-makers blend wines. Wine makers blend wines for several reasons, from enhancing the aroma -to adjusting the sweetness of the wine.
It was time for us to start blending our wine and that was both educational and a lot of fun. I was not sure how I was going to do on my first try because I do not really care for Merlot. Merlot being the prominent wine I had to come up with a formula that would give me the smooth mellow taste that I enjoy… WHAM I did it…I blended a wine that was so delicious for my taste and Jim(the owner) tasted it and liked it as well. Here was my formula:
**Merlot*CF*CS
(now you didn't think I was going to give you the percentages)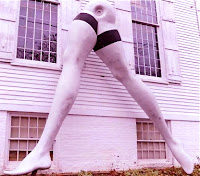 Look at the Legs…not referring to Larry Rivers sculpture that graces the outside Residence of a home in Sag Harbor.….
Fun Fact: When you swirl a glass of wine and look at how it runs down the glass, you're looking at the legs. Look at the ring of wine near the top of the glass and how the droplets form and run back down into the wine. These are the legs. I am told they usually occur in high alcohol wines and you'll see the link between alcohol and wine legs shortly.
Sharon after several tastings finally got her blend where she wanted it to be…you will see in the video I posted her various attempts and her perfect saying for the day.."I don't believe in wasting"
We were all given our very own personal blend to take home with us and before we left Jim let us each sample a Special blend that will not be ready until 2014..It is still sitting in the barrel until Mid-summer and afterwards will sit in the warehouse until 2014…It was delicious…I am told it will retail for $50 a bottle. I really cannot wait and in the meantime I have decided to try out
Cabernets wines for sale online
, as this deal provides plenty of selection from various countries around the world.
We ended our day at Water's Crest and the cost for such a wonderful afternoon was only $30. What a find and a definite cool thing to do on a Saturday afternoon in March. Sharon and I left and stopped over at Sparkling Pointe that was literally 2 minutes away. This place is absolutely beautiful and for you Sparkling Wine fans they only have sparkling wine…They are also the recipient of the Jazz on the Vine, LI Winterfest Closing event on March 18th at 330pm…well worth a visit.
There is another opportunity to take this class but hurry class is filling up quickly…
Saturday, March 17th**2-4pm, $30pp**create your own Wine Blend on Saturday, March 10th or March 17th from 2-4pm, for a truly unique experience. You will have a one of a kind opportunity to create your very own 375ml bottle. The cost is $30 per person which includes an artisanal cheese plate to pair with the currently released Waters Crest Red Wine flight.?Space is limited to the first 30 people to respond per event date. RSVP required to Waters Crest. 631-734-5065
There is one weeked left for the LI Wine Fest, might be worth a drive From NYC, The Hamptons or Western LI and even NJ…..For more information about Water's Crest…click here and for more information and the schedule for the Jazz on the Vine www.liwinterfest.com..Well that was my experience and as always, Hamptons MouthPiece keeping you in the know!