Hamptons Eats…Are you in the mood for a Hamptons Greek cuisine? Greetings Hamptons Mouthpiece Readers…last week I had the pleasure to dine at 2 Greek Restaurants in the Hamptons. I have always liked greek food and I wanted to try out these two restaurants, one is in Southampton and the other in Bridgehampton, both owned by the same corporation. Nammos Estiatorios  & Old Stove Pub serves authentic Greek and Mediterranean cuisine in Southampton, NY and  Bridgehampton, NY. Before visiting both restaurants I usually rely on Yelp to guide me, I like to see what others have to say, since the price for 2 people to eat out at a restaurant in the Hamptons usually averages in the price range of over $100. My thought process is, if I am going to go out and spend money I want to get my money's worth. Unfortunately the reviews were somewhat disappointing, but since friends of mine had shared their experiences with both places I chose to ignore the reviews and I am happy I did.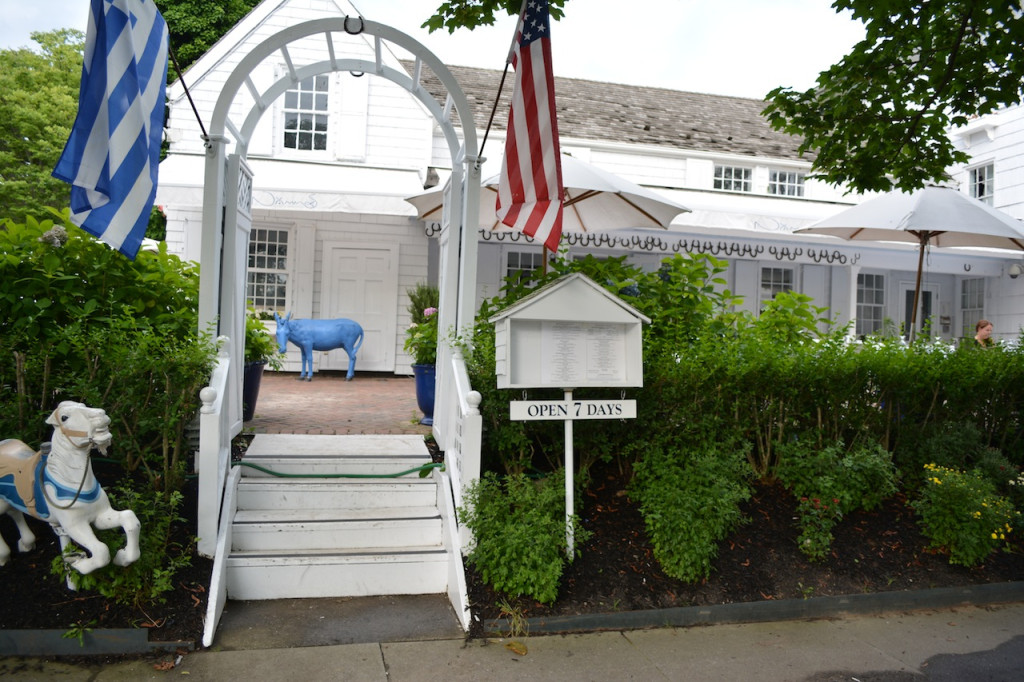 Last Wednesday, July 24th I visited Nammos in Southampton, NY with my foodie teenager Allura. Nammos is 2 years old and previously was occupied by the popular Nello's. Nammos Southampton serves authentic Greek and Mediterranean Seafood cuisine and the chef I am told, is an award-winning Greek Chef Emmanouil Aslanoglou. We arrived very early before 6pm, the average time that many Hamptonites typically go out for dinner is after 7pm, but we had plans and I usually eat before 7pm. The place was very quiet with few diners at this time, our waitress was very kind and knowledgable of the menu and the history behind the restaurant. 
We start with Pikilia a sampling of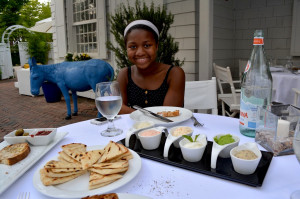 six homemade traditional Greek Spreads..Tarama, Tzatziki, Skordalia, Green Pea Hummus, Melitsanosalata….our favorites were the Pink caviar, the Feta with red onions & the traditional Greek yogurt spread. 
We decided to try the Htenia (spicy pan roasted scallops with black truffle and cretan yogurt macaroones pasta) & Fried Calamari …We loved the spicy scallops but did not care for the Fried calamari, it lacked seasoning.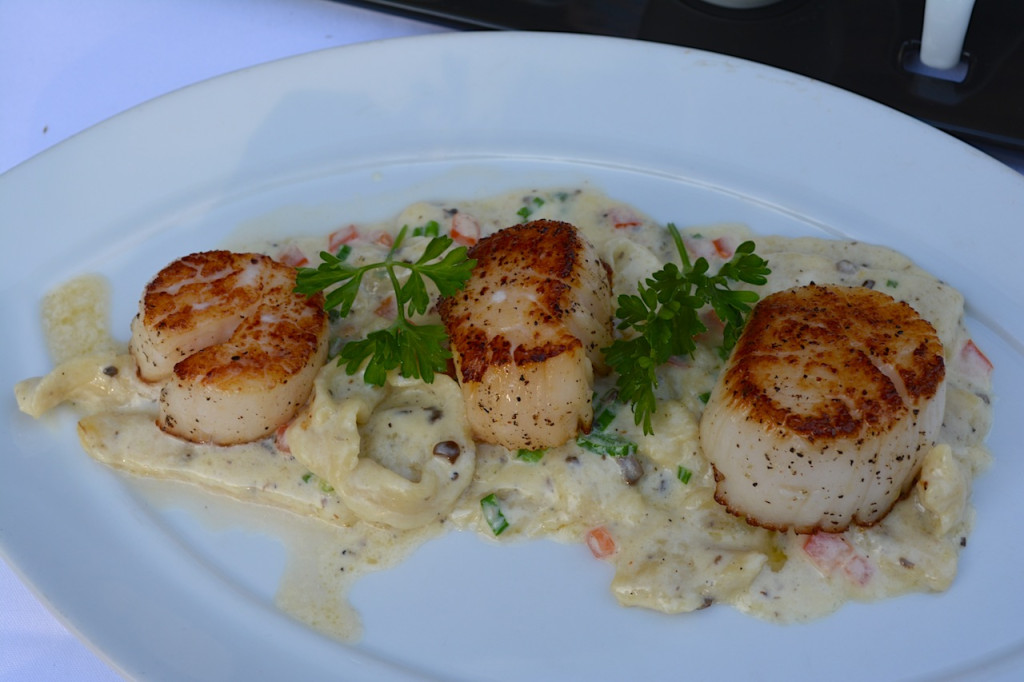 We were full from the spreads and the starter dishes and rushed because Allura had rehearsal at 730pm so we chose to order only one entrée, and Emilios suggested that we try the Lavaraki (loup de Mer, Mediterranean Sea Bass, Lean, sweet flavor) with a side order or Seasoned Lemon garlic Potatoes…I have to say the fish was very light, but it was just ok, I thought it could have used a little more seasoning, we absolutely did not care for the lemon garlic potatoes, I do think those might be an acquired taste.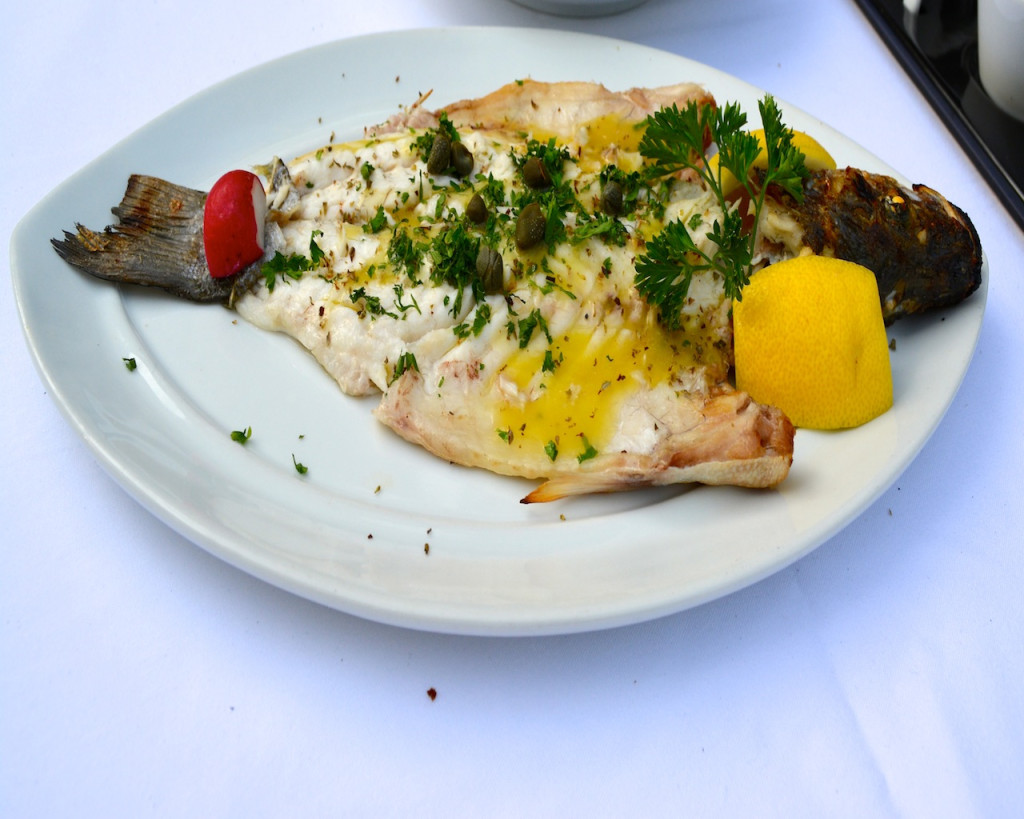 Overall our dining experience at Nammos in Southampton, NY was delightful  and the manager Emilios Eliades and his staff were attentive and very kind. I would have loved to try dessert, but our time was limited, next time because I think it would be fun to go back with friends to have those greek spreads again. We really liked them!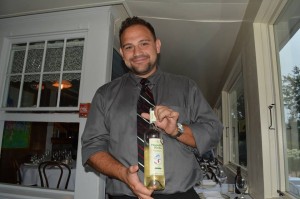 OLD STOVE PUB: After visiting and dining at Nammos in Southampton I was anxious to dine at the  sister place in Bridgehampton, called the Old Stove Pub. I have passed this restaurant several times and yet never bothered to dine there, but I wanted to do a comparison since I was told it too was a Greek restaurant. I went with my friend Helen, unfortunately the weather was yucky and we could not enjoy the outdoor dining that I am told is so beautiful. The night before, a friend had raved about his wonderful meal at the Old Stove Pub, so although the reviews on YELP were discouraging I was looking forward to dining there.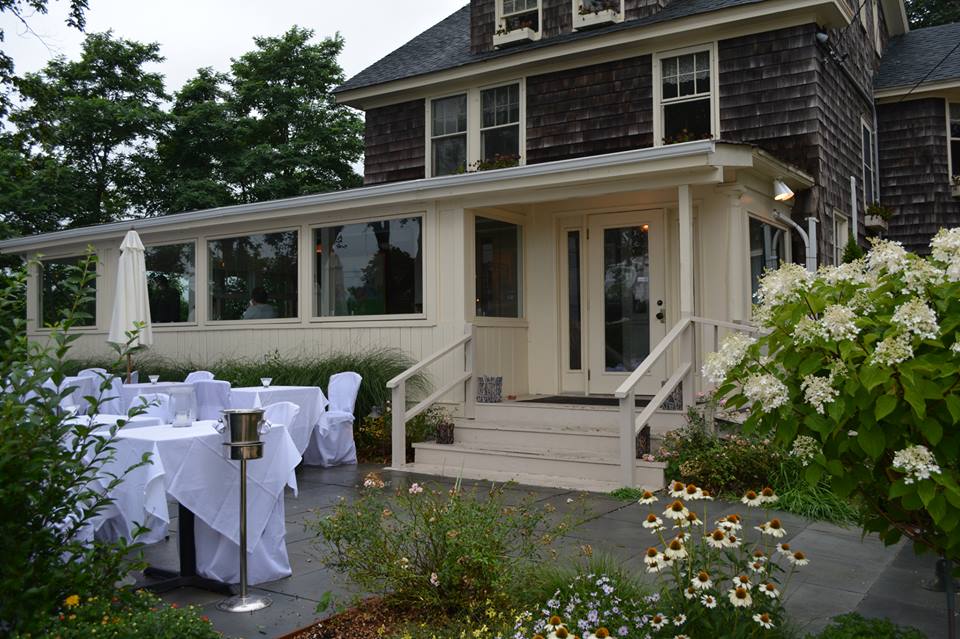 Unlike Nammos that had a new youthful, Southampton look, Old Stove Pub has a more rustic feel. It was cozy and comfortable. George Gounelas the Manager was very attentive and although I liked the food at Nammos, I had a better dining experience at Old Stove Pub. I am shocked to read what some wrote about their dining experience because I had the complete opposite experience.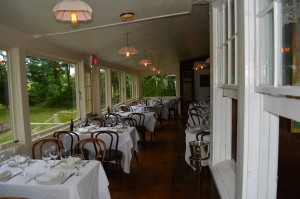 I am ashamed to share with all of you what two women ate for the night, it was just shameful and we were so full that we needed someone to roll us to the car, just kidding…. I was so full that I could not eat anything until late afternoon the next day.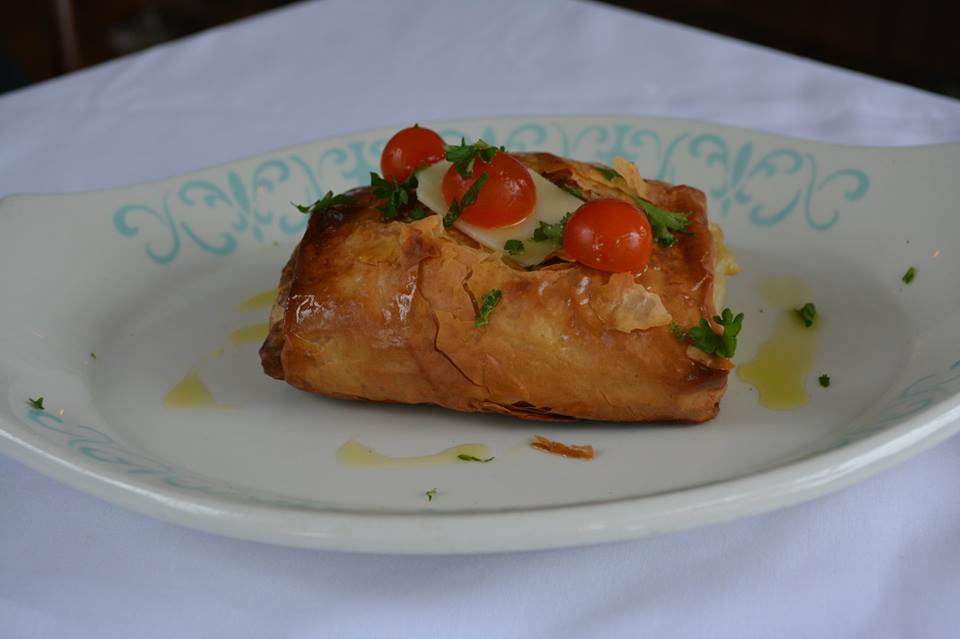 We started with Spanakopita, baked Spinach, leeks, Scallions

Feta cheese, Crispy Phillo, Greek Salad, Organic Tomatoes, Cucumbers, Onions, peppers, barrel aged Dodonis Feta

Shrimp Tourkolimano, large Shrimp with tomato sauce and feta cheese baked in a casserole (this one I did not care for that much)

Saganaki, Greek Cheese baked in a Casserole with lemon juice and Olive oil

Entrée: Lavraki…European Bass, Lean, sweet flavor, with capers, herbs and lemon oil sauce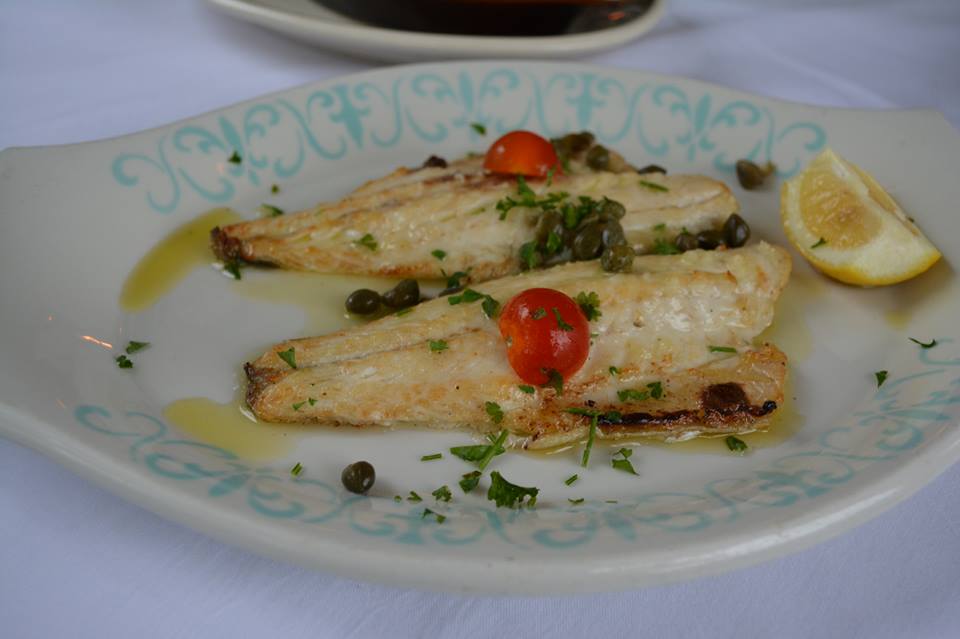 Classic Steak….(Helen loved it and said it was the best steak she had in a long time,)..with a side order of Melitzana Papoutsaki, roasted Eggplant with tomato-onion and feta cheese..I loved this hint of spice…
We ended our meal with a delicious dessert, Loukoumades…Greek handmade donuts with spicy honey, cinnamon sugar, vanilla ice cream ,these donuts are a piece of heaven… So my friends after dining at both Greek Restaurants, for me my favorite was the Old Stove Pub. It was more relaxed, the Manger was more attentive, the service was quick and the food was amazing.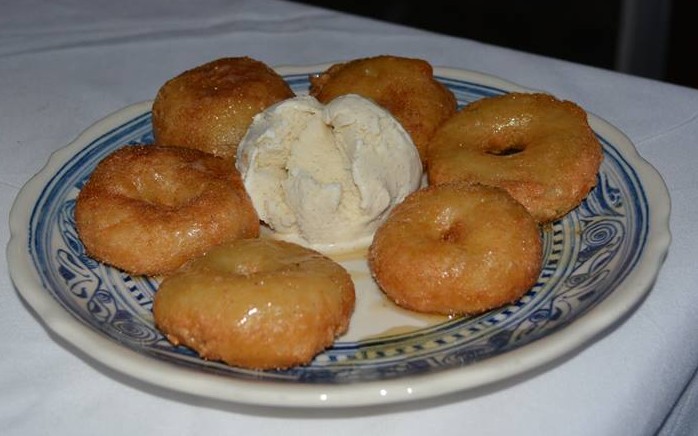 I think Nammos is the place to go if you are going with a group of friends, the serving sizes are meant for a group like setting and it has a youthfulness with a beautiful outdoor dining area. It seems to me that younger people would appreciate this place slightly more than the Old Stove pub which does attract a slightly older clientage. What's interesting is Nammos has a website and Old Stove Pub does not, that speaks of the age difference.
When I arrived at The Old Stove Pub around 630pm the place was very quiet with many open tables, when I left after 8pm, almost every table was full. The customers were slightly older and many of them were return customers. I find that older customers go out for a fantastic dining experience and judge the food and the service. Younger people under the age of 45 tend to judge a restaurant not just on food but entertainment as well. I however prefer the food and the service…ooops am I telling my age?
Nammos is located @ 136 Main Street, Southampton, NY http://m.mainstreethub.com/nammos
Old Stove Pub is located 3516 Montauk Highway, Bridgehampton, NY 11932 Both restaurants are in the same price range. Nammos is only open for the Season and Old Stove Pub is open year round. 
If you do decide to dine at either restaurant, Tweet me and let me know about your dining experience…
follow me on Twitter @ Hamptonsmpiece and like my facebook page @ www.facebook.com/hamptonsmouthpiece