Greetings
Hamptons MouthPiece Readers
….Earlier this week my lovely daughter and I drove into Manhattan, saw the tree at Rockefeller Center and had lunch at Bobby Van's…we were anxious to visit because we enjoyed the food at the Bridgehampton location. The traffic was horrible going into the city but 3 hours later we arrived and parked on the East side and walked over to the West Side. We arrived around 130pm and the place was fully occupied with a lunch crowd. Everyone was smartly dressed in business attire and although every seat in the restaurant was occupied the acoustics in the restaurant were not so over-whelming. It felt private and you were able to hold a conversation within your party.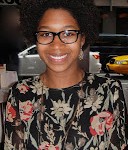 We checked our coats which was very nice to not be tied down to big bulky coats at the table, and we were seated immediately even though we were nearly an hour late from our reserved time. Our waiter Mike introduced himself and asked for our drink order, Dani settled for water and I ordered my usual Seltzer with a splash of cranberry and lime. Soon after bread was delivered, a nice variety, but I wish it was warm, however had it been I would have devoured it so maybe that was a blessing for my waist side.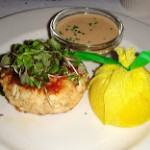 We placed our orders and I chose to start with an appetizer…I ordered the lump crab cake. It was delectable and melted in my mouth. It made me excited about the next dish. Dani decided not to have an appetizer since she was having a very heavy lunch she wanted to savor her taste buds for her meal.
It was time for our main dish, I chose to order the Lemon & Pepper Shrimp and Danielle ordered the Petite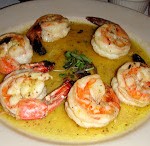 Filet Mignon, each dish came with a side order of hash browns. My dish was pleasantly delicious although the first bite was a bit over-whelming with the zest of the lemon but after that I really enjoyed the meal and cleared the plate.
Danielle loved her steak, it was juicy & succulent, melted in your mouth. The dipping sauce on the side was ridiculously amazing and the hash browns just completed the meal. The petite size was a perfect serving size for her.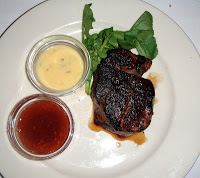 We both cleared our plates and decided to complete our dining experience we needed desert. Mike our waiter came over and we asked him for some recommendations we completely appreciated his honesty and his recommendations were right on target. Danielle ordered the Creme Brûlée and I ordered the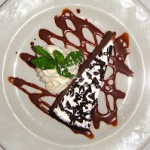 e. OMG….DELICIOUS!!!!
Overall we had a pleasant dining experience. The place was lively, the service was wonderful, the food was amazing. I found the place to be a perfect choice for groups because they seem to specialize in group style portions; we saw many tables sharing a meal. Next time I am NYC I plan on visiting in the evening to check out the bar scene because I bet that is awesome. This is a restaurant to add to your list of NYC places to visit, especially if you are in the mood for steak.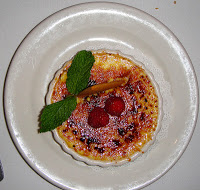 Bobby Van's Grill will be open for New Year's Eve offering a premier of traditional American Grill fare, classics steakhouse favorites, fresh seafood and wood-fired pizza. Bobby Van's is at 135 west 50th Street (bet: 6 &7th ave ) Price is expensive, but worth it. I said today I would rather spend $150 and enjoy my meal than $30 and walk away feel incomplete….
If you are in the Hamptons be sure to stop by their Hamptons place on Main Street in Bridgehampton, NY
As Always Hamptons MouthPiece keeping you in the know!!!!