A Great Evening at Sen NYC with Warm Apple Sake…Greetings Hamptons Mouthpiece readers…I love good food, it makes me so happy. I love when I go out to eat and everything is right, the ambiance, the service, the drinks, the appetizers, the main course and finally… the dessert. I leave there wanting more, dreaming of my next visit as I am walking out of the door, not focusing on the cost only wanting the experience again. Do you know what I am talking about?
Friday I had the extreme pleasure of dining at
Sen in NYC
and it left me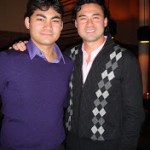 wanting more. Jeffrey Resnick, Toranosuke Matsuoka & Jesse Matsuoka have brought their very popular restaurant in Sag Harbor to Manhattan, with Chef Bryan S. Emperor behind the stove and Head Sushi chef Hiro Sawatari. This location opened in Mid September and is centrally located in Chelsea & Flat Iron district but also easily assessable to both uptown and downtown residents.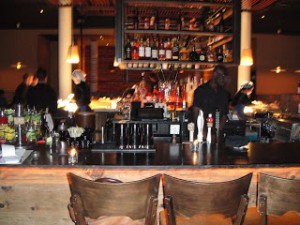 I arrived around 6pm and was pleasantly pleased with the ambiance of the place, the colors are warm and intimate.  Jesse greeted me and gave me a tour of the place as I waited for my cousin Deidre to join me. Located in the front is a lounge area that is very spacious and definitely inviting for an after work crowd who would like to just have drinks and socialize. If the bar scene is your thing than you would love this bar..it is the dominant focal point of the restaurant. It is a beautiful wrap around with real oak on the bottom that are also equipped with hooks for women to hang their bags. The back of the bar is a sushi bar, much larger than the Sag Harbor location, it reminded me of the Benihana's restaurant. The bartenders are very good looking and for that reason alone is why I will be back. I loved the attention to detail in the design of the place, like the warm colors, the oak wood on the bar and the bark on the walls in the back of the restaurant. I personally found it extremely alluring.
As I continued my wait for my cousin to arrive, Jesse suggested that I try the Warm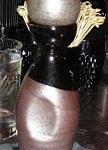 Apple Cider sake, I did and it was delicious. I was happy to hear that they were using products from Long Island, like the the Apple Cider, it also included cinnamon cloves, lemon & orange peel but the kicker was the spiked Brazilian rum…..YUMMMMMMMY…this totally warmed me up.
Dee finally arrived and we were seated at our table…our evening was going to consist of a variety of sampler dishes from the menu. There were items that I liked more than others and some that I personally did not care for, not that these dishes were not delicious my pallets just did not care for them.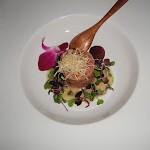 We started our 1st course  with Edamame & Tuna Tar Tar…I really liked the takuan pickle shallot & the spicy yuzu dressing in the Tar Tar.
Jesse decided to bring us a sampler of 3 different Sake drinks….The 1st one was a traditional Sake..2nd one was a sweeter Plum Sake and the 3rd one was a more mature Sake with a definite hit….I went with the 2nd choice a more sweeter Sake….Dee went with the more traditional Sake.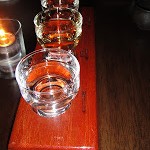 Our 2nd course was a Salad with Daikon Sprout, Spanish onion & Sour plum sauce…I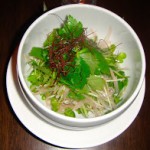 have to admit it was my least favorite because it contained a bitter taste but it was very tasty and one that many might like.
3rd Course: We were brought a sampler tray of various items from the starter menu….Tatsuta, marinated chicken wings, Wagyu Croquette, "Japanese Meat Balls" with Katsu sauce, & Kinchaku "Miso marinated cheese with sweet red crab.  It was delicious, I thoroughly enjoyed everything, it satisfied everyone of my taste buds. Unfortunately for you my readers this sampler dish is not on the menu, you would need to order every item individually. I recommend ordering all 3.

Our 4th course was a surprise array of sushi by the piece. I warned Jesse that I did not like raw food and I have to admit I was so scared of what would be brought out for us to sample, but to my delight it was rather good. Being the adventurous person that I am I tried everything. It included raw fluke, raw King salmon, BBQ Eel, cooked shrimp & Japanese egg…I did not care for the egg but that is because I really do not like eggs anymore, I was not in love with the Fluke either but Dee loved the fluke. I was surprised that I loved the salmon, it had a buttery taste and it just melted in my mouth, who knew this would be the night that I embraced sushi…I also liked the shrimp and the BBQ Eel, it was an interesting taste and one that I would experience again.

Our 5th Sampler was the Hawaiian Blue Prawns…these prawns are shipped overnight from Hawaii and I will say I loved it. The heads were included in this selection and this was my first time having the courage to taste one. It always felt creepy eating anything where the eyes were staring back at you. It was delightful and I think I enjoyed the head of the shrimp more so than the shrimp itself because it was full of amazing juices that captivated my taste buds. Dee was being a coward and refused to taste, but lucky for me I ate hers…yum yum
Our 6th course was from Chef Emperor's Specialty selection…Gyu Negima "Stone-fired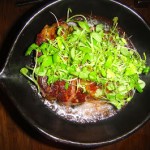 dry-aged Prime Fillet Mignon cooked in Kani Miso Butter and mitsuba cress. I am not a red meat fan, but this presentation was so amazing and it smelled so wonderful. The flame was still burning under the pot as it was brought to the table, and you were in control of how you preferred your steak to be cooked.  Our mouths were watering with anticipation of our first bite, and to our delight it did not disappoint. It felt like we were taking a bite of heaven, it was so succulent, juicy, seasoned to perfection, tender and I know I am saying it again but it really did melt in my mouth. I could taste the miso butter in every bite and I was in my fantasy world of food.
Wow we were in overload and everyone of our taste buds were definitely being fulfilled. I thought our meal was coming to an end but Jesse came over and spoke to us about the tradition of a Japanese Restaurant and how the rice and soup are typically served at the end of a meal. I guess the best are saved for last and maybe this metaphor might make sense, at the beginning of an exercise regime you start with the warm-up, then you transition into a more aerobic high impact exercise and at the end you finish with a warm-down. Such is the case with my meal…we started with appetizers*salad*sushi*main course*rice*soup…..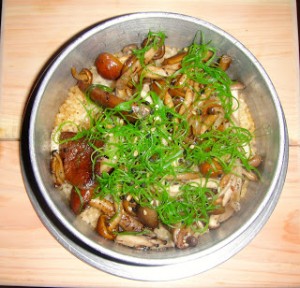 It was suggested that we try the Shoyu Truffle Butter rice with mixed mushroom, soy sauce & truffle butter. The rice is cooked per order in a cedar box and I was anxious to taste it. This was different for me, I was not use to eating the rice at the end of a meal. Rice by itself is very filling and to wait until the end to have the rice is a new and interesting concept for most Americans. I have to tell you my friends, I loved it.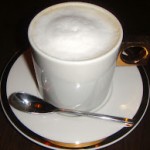 We ended our meal slightly nontraditional for me, instead of dessert and coffee we had a red miso soup with mushroom and tofu topped with a umami foam. I have to admit the presentation looked like a cup of cappuccino so it was a little weird. If you are a creature of visual presentation and prefer your soup in a bowl then you might be somewhat turned off. As for me I base my decisions on taste, and that is what this entire evening was for me, taking risks and trying new things. I loved it, the tofu was delicious and being in a cup was not a deterrence for me.
In Japanese tradition the evening ended as it began with Sake…but not just any Sake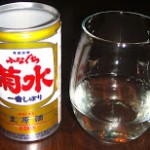 the "creme de sole"…The Japanese rendition of an after dinner cognac…it warmed my body as the warm sake at the beginning had warmed me.
Hamptons MouthPiece readers, as you can see I enjoyed my Sen NYC dining experience and I recommend this place the next time you visit the city or if you live there. They will be looking to add some entertainment to the place, I personally think that would be a really nice touch. The restaurant is moderately priced, they are located at 12 west 21st Street, between 5 & 6th avenues. I would suggest calling for reservations.
Don't forget to visit their Sag Harbor location next time you are in Hamptons..As always Hamptons MouthPiece keeping you in the know!!!!!