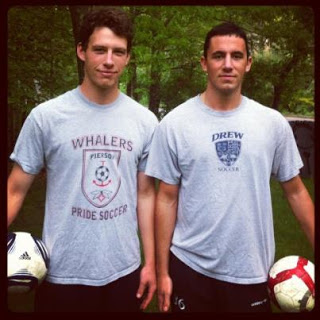 Greetings Hamptons MouthPiece readers…WHO PLAYS SOCCER? If your child is between ages 8-12 and likes Soccer…check this out…
Join
Brook and Sean Hartnett this summer at the Children's Soccer Academy sponsored by
Hamptons Youth Sports
which will be soccer clinics in Sag Harbor.
Location
: Sag Harbor Elementary Field
Date:
July 7th – August 5th, (Sat & Sun)
Time
: 8:45-10AM
All kids ages 8-12 are welcome. For more information and registration contact Daniel Brook Hartnett @ 631-965-9073 or Alison Scanlon at 631-834-2215. Cost $100 for the 10 sessions or $10 for a drop in
reserve a spot by emailing
hamptonsyouthsports@gmail.com
Some background information about these brothers;
Brook Hartnett has played soccer since he was 6 years old. He played throughout high school as a starting wing midfielder and was the captain of his senior varsity team at Pierson High School in 2010. That team went to the Suffolk County championship play-offs . He was recruited for college soccer and chose to play for Drew University in Madison New Jersey this past year. Drew ranked 13th in the nation last year. Brook continues to play soccer and plans to continue his college soccer career.
Sean Hartnett has played soccer since he was 6 years old. He played three years of varsity soccer as a starting defensive wingman and was captain of the Pierson Varsity soccer team in 2011, his senior year. He was awarded all-conference for excellent performance. He continues to play soccer and plans to continue his soccer career at SUNY Geneseo.
Brook and Sean are two fine young men and they are both equally talented in the game of soccer. Looking for something for your kids to do this summer? Take advantage of the
Children's Soccer Academy
. If you live in the Hamptons year-round or you are here only in the summer and your child likes to run, wants to improve on their soccer game or they are considering joining a team in the fall, get a head start now with these clinics. Brook and Sean are highly-regarded as coaches and have experience in guiding and improving talented young footballers, some of whom were spotted by
Football scouts
after attending the Children's Soccer Academy! For children, working their way through this academy could be an easy way to get scouted and move onto bigger things in the future. In this academy, some of the children have benefited from learning vital skills, such as determination and teamwork. Many of them have also experienced a motivational speech from NFL sportsmen like Brett Favre (for his details,
find here
). Brett has experience playing in the NFL, so he was able to motivate the children to work harder on the pitch to win the game. After having experiences like that, many of these children are so determined to make a career out of soccer!
As always if you want to know what's really happening in the Hamptons…read Hamptons Mouthpiece because we keep you in the know!!!!