Go Red for February..National Heart Awareness Month
February is National Heart Awareness month and the color is RED…What does that mean GO RED? Although Red is the color of Valentine's Day it is the celebration on women who have battled Heart disease, it is the color for bringing awareness to Heart Disease the #1 Killer among Women in the Nation. It is a very important cause for me because my mother has heart disease and it was very scary and continue to be scary. Heart disease is the leading cause of death and a major cause of disability in the United States. Nearly 600,000 Americans die of heart disease annually. With heart attacks being so regular, we should all find the time to become trained in CPR. Visiting Mississauga Coast2Coast might prove to be life-saving. This represents almost 25% of all deaths in the United States. To raise awareness of this disease, February has been recognized as "American Heart Month" since 1963.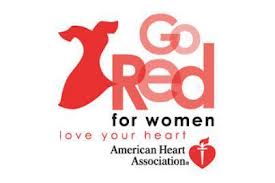 The U.S. Preventive Services Task Force (USPSTF) strongly recommends cholesterol screening for men aged 35 and older. For people who have a family history of early heart disease the USPSTF recommends cholesterol screening beginning at age 20 for both women and men. Health care providers can help patients evaluate their family histories to determine a screening approach that is best for them.
Heart Disease is the #1 Killer for women in the Nation.
42 million women in the US have Heart disease
#1 Killer among African-American women
#1 killer among all Americans both men & women
1 in 26 women die from Breast Cancer
1 in 3 will die from heart disease
My mother's life was saved twice once in 2005 and again in 2013 because she recognized the signs and went to see her doctor…What are some of the signs to recognize:
Extreme Fatigue

Shortness of Breath
Light-headed
Nausea
Intense heart palpitations
If you are administering these symptoms seeks medical attention, better to be safe than sorry…This my friends is not just a disease that hits older white men. It can attack anyone at anytime at any age. There are some preventative actions you can do as well:
Loose Weight

Develop a Healthy Plan
Exercise
Snack through-out the day with healthy snacks
drink plenty of Water
Decrease sugar and Salt intake (Star Jones recommends Stevia, a natural sugar substitute)
organize a 30 minute walk a day…Make it fun walk with friends
EAT LESS & MOVE MORE
Other things could even be practicing stress relief techniques, which could even mean traveling to reduce the risk of heart attacks, according to websites like https://www.casaderosie.com/why-we-should-travel-more-in-2021/. Take Control of your life Hamptons MouthPiece Readers….YOU CAN DO IT!
Go Red for February..National Heart Awareness Month..for more information visit American Heart Association, http://www.heart.org/HEARTORG/
Easy ways to help fight heart disease…join National Wear Red Day! It's easy. On Friday, February 7th, wear red and collect $5 donations from your friends/colleagues! They get a red dress pin and you can all feel good about supporting the fight against heart disease & stroke! I can sign you up to be your organization's coordinator. Just email my friend [email protected].
795,000 Americans face stroke each year, and the number of Americans living with stroke is expected to grow to 3.4 million by 2030. Despite many medical advances, there is still so much work to be done. That's why we need Congress to make stroke research funding a priority this year. Our lives truly depend on it. http://spr.ly/6180xIL4
American Heart Association Quick & Easy Cookbook, 2nd Edition: More Than 200 Healthy Recipes You Can Make in Minutes