Hamptons Middle School Kids making a difference…..Greetings Hamptons Mouthpiece Readers…I typically do not re-post Press Releases that I receive, but this one has touched my heart and I felt the need to share it with all of you…We often hear so many negative things Middle School kids are doing, it is a welcome change to hear about the positive things Middle school kids are doing….I commend Jason Cofield one of the owners at Evolution Fitness in Southampton, NY for bringing these young girls idea to life and supporting them with their Dream…It is my hope that the community will come out to support them on Saturday, May 12th 12 noon- 3pm…The Zumba™-thon is open to the public and is $25 per adult and $10 per child. Evolution Fitness is located at 33 Hill Street in the Village of Southampton
Press Release sent by Evolution Fitness….
Southampton Intermediate School Students Aim to Change the World, One Student at a Time, By Hosting a Zumba™-thon to Raise Funds for a Community Scholarship Program for Local Kids
Southampton, New York-May 07, 2012: Southampton Intermediate School seventh graders Noelle Capone and Coco Ramgopal along with fifth-grader Asia Cofield are hosting a fundraising Zumba™-thon at Southampton's Evolution Fitness on Saturday, May 12
th
from 12 noon until 3pm.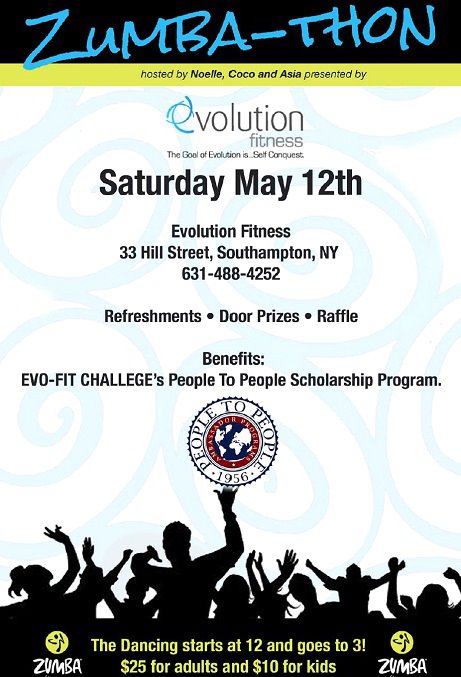 The proceeds from this inaugural event, created by Capone, Ramgopal and Cofield will help establish a scholarship fund for local children under the auspices of EvoFit Challenge (501c3 pending) run by Jason Cofield at Evolution Fitness.
"The girls came to me with an idea to help local kids fulfill their dreams," said Mr. Cofield. "I think what they are doing is incredible."
Mr. Cofield went on to explain that the girls had been inspired to create the event after researching
fundraising ideas for college
students online.
Noelle Capone, the scholarship's first recipient will use a portion of the funds raised to participate in the People to People Ambassador program as a delegate. Capone will travel to Europe this summer with fellow Suffolk County Delegates. "The People to People Program offers Noelle an extraordinary, life-changing educational opportunity. By learning to bridge cultural and political borders through education and exchange , I am counting on her to use this experience to make the world a better place for future generations," Mr. Cofield added."But this event doesn't just benefit Noelle," 12 year old Coco Ramgopal said. "It benefits all of us with dreams or those of us who might need a little extra help for an educational program or health challenge." "We want to get the whole community involved in changing the world," added fifth grader Asia Cofield. "We know that we can do this by helping our peers fulfill their dreams."
The Zumba™-thon is open to the public and is $25 per adult and $10 per child. Evolution Fitness is located at 33 Hill Street in the Village of Southampton. Please call Jason at 631-488-4252 for more information, to reserve your space or make a donation.
About Evolution Fitness: Evolution Fitness is the brainchild of two Southampton High School alumni, Jason Cofield of the Shinnecock Indian Nation and Scott Wilson of Southampton. The two made a pact in their senior year of 1986 to one day own a local business together. The original idea was to be Real Estate tycoons, but that changed to nightclub owners, then gym owners, which is where the dream, 25 years in the making, finally came to fruition.
"The goal of Evolution Fitness is self-conquest. The fitness industry is constantly evolving… what's old is new and what's new is Evolution," says Evolution co-owner Jason Cofield. "We offer the best of the best in every facet of fitness to stay ahead of the fitness curve and become a premier agent in the fitness industry." Jason has 20 years' experience in the fitness industry as a personal trainer and gym manager at some of the largest fitness facilities in the world. Following service in the U.S. Air Force, where he began power-lifting, Jason attended Minot State University in North Dakota, as a corporate fitness major, with a minor in coaching.
About People To People: Launched in 1956 by President Dwight D. Eisenhower. People to People Ambassador Programs has served as People to People International's global educational travel provider, organizing and promoting opportunities for bridging cultural and political borders through direct interaction, unparalleled access, and unique experiences.
Today, People to People Ambassador Programs travels to every continent on the globe and offers programs for students, educators, and professionals, including: Student Ambassador Programs – International educational opportunities for students in grades 5-12 and Leadership Programs – Leadership development and college preparation opportunities for students in grades 5-12.
or call 631-488-4252