13 Ways to Feel Like Halle Berry in Your Swimsuit…I annoyingly tell anyone who will listen that I grew up in Florida on the bath warm Gulf of Mexico. It was a very special childhood—the first thing you learn is how to run away from an alligator (zig zag and then up at tree as soon as you can). The next thing you learn is that things ripen faster in the heat. I'm talking about fruit and people.
At 14, my friends and I were regularly getting hit on by dudes with mustaches and real ID's. This usually happened at the beach far away from our parents. We still laugh about the Wile E Coyote dust clouds that appeared when we finally revealed we were in the 9th grade. Aside from our very mature figures, part of the misconception was that our swimsuits were quite small. It's a Florida thing. I had to constantly compromise with my mother in this department. Full coverage was the F word in swimwear but there was no way she was letting me go anywhere in anything smaller.
I went to St. Tropez as a recent college grad and reveled in the freedom of topless sunbathing. I also tried a thong for the first time. There was a lot of jiggling. And digging. When I came back to New York the law had just been passed that women could go topless since men could do it. Woohoo! For some reason I thought that New York women were just waiting for the moment they could rip off their tops and frolick in the ocean. Not so. I did it once on Long Beach and still bear the scars from everyone's eye daggers.
A few years ago I went on a magical mermaid vacation to eastern Brazil with 2 of my best friends. There were a lot of butts. If your swimsuit wasn't a thong you could jam the bottom up until both cheeks were on full display. We called it the ass crammer. I never saw one of those brasileiras dig it out.  The suits were also kind of confusing—one of my friends realized a week in that she had been wearing the thing backwards the entire time. We were there for 2 weeks but I never worked up the nerve to go full ass crammer. I'm more a fan of top butt cleavage like the Coppertone girl. But in Brazil the locals thought is was too much. I received many friendly warnings that my boomboom was showing. Seriously?
When I visited the Hamptons for the first time I couldn't believe how big and conservative the swim wear was. Brown? Paisley? One piece? Whaaatttt??? We are at the beach right? I had visions of another Miami, just further north.  HUGE culture shock. I'm a believer in being appropriate to your surroundings but also not being afraid to express yourself. Finding that balance has been a fun challenge. These days there are a lot more Europeans on our beaches so my tiny bikinis don't garner as much attention.
Because of these experiences I consider myself somewhat of an expert in swimwear. I know a lot of people, especially if you live outside of Florida, have anxiety when it comes to swim suits. I think it has to do with body image and also worrying about what other people think. Whatevs—someone is always going to think something you don't want them to. Truly that is their problem. This is the perfect time to really celebrate your body. Whatever the shape.
Finding the perfect swimsuit is like solving a physics equation—you have to take in to account mass, volume, velocity and gravity. The answer to this equation  is not how your suit makes you look but how it makes you feel.  I think it should be something link Divine GoddessMermaidHalle BerryBondGirl.  Below are some of my guidelines to help you get that feeling when you are on the beach.
GREEN LIGHT
Try on your swimsuit with high heels. No one ever said, wow, I look amazing standing mostly naked in flat bare feet in fluorescent light. When your foot is elevated your legs look longer and leaner,  your chest and butt naturally stick out in a sexy way, and your stomach automatically sucks in.  Ca-Ching!
Pose like a Victoria's Secret swimsuit model in the dressing room. This will instantly help you feel sexier. It works! See last week's post on practicing.
Keep in mind that it is not the size of your body but the shape that we are working with. If you are looking for your best shape bottom, start with your favorite underwear. Not the comfy period panties but the ones that you'd wear on a 3rd date.
A halter style is universally flattering. Whether it is a triangle top, underwire bra style or retro, the around the neck design lifts the girls into place and draws them together. Yay. There is also a lot less worry with this type—no straps falling down and it's completely adjustable.
Polka dots, bright colors and black never fail.
Make things look bigger with ruffles, fringe or gathering. That goes for boobs and butts.
RED LIGHT
Strapless. There is already so much tugging going on. Why make more trouble? Also, there can be a really unattractive boob squeeze thing that happens with strapless. It can look like a tomato in a press—not cute.
White. There is not enough lining in the world.
Brown. Hmph.
Monokinis. What is that even?
The American Flag. No one wants to know about your stars and stripes
YELLOW LIGHT
12.  Retro Coney Island Beauty Queen or the Marilyn Monroe. I love a pin up girl but I'm on the fence for the beach. Think of the tan lines! If you don't have enough curves to fill it out it just looks like a saggy diaper. It works spectacularly on plus size women, tattooed Betty's, and ladies old enough to have  worn it the first time around. If you are not one of those, skip it and go with something more modern
13.  Tankinis.I get te idea of these but have yet to see one that that makes me think Goddess, mermaid or Halle.  They can look sloppy real quick.
I hope this helps when you are out swimsuit shopping this season! Below are some of my favorite resources. Have a question or something to say? Put it in the comments below or post to our Facebook Page!
Check us out in the One Healthy Hamptons Summer Guide!
Love this guide but would need some help to bring out your inner Halle Berry? Do you want to stop wasting your time and money on clothes that don't work for you? Could you use some style guidance or a closet co-pilot? Are you ready to use your Wardrobe Language to tell the world about your amazing self? Click here to contact me and schedule a free 20 minute phoner!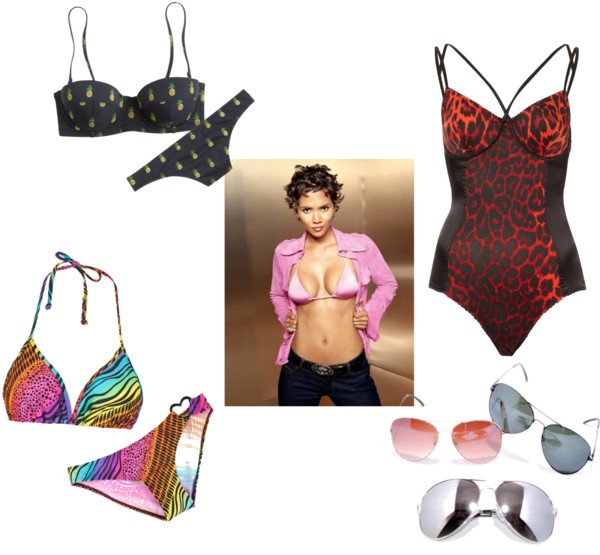 Aviator glasses on sale until May 1st for $20…enter code Vanessa at check out for free shipping.