Hamptons Designer Showhouse 2012, Design ideas for your Home…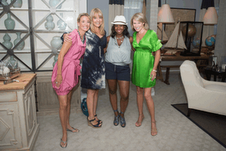 Hamptons Mouthpiece readers
..Are you looking for design ideas for your home, look no further, you need to visit
The Hamptons Designers Showhouse
2012 located in Watermill, NY. There were fabulous colors and textures, it was fantastic, you will get some ideas on how to design small to big spaces. I loved that many of the designers utilized local businesses here in the Hamptons.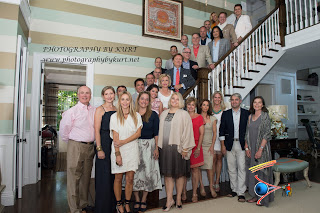 There were 14 designers and each was assigned a room to design, some of those talented designers were Lillian August who designed the Great Room, The Lee W. Robinson Company who designed the Foyer, Mabley Handler Interior Design (Dining room), Old Town Crossing (Conservatory), Jennifer McConnell of Pearson Furniture (Great Suite), Robert Passal Interior & Architecture Design (Master BR), Tammy Connor Interior Design (BR 1), Katie Leede and Company (BR 2), Libby Interiors, Inc (Fun room), Audio command Systems Inc (Media room), Dyfari Interiors (Playroom), Lucille Khornak Photography (Lower level Hall), Jeff Lincoln Interiors, Inc (Rear deck) and Tara Seawright, Inc. Interior Design (Pool area).
The Hamptons Designer showhouse Foundation is in it's twelfth year…they are operated by a unique and talented group of marketing, public relations, fundraising and special events experts. It is recognized as one of the country's most successful showhouses. The event was presented by Traditional Home and for the last ten years the Showhouse has benefited the Southampton Hospital.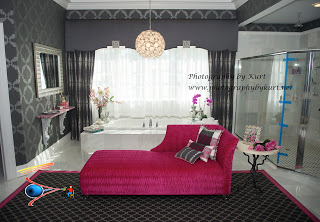 I absolutely loved this Modern Master Bath designed by Robert Passal Interior & Archetectural Design…I could definitely live in this room. I loved the shock of pink…the drapery and wall covering was so serene and soothing, the flooring by 
Stanton Carpet
just completed the room.  Staton also supplied the flooring in the Nusery, Back Porch, Lounge on the Lower Level. You can find Stanton flooring at The Carpetman in Southampton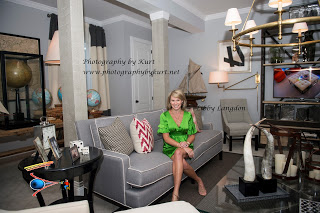 I ran into a woman that I really admire and I love her work, she is ridiculously talented and she was given the lower level "Fun Room"…The way she transformed this room was pure craft and creative. I loved how she used several pieces from
English Country Antiques
located in Southampton and Bridgehampton, NY. I am talking of no other than
Libby Langdon.
.. Check out this room on the lower level….many of the home furnishings were from Libby Interiors, Inc and the upholstery from Libby Langdon Upholstery for Braxton Culler.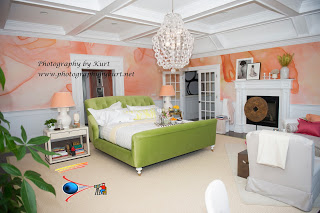 I liked the Master Bedroom designed by Robert Passal Interior & Architectural Design, I guess because it's modern and I really loved the vibrancy and exuberant  bright bold beautiful colors it made the room come alive. I am certainly no expert on design but I do know what I like and this is the kind of furniture that I would like in my bedroom. I like the bed not being pushed against a wall, gives the room character, and the green just pops and brings the room out. However those are my thoughts and my personal taste.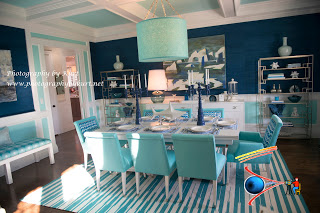 This was another one of my personal favorites…The Dining Room. I just love these colors..maybe it's because they are the Tiffany colors…but nevertheless I think this room is just so charming and so warm. I could feel the passion that Mabley Handler put into this room. Yes this would be on the top of my list of rooms I must have…
The Hamptons Showhouse will be open Daily M-Sunday 7/22-9/3 11am-5pm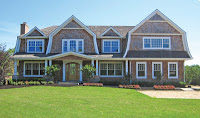 This year's Showhouse is located at:  80 Flying Point Road, Water Mill, NY [map]
Admission is $30 and includes a Journal.
Tickets may be purchased at the door or may be purchased in advance.
No admission 30 minutes before closing.
No strollers, infants, children under 6, or pets are admitted.
House built by Grande Design Residential Inc.
This house is on the market for sale at a whopping $5.395M* Emily J. Demone @ Corcoran
You can see more of the photos of this House at www.photographybykurt.net or
 click here for a direct link…
  As always Hamptons Mouthpiece keeping you in the know!! Happy designing…Click Libby's book for more design ideas for small spaces purchase on Amazon.com
Dacor Range
click this picture to purchase this range on Amazon.com