Update 7/13/2014: Art For Life is going OLD SCHOOL…This year's Special Performances are
The World's Greatest Entertainer the Original Human BeatBox, Doug E Fresh, Kurtis Blow and Whodini
Hamptons Events: 15TH Annual Art For Life in the Hamptons 2014
It is that time of the year again in the Hamptons where all the A'Listers are seen.
RUSSELL SIMMONS' RUSH PHILANTHROPIC ARTS FOUNDATION
15TH ANNUAL ART FOR LIFE BENEFIT @ Fairview Farms, 19 Horsemill Lane, Water Mill, NY on July 26th. I have been so blessed to attend this wonderful event every year for the last 8 years and it is an event that I look forward to attending every year. This year the event is on my birthday, I might only be attending the Red Carpet, then leaving to enjoy my birthday.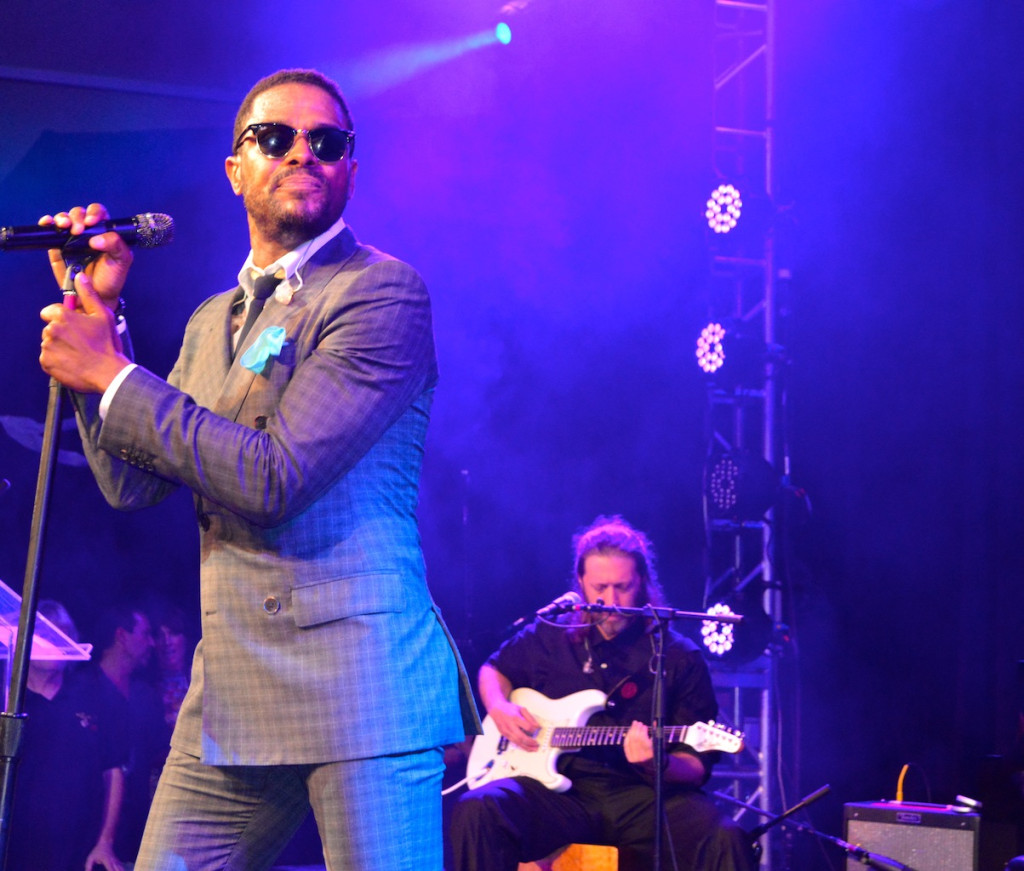 Last year Maxwell performed and was an absolute pleasure on the red carpet, I am curious as to who will grace us this year with their performance. I would also like to see how Danny Simmons will outdo himself with his fantastic fashion style. I loved the event at the Fairview Farms, and everyone seemed to have a great time. Rick Ross, Estelle and Maxwell were amazing.
EVENT HONOREES INCLUDE MICHAEL R. BLOOMBERG, VALENTINO D. CARLOTTI
KIMORA LEE SIMMONS & FEATURED ARTIST CARRIE MAE WEEMS
HOSTED BY SOLEDAD O'BRIEN WITH SPECIAL PERFORMANCES AND MUSIC BY DJ M.O.S.
HONORARY CHAIR STAR JONES
Russell Simmons and Danny Simmons will host the 15th Annual ART FOR LIFE benefit, Saturday, July 26th in Bridgehampton. Soledad O'Brien will emcee the evening that will honor Michael R. Bloomberg, Valentino D. Carlotti, Jason Flom, Kimora Lee Simmons and Featured Artist Carrie Mae Weems for their career achievements and philanthropic work. The evening will feature a performance by Doug E. Fresh. The event's Honorary Chair is Star Jones; and Event Chairs are Jamison Ernest, Kimberley Hatchett, Rhonda R. Mims, Camilla Olsson and Josue Sejour (The Sejour Group); with music by DJ M.O.S. Events sponsors include Gold Sponsor BOMBAY SAPPHIRE Gin and Bronze Sponsor Target.
Launched in 2000, ART FOR LIFE is Rush Philanthropic Art Foundation's primary fundraising event. This year's benefit will celebrate the gala's "15" year milestone; highlighting youth that have grownup through our Rush programs, and honoring exemplary individuals who have supported the Foundation's mission throughout the years.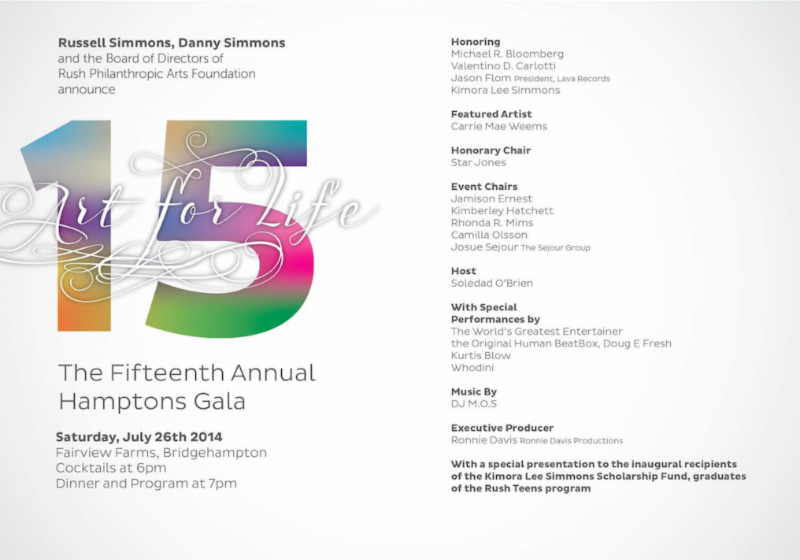 This year's coinciding ART FOR LIFE online auction via Charitybuzz will launch on July 17th and will run through August 7th. Highlights include: Dinner with Miss Universe Gabriela Isler, Be a Roadie for a day with John Legend, Meet and Greets with Heidi Klum, Michael Strahan and more! http://www.charitybuzz.com/artforlife.
In addition there will be an ART FOR LIFE Art Auction on Charitybuzz from August 27th thru September 17th with select works available during a live auction held at Christie's NYC on September 8th.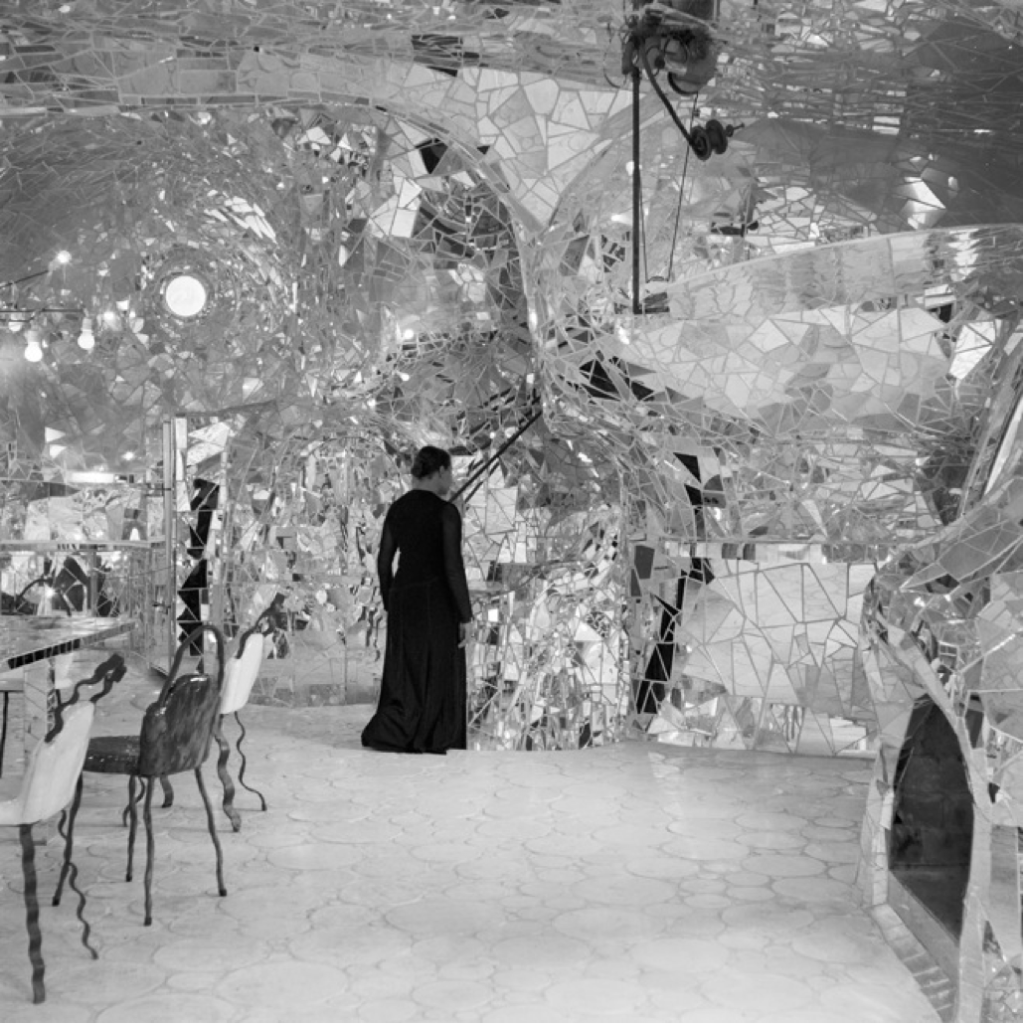 The art auction includes works from 2014 AFL Featured Artist Carrie Mae Weems, as well a past Featured Artists Rashid Johnson (2013), Shepard Fairey (2009), Kehinde Wiley (2006); along with His Royal Highness The Prince of Wales, Yoko Ono, Sante D'Orazio, and many more!
Proceeds from ART FOR LIFE benefit the Foundation's signature arts education and gallery programs, which directly serve over 3,000 inner-city youth each year. Founded in 1995 by brothers Russell, Danny and Joseph "Rev. Run" Simmons, Rush Philanthropic Arts Foundation is dedicated to providing inner-city youth with significant exposure and access to the arts, as well as providing exhibition opportunities to under-represented and emerging artists. For more information, visit www.rushphilanthropic.org, Twitter @rush_art, Facebook https://www.facebook.com/RushPhilanthropicArtsFoundation, Instagram @rush_arts and ART FOR LIFE hashtag #ArtForLife.
To purchase tickets, please contact Tracey Doolin at Inez Weinstein Special Events, Inc., at (212) 254-6677 or via email tdoolin@inezevents.com. Tickets available online via http://rushphilanthropic.org/artforlife.