Hamptons Eats: Steak a Claim in Your Summer at Delmonico's of Southampton
It was another 5-star weather weekend in the Hamptons but as the sun began to set, streaking the trees on Elm Street in Southampton with a fantastic glittering gold, unfortunately my experience at Delmonico's Steakhouse could not be rated the same.
I stepped into a quiet dining room and noticed several patrons quenching their thirst at the bar. I opted for an outside table to enjoy the gorgeous evening. The décor was simple and clean. The scene set for a well-deserved meal after a long, eventful day in the Hamptons. Red and white striped pillows decorated the furniture on the outdoor patio, evoking a nautical feel. The raw bar was appropriately situated there supporting the seaside vibe.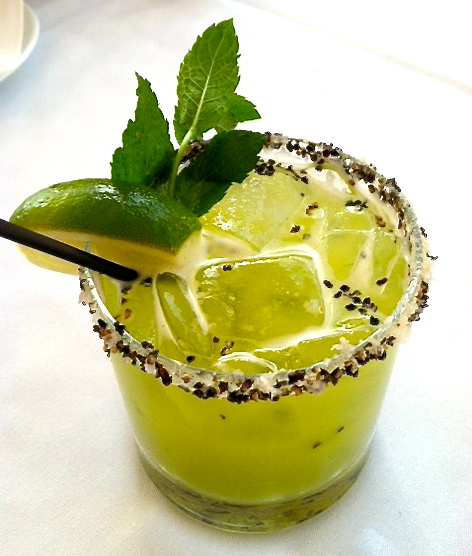 The service was fabulous. Upon sitting, the waiter offered a glass of rosé, which some may have considered a pushy or forward gesture but one which I appreciated. Throughout the evening he was attentive but not over-bearing. I chose the "Spiced Margarita," the cocktail lingered on my mind after having read of it on the online menu several hours prior. It was brought with a mixture of salt and black pepper along the rim, collaborating the saltiness with the "spice." Garnished with a fresh sprig of mint, I was pleasantly surprised to hear had come from the plant grown on premises. I was happy that he made sure both my water and cocktail glasses were never found empty, a golden rule in restaurant hospitality.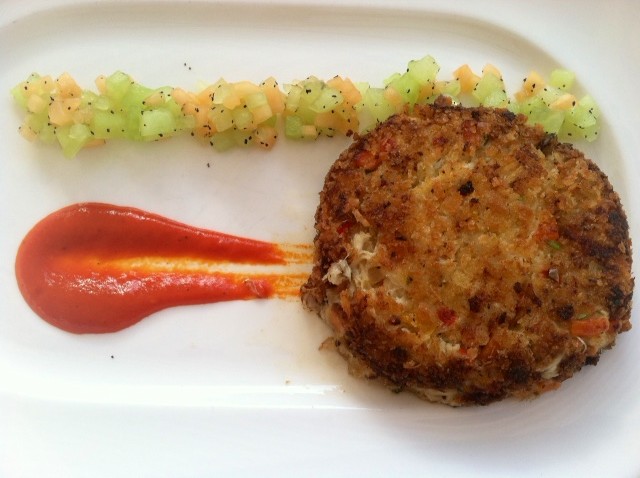 It is my own personal mission when at a new restaurant, to try the crab cake. If it is mastered, I am already impressed. My crab cake appetizer at Delmonico's was above average.An abnormally large portion for an appetizer but I had no complaints of that. A large cake, of almost entirely crabmeat, was mixed with summer vegetables (corn, carrots, etc.) and was plated with a piquillo pepper coulis melon "tartar" accompanied the two but I found it a bit bland. The flavors of the crab cake and coulis were a heavenly match but the melon seemed out of place and unnecessary. A simple arugula or watercress salad, lightly dressed in olive oil and a bit of lemon, would have been a perfectly suitable alternative. Some in-season green for a coolness to balance the spice of the pepper but also unify the dish.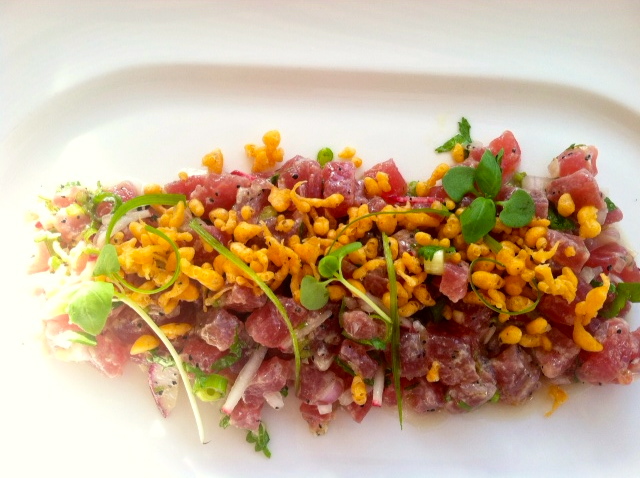 The bulk and real "meat" of the meal (no pun intended) was the rib eye special. This dish was marketed as a steak with lobster mashed potatoes, and topped with chanterelle mushrooms. In complete honesty I give this particular entrée a 5 out of 10 rating. The steak had a nice char and was cooked medium-rare, as I had requested, yet it was quite chewy and took a bit of effort to conquer. I was also not given a steak knife and it was very hard to cut through. I paired my steak with a tasty malbec selection, the glass running a tad on the small side. I was disappointed to find that the lobster in my mashed potatoes was practically non-existent. In this case, I would not have labeled them as so. Why not keep it simple with garlic mashed and nail it on the head without falling short of possible higher expectation?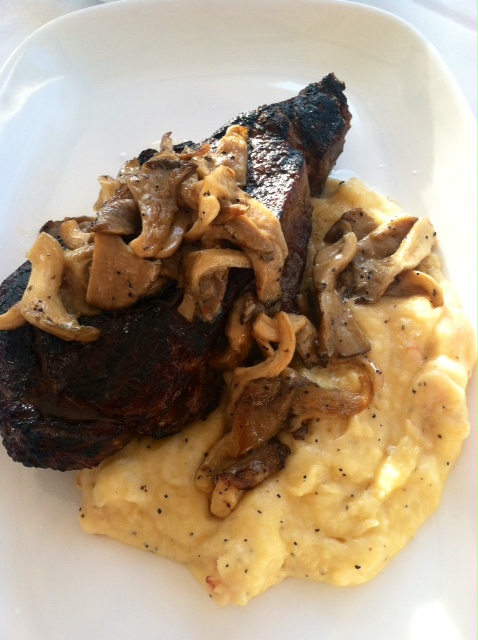 My waiter had asked if he could bring me the "Classic Delmonico's potatoes" along with my entrée. I gladly accepted and was very happy I did. This small potato dish stole the show. The Delmonico's spin on cheesy potatoes, this side was layered with parmesan cheese, a soft Spanish cheese to balance the pungency, and was baked with pancetta. It was both sinful and divine; I am confident one of the most favored items on the menu.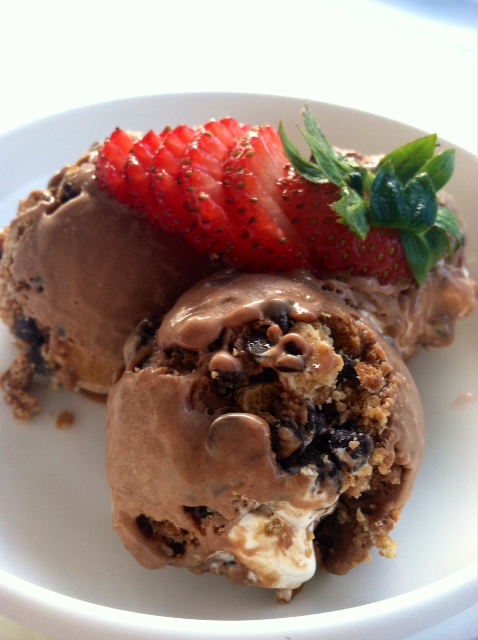 Although my stomach began to fill I could not pass up dessert. The menu was small and with standard steakhouse options: an ice cream, a chocolate cake, a cheesecake. I chose the smore's ice cream, something new for me in comparison to the others. Laced with chocolate chips, graham cracker, and marshmallows, it was, in a nutshell, a more texturally exciting chocolate ice cream. More interesting than rocky road, to compare, but in no way a dessert which forces you to loosen your belt buckle and lick the plate clean. Need-less to say, it was chocolate and I was satisfied.
When my dinner came to an end, I was happily stuffed on a satisfying and elegant meal that impressed me in some ways but disappointed me in others. Delmonico's provides a simple, comfortable dining experience, sure to quench your thirst and satisfy your tummies. It is unfortunate, however, that a steakhouse that holds a top-of-the line reputation, would fall short when it came to the steak. I recommend Delmonico's Steakhouse in Southampton for a very pleasant and tasty meal. Not for one that is set to knock your flips flops off.