Hamptons Take 2 Documentary Film Festival 2015 at Bay Street Theater
December 3rd – December 6th at Baystreet Theater in Sag Harbor, NY
2015 FESTIVAL PROGRAM
TICKET SALES & FESTIVAL PASSES AVAILABLE ONLY AT BAY STREET THEATER BOX OFFICE.
FILM TICKETS: $15 each
SENIORS: $13 (no online sales)
STANLEY NELSON GALA: $45
FESTIVAL PASS: $125 admission to ALL films INCLUDING Gala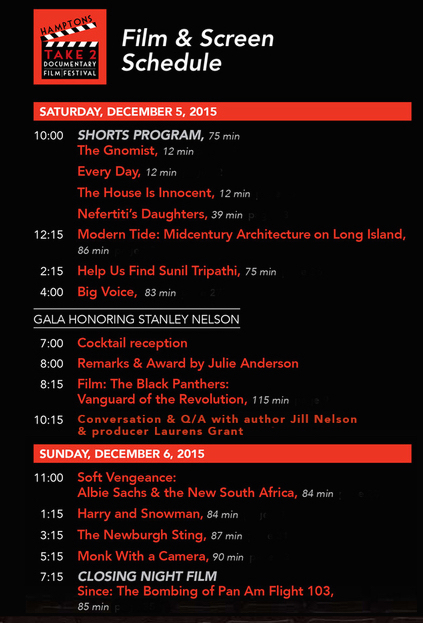 These are only 3 of the many documentaries that will be shown this weekend. For more information on the documentaries to be shown during the film festival, click here: www.ht2ff.com
A BALLERINA'S TALE
THURS, 12/3, 8:00pm, 85 minutes
DIRECTOR: Nelson George
Q/A with Filmmaker Nelson George
DIRECTOR: Nelson George
PRODUCER: Leslie Norville
EDITOR: Malika Weeden
CINEMATOGRAPHERS: Cliff Charles, Oskar Landi, Nelson George, Malika Weeden, Nicolas Waterman, Jon Dunham
Few dancers make it to the highest levels of classical ballet. Of that small number, only a fraction of them are black women. Misty Copeland succeeded in pulling herself up from the studio company at American Ballet Theater to the corps de ballet and then to soloist. In 2013 she was offered the lead role in Igor Stravinsky's Firebird to be performed at New York's Metropolitan Opera House, a major coup for a soloist. While she danced beautifully that night, she performed in great pain. Afterwards she was found to have six fractures in her left shin that required corrective surgery. This film follows the ballerina's painful road back to dancing.
Nelson George is an author, filmmaker, television producer and critic with a long career in analyzing and presenting the diverse elements of African-American culture. Nelson has been on a roll since 2013 with the following completed documentary projects: VH1 Rock Docs' Finding the Funk; Showtime's Brooklyn Boheme; ESPN's The Announcement; and the short All Hail the Beat, for the Focus Forward campaign.
MODERN TIDE: MIDCENTURY ARCHITECTURE ON LONG ISLAND

SAT, 12/5, 12:15pm, 86 minutes
DIRECTOR: Jake Gorst
Q/A with Director/Producer, Jake Gorst
Much of Long Island's rich heritage of midcentury modern architecture has disappeared due to redevelopment and natural disaster. Modern Tide: Midcentury Architecture seeks to highlight some of the region's best work as a way to bring awareness and appreciation for such architectural achievements. The film explores the work of the region's best postwar architects and designers, including Albert Fey, Frank Lloyd Wright, Marcel Breuer, Andrew Geller, Philip Johnson, Charles Gwathmey and others.
GALA TO HONOR STANLEY NELSON JR.
Saturday December 5th
7:00 Cocktail reception
8:00 Remarks & Award by Julie Anderson to Stanley Nelson Jr. via Skype
8:15 Film: The Black Panthers: Vanguard of the Revolution, 115 min
10:15 Conversation & Q/A with author Jill Nelson & producer Laurens Grant
The history of African Americans has not been a straight ascendency from slavery. Change for black people, Stanley Nelson said, happens when black people push for change. The Black Panthers: Vanguard of the Revolution tells the story of the rise an fall of the black militant organization from 1966 to 1973 and the times that created them.