"Hamptons,NY" Greetings Hamptons MouthPiece Readers, Russell Simmons, Danny Simmons and The Rush Philanthropic Foundation is back for their 14th season in the Hamptons with their annual 14th ART FOR LIFE Hamptons Benefit. This year's theme I am told is "Field of Dreams" and the Attire is dreamy hues of Peacock Green, Aquamarine& Amethyst". This will be the first year that the annual event will not be hosted at Russell Simmons estate in East Hampton. I am sure the event will be just as elegant as always. I am excited for this years entertainment Maxwell ,Estelle & Rapper Rick Ross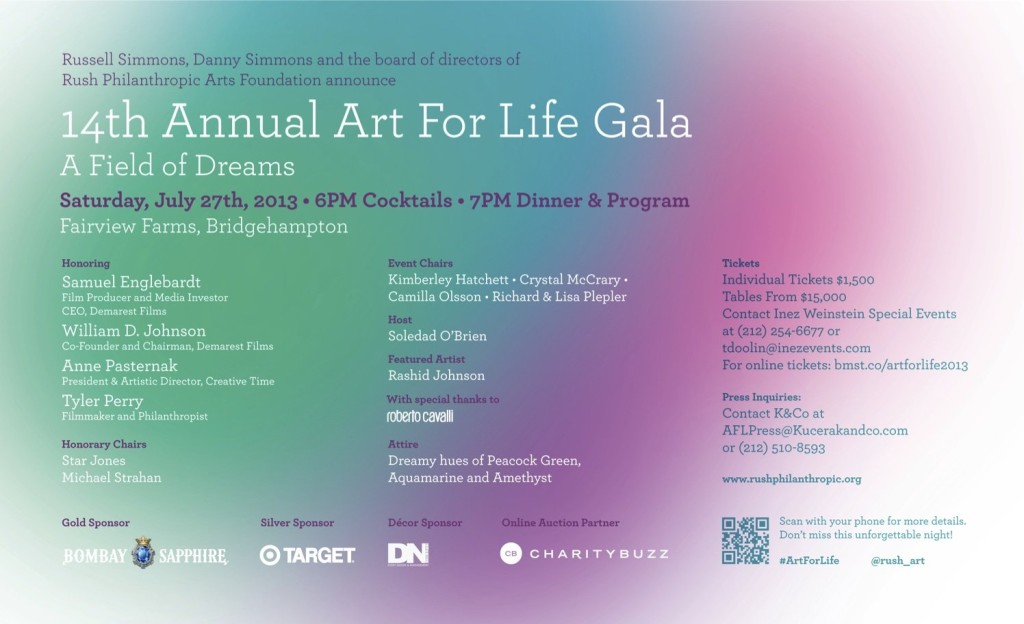 Celebrating the creative energy of our New York City Youth!
I look forward to attending this program every year not just because of the star power that attends but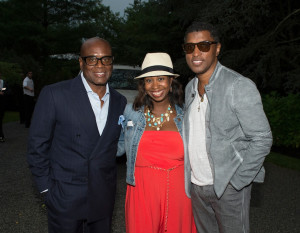 because they are doing some pretty fantastic work in the inner-city communities with art and music for students whose schools have eliminated these programs due to budget cutbacks. Russell & Danny continue their vital support to arts programs dedicated to serving urban children and emerging artist.
Saturday, July 27, 2013
Fairview Farms, Bridgehampton, NY
REGISTRATION: Tue, Jun 25, 2013 to Sat, Jul 27, 2013
CONTACT: Inez Weinstein Special Events
EMAIL:

tdoolin@inezevents.com
PHONE: 212 254-6677
URL:

http://www.rushphilanthropic.org
Individual Tickets $1,500 Tables from $15,000
*Featuring a silent auction of unique luxury items & experiences Cocktails at 6pm
 Dinner and Program at 7:30pm
[button color="green" link=" http://bit.ly/AFLHamptons2013″ size="medium" target="_blank" font="tahoma" bgcolor="00FFFF" align="center"]Click Here to purchase tickets[/button]
HONORING

Sam Englebardt & William D. Johnson, Founders, Demarest Films
Anne Pasternak, President & Artistic Director, Creative Time
Tyler Perry, Filmmaker & Philanthropist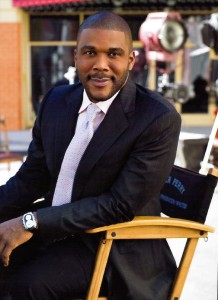 Additional Honorees To Be Announced later…..
FEATURED ARTIST
Rashid Johnson
HOSTED BY
Soledad O'Brien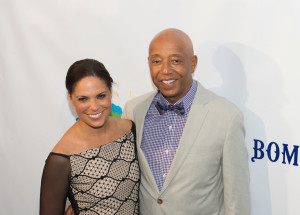 HONORARY CHAIR
Star Jones Michael Strahan
EVENT CHAIRS
Kimberly Hatchett Crystal McCrary Camilla Olsson Richard & Lisa Plepler
ART AUCTION CHAIR
Lucille Blair Alberto Mugrabi
LUXURY AUCTION CHAIR
Shamin Abas, Shamin Abas Public Relations Angella Forbes, Forbes Public Relations
SPECIAL PERFORMANCES BY
TBA
MUSIC BY
DJ M.O.S
EXECUTIVE PRODUCER
Ronnie Davis, Ronnie Davis Productions
ART FOR LIFE HAMPTONS (Hamptons,NY)
In 2013, Rush Philanthropic Arts Foundation will celebrate the 143h Annual ART FOR LIFE Hampton Benefit Event– our primary fundraising initiative for our friends and supporters. The evening, held in celebration of the creative energy of our New York City youth, honores exemplary individuals for success in their respective fields and good works to better the community.
The Board Members are Officers:
Russell Simmons, Chairman and Co-founder | Danny Simmons, Vice Chairman and Co-founder | Javier Evans, President | Monica Petraglia McCabe, Secretary | Richard Slomovitz, Treasurer |
Tangie Murray, Executive Director
Directors
Shamin Abas | Lucille Blair | Allison Weiss Brady | Derek Jenkins | Dr. Yasin N. Khan | Stan Lathan | Marc J. Leder | Victor Matthews | Brenda D. Neal| John B. Rhea | David Rosenberg | Joseph "Rev. Run" Simmons
For additional information or to purchase tickets or tables, please contact Tracey Doolin at Inez Weinstein Special Events at: (212) 254-6677 or (212) 614-0400, Fax: (212) 477-4501, via email tdoolin@inezevents.com.
For Press Inquiries please contact: K&Co at AFLPress@Kucerakandco.com or 212.510.8593
"Hamptons, NY " photos in this article courtesy of Photography by Kurt & rushphilanthropic.org
I can't wait to see Maxwell perform, I am a huge fan. It would be really nice to see Maxwell, Estelle & Rick Ross do something together. As Always Hamptons Mouthpiece keeping you in the know with Hamptons Happenings in Hamptons,NY