Hamptons Teen: SPEAK OUT…Say what you want 
CALLING ALL TEENS IN SAG HARBOR on Sunday, March 1st  4-6pm…. Speak Out! Teens to say what they want to see in Sag Harbor
Fresh voices and a youthful energy will bring in spring this year in Sag Harbor.
The Youth Resource Center of Sag Harbor, The Sag Harbor Youth Committee and The Sag Harbor Coalition are offering a Speak Out at Bay Street Theatre, on Long Wharf in Sag Harbor, March 1 from 4 to 6 pm.
The Sag Harbor Youth Committee is helping to underwrite the costs associated with the Speak Out and The Youth Resource Center of Sag Harbor and The Sag Harbor Coalition are helping to organize the event.
"The Speak Out is intended to let our youth be heard. Sag Harbor has had two Speak Outs before, in 1997 and 2000. Back then, our kids were angry; they had nothing to do. This was before SYS and the ReCenter, before the first local skateboard park at Red Creek and before the first Safe Summer Beach Program. Those Speak Outs brought attention to the lack of recreational facilities for kids and it led to an increase of programs offered to children on the eastern end of Southampton Town and the western end of East Hampton Town."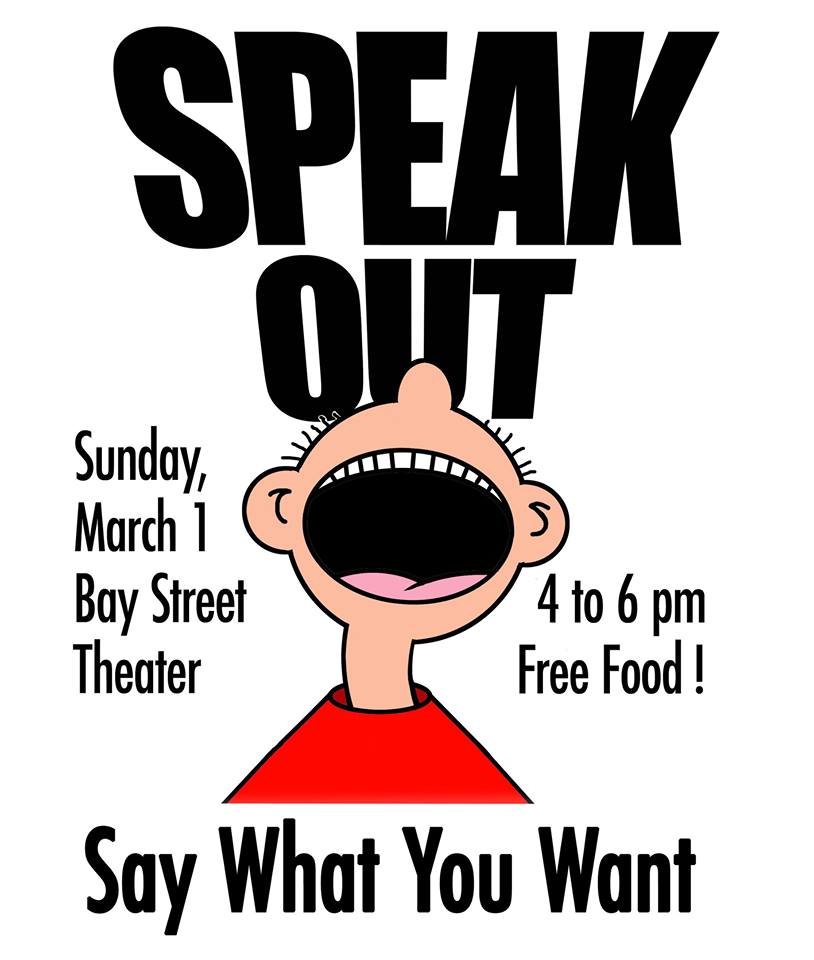 Speak Out came about in a Sag Harbor Coalition meeting, from a conversation community members were having about hosting an event that 'empowered' kids. It was suggested adults often have very little sense about what kids want or need, that perhaps kids could fill out a questionnaire or submit ideas. I suggested we do another Speak Out and this event has been evolving from there."
The two first Speak Outs were developed by The Sag Harbor Youth Committee and were also held at Bay Street Theater.
Youth Committee founder Nada Barry remembers, "We had quite a turnout, the first one filled the theater, and what the kids had to say made it clear that there needed to be a change, that more resources had to be allocated to providing programs for our youth."
This Speak Out will be patterned after the 1997 and 2000 events: a panel of community leaders will listen on stage; an emcee will set the level of expectation and decorum and participants will be able to ask questions of the leaders or make statements about what they like and about what they want to see in Sag Harbor.
As in those years, the Speak Out is recommended for young people in eighth grade and up. It is a teen-only event; parents will not be invited into the theater.
The members of this year's Speak Out panel are being finalized, with representatives from the Sag Harbor school district, the Mashashimuet Park board, The John Jermain Library, the Sag Harbor Police Department, Sag Harbor village government, Bay Street Theater and local youth organizations among those being approached. A final roster of panelists will be announced in mid-February before the school vacation, about three weeks before the event.
The Sag Harbor Youth Committee will provide food and drink for the kids participating in the Speak Out. There is no fee for participation.
"This event is all about our kids being heard," says Sag Harbor Coalition board member Benito Vila, "This is another instance where the kids bring the community together; they are our life blood and it's our responsibility as parents and as community members to make sure they are able to thrive here as kids and go on to succeed in the world as adults."
Kym Laube, executive director of the Westhampton-based prevention group, HUGS, Inc., and the Sag Harbor Coalition co-chair explained, "Often times adults think they know what's best for kids and what kids think or believe. When we do not invite our youth to the table as partners and hear them out as we would any stakeholder then there is a significant missed opportunity. This Speak Out is the beginning of what we hope to be a long-lasting conversation, one that includes youth as a driving force and as partners."
The Youth Resource Center of Sag Harbor is a non-profit, community-based agency offering "out-of-school" recreational activities for the Sag Harbor community. Those activities include widely-popular youth programs such as the Summer Beach program and the Pierson After School program.
The Sag Harbor Youth Committee, founded in 1997, is a not for profit 501c 3 organization, and is dedicated to publicizing, facilitating and planning constructive and enlightening activities to engage, entertain and educate youth in Sag Harbor.
The organization's web site: sagharborkids.org, provides a listing of kid-friendly and family-oriented activities in the area.